Patriots
Tom Brady talked Rob Gronkowski, Condoleezza Rice, and his 8th grade acting career in WEEI interview
"Very similar to football."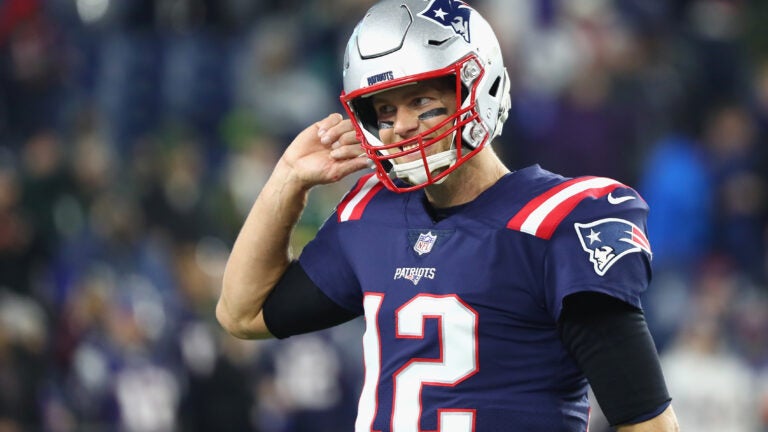 Years before he was named Most Valuable Player in a Super Bowl, Tom Brady received a different type of award as a student.
"You know actually when I was in eighth grade, I was in the school play, and I won the award for Best Drama Student in the school," said Brady in a Monday morning interview on WEEI's "Mut & Callahan."
"It was the Wizard of Oz, and I was the Cowardly Lion," said Brady. "The lion's a pretty big character in that particular show."
"And I had a great time doing it," Brady continued. "It was just fun to do. My middle son is very much into drama and performance arts and so forth, so there will be probably a lot of that in our future."
In 2014, Brady shared a photo from 1991 dressed as a lion:
Brady offered the recollection when asked about his recent attendance at a performance of "Hamilton" in Boston. He identified the similarities between the work that acting and football both require.
"I've always enjoyed the performances and the remembering lines and just getting on stage. It's kind of like it was for Saturday Night Live in a way. Very similar to football," said Brady, "you put the prep in, in a way. You practice everything, and you go through it and you're working with the team. And you have one chance to perform. All that energy and emotion for a couple of hours, in there case a day, for us in football you have three hours a week that you try to build your emotional, physical energy for, and then you go put it out there and you do it in a live performance. You try not to make mistakes, although you'll never be perfect. I just think there's a lot of correlation. I have a great appreciation for those types of things."
On the topic of SNL, Brady – who hosted the show in April, 2005 – said he enjoyed the opportunity because he went into it with no preconceptions.
"It was a great experience. They've never asked me to do it again, but I've always enjoyed that show," Brady explained. "It's kind of like the first time you do anything, I really had no expectations for that particular show. That was in 2005 I think, and it ended up being a great week because I didn't know what to expect and I just had fun with it. And when the show was over, I was actually a little bit disappointed because I realized even if I had a chance to do the show again, I would do it with expectations. I thought it was great to just do something in my life without really knowing what it was all about, but still enjoying it and having a great time."
"I don't know," Brady said when asked if he'd host again if asked. "It's hard in the offseason now for me, because that's a whole week of time. And it's for my family to give that up, because so much of my year is spent with football. Basically every day for six, seven months. So it's hard to say, 'Alright guys, well I'm going to go off and do another week of something that I've really done before.' And again I think it's a great show, but probably unlikely that I'll do it again."
Brady acknowledged that he turns down most of the acting opportunities he receives, given the already difficult time limits he places on his family during football season.
"It's something that I think if a friend asked – I've done a couple of things with Mark Wahlberg or guys from back here, I've done a few things for them – but just in general,  it's a long ways away. Most things film in Los Angeles, and being here on the east coast, it's hard to make it out there. I feel like I'm on TV every week. On Sunday I'm basically [on] a reality TV show every Sunday afternoon for three hours. So I feel like I'm on TV enough in the fall and winter."
On the subject of football, Brady was asked where he thinks the Patriots are positioned during the team's bye week.
"We've built to this point where we're in a position to start playing our best. That's really up to us. There's no way to talk your way into it, you've just got to do it."
One unanswered Patriots question is the status of tight end Rob Gronkowski, who's missed two weeks due to injury. Brady was uncertain about Gronkowski's possible return.
"We'll see how it goes, I mean we haven't even practiced this week, but I know he's itching to get back," Brady said. "He's a big difference maker when he's on the field. I hope he's out there, but those things are up to the trainers and coaches and up to Rob, see how he feels. We have practice this week. We'll see what we can do."
A notable story from the weekend came up when Brady was asked about the rumor that the Browns want to interview former Secretary of State Condoleezza Rice about the team's head coaching vacancy.
"I know Condoleezza, I've been around her a few times," said Brady. "She's such an impressive person, and she's a great a leader and just a wonderful woman. Incredibly smart, and who knows? Owners get to decide who they hire, so those things are up to them. They can really hire whoever they want. It's their business."
The final question for Brady pertained to the impending Ohio State-Michigan college football game. Brady, a Michigan alum, admitted that he's tired of losing bets to Patriots teammates from Ohio State. Currently, safety Nate Ebner is New England's resident Buckeye.
"I'm going to see him today," said Brady, "and I've lost too many bets to Ohio State guys, Michigan State guys, but this is our year, baby. This is our year."
When the possibility of Brady having to wear an Ohio State uniform (after losing a bet) came up, the former Wolverine was quick to reply.
"That'll never happen," Brady said, flatly. "Michigan's going to win this one."