Patriots
Cordarrelle Patterson explained why he grabbed Henry Anderson's crotch
"I'm a grown man."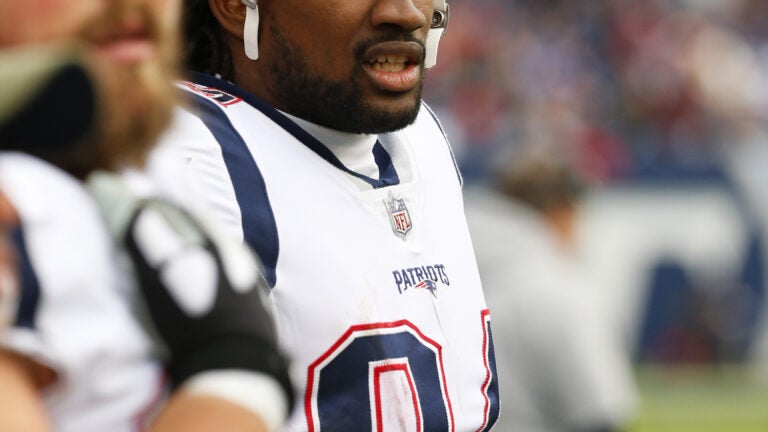 Patriots wide receiver Cordarrelle Patterson says he was just trying to break free when he grabbed the genitals of Jets defensive end Henry Anderson in the fourth quarter of Sunday's game.
"The man was all in my face, trying to put his s*** in my face and I was trying to get his ass up off me," he said, via Sports Illustrated's Conor Orr. "I'm a grown man. I don't need anyone's ass and d*** and balls in my face."
With the Patriots leading 20-13 in the fourth, Patterson rushed for one yard before getting tackled by Anderson at New York's 24-yard line. The 300-pound lineman must have lingered too long for Patterson's liking, as the CBS broadcast caught Patterson grabbing Anderson's groin area until his opponent ended up on his backside. After Patterson stood up, he appeared to glance back at Anderson.
Look at Patterson's hand………………. pic.twitter.com/fgEkQfyROE

— #FreePhillipDorsett (@ftbeard_17) November 25, 2018
There was no penalty on the play, though a fine could still be levied by the NFL.
One person who seemingly didn't appreciate the below-the-belt antics was Anderson's fiancée, Saryn Rorie, who tweeted "not cool" in response to the clip.
Ummmmm Henry is mine……. https://t.co/dEUY5W0vh6

— SARYN RORIE (@SarynRorie) November 25, 2018
Anderson, however, brushed off the incident, claiming he didn't actually feel Patterson's grip on his genitals. The 27-year-old said he was using extra caution while getting off Patterson so that he didn't incur a penalty by stepping on him.
"If he had actually grabbed, like, you know, my package there, I probably would have done something," Anderson said. "But I didn't really feel anything, so I don't think he got a hold of it."
In New England's 27-13 win over the Jets, Patterson finished with one catch for negative receiving yardage and 10 rushing yards on five carries. Anderson finished with three tackles.