Patriots
What Rob Gronkowski had to say about his return to the field
It had been a while.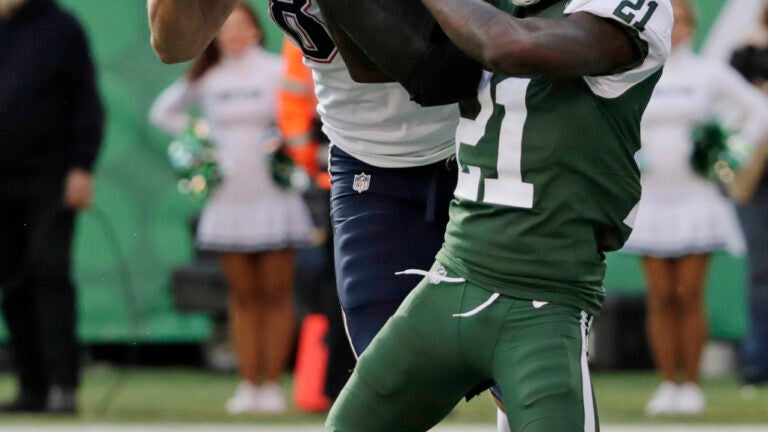 Patriots fans saw their second Gronk spike of the season Sunday afternoon.
"It feels good," tight end Rob Gronkowski said after finding the end zone for the first time since Week 1. "But what feels better is getting that win. Just scoring on that one drive was contributing to what we were trying to do, which was get the W."
Late in the first quarter against the New York Jets, quarterback Tom Brady found Gronkowski for a 34-yard touchdown at MetLife Stadium. The catch was Gronkowski's first of the game, and Stephen Gostkowski's ensuing extra point tied the score at seven apiece.
GRONK! GRONK! GRONK!

?: CBS #GoPats pic.twitter.com/0BPglGHuJc

— NFL (@NFL) November 25, 2018
"We wanted to score," Gronkowski said. "We wanted to answer back."
Gronkowski missed his first target on a 3rd-and-10 pass during the Patriots' first drive of the game. He recorded another catch in the second quarter for 15 yards. Later that quarter, with New England on the Jets' 16-yard line, Brady targeted Gronkowski twice in the end zone, but the pair couldn't connect for a second score.
The 29-year-old was targeted a team-high seven times but was able to haul in only three of Brady's passes. His third and final reception of the game came on a seven-yarder up the middle in the third quarter.
"It felt good overall, and we got the win, so it was a good day," Gronkowski said.
Throughout the first half, Gronkowski was seen guzzling oxygen on the sidelines. Even though Sunday's contest was his first in 27 days — the injury-plagued Pro-Bowler has been nursing ankle and back woes — he logged 31 consecutive snaps to open the game. Gronkowski finished with 69 snaps, playing in all but one of the team's offensive total.
"It felt good," Gronkowski said. "I've been putting the work in the last couple weeks, or whatever it was, to get back, and now I just feel like I can keep on improving week in and week out and do what I got to do with the team."