Patriots
Rex Ryan's got it all wrong about this year's Patriots
Ryan said the 2018 Patriots could be the worst team of the Tom Brady era.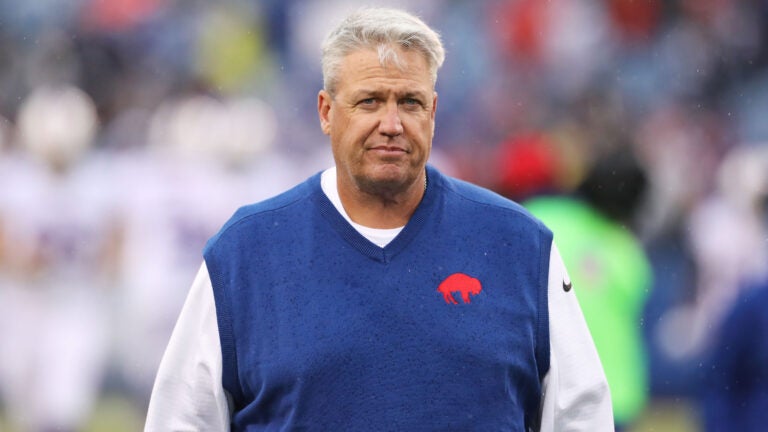 Rex Ryan says some smart things sometimes. No, really. Well, once at least.
"Let's go have a [expletive] snack,'' perhaps his most famous utterance from the Jets' 2010 turn on "Hard Knocks'' back when he was their head coach, is both an approved philosophy and lifestyle in this space. Yes, Rex, let's do have a snack. Maybe two.
He's probably far better known for saying … well, not-so-smart things. Ryan, who coached the Jets (2009-14) and Bills (2015-16), is now an NFL studio analyst on ESPN, and he said one of those not-so-smart things Sunday in advance of the Patriots' matchup with the Jets, a game New England won without much suspense, 27-13.
Ryan said the 2018 Patriots could be the worst team of the Tom Brady era.
The comment didn't get much notice — Ryan's big star turn this week was a reluctant film breakdown during the Thanksgiving "NFL Countdown'' of Mark Sanchez's infamous butt-fumble — and his fellow panelists didn't dwell on it.
But they should have, because it's an absurd thing to say, and a coach who spent eight seasons in the same division should have a little better institutional memory than that.
Sunday's win over the Jets improved the Patriots' record to 8-3. They're currently in the No. 2 spot in the AFC playoff race behind the 9-2 Chiefs, a team they have beaten this year. They have had an uneven season by their standards, with several talented offensive players at different stages of their careers trying to fit together around a 41-year-old quarterback who flashes occasional signs of football mortality for the first time.
They've struggled some on the road (they're 3-3 away from Gillette Stadium), but for the most part, they have been admirable, especially in grinding out victories over teams that turned out later to be pretty good (Texans, Bears, Colts).
They've won 7 of their last 8, and while the loss was an ugly 24-point defeat to the Titans two weeks ago, there should be optimism with this team – even if it is cautious – rather than any complaint that they're not dominating enough.
They're not the 2007 Patriots, shredding the league every Sunday for the hell of it, but it seems like they're pretty good to me, and they're proving to have character along the way. We might just like the ending to this story.
The worst Patriots team of the Brady era? I can't see that being anything close to the ultimate conclusion with this team. Even if Ryan meant just in terms of pure talent, he's wrong. (The 2001 Super Bowl champs had less pure talent than the current roster, for example, though I'll hear you on any Josh Gordon/Terry Glenn comps you want to make)
So let's help ol' Rexy out. We're not going to rank all of the Patriots teams of the Brady era, which we'll call 2001-18 even though he was on the roster in 2000. But we'll group them together in terms of achievement and appeal, and it should be pretty easy to identify which one was the worst of the lot. I've already got one in mind. I bet you do too.
THE BEST OF THE BEST: 2001, 2003, 2004, 2014, 2016
Simple rule: If you put up a banner, you belong in this elite category. The 2001 Patriots might be the most beloved team they ever had because it was all so improbable, all of it. The 2004 team might be their most talented and complete. To me, the Super Bowl victory in '14 might be the most satisfying, because it had been nine seasons without one, and they did it against jacked-and-pumped Pete Carroll and a superb Seattle defense. And we'll never see again a comeback the likes of the one Brady orchestrated against the Falcons in 2016. It was 28-3 at one point, you know. I've seen that on a t-shirt.
THE BEST OF THE BEST, IF ONLY THE ENDING WERE DIFFERENT: 2007
Put it this way. If we could flip the 38-35 regular-season-ending victory over the Giants with the loss in the Super Bowl, this Patriots team would undeniably be considered the greatest in NFL history. But you can't. We've all tried.
VERY GOOD TEAMS THAT DIDN'T WIN IT ALL: 2006, 2010, 2011, 2012, 2017
This includes the other two Patriots teams that lost in the Super Bowl ('11, '17), a '06 team with a fatal flaw (a bunch of Arena League-level talents at receiver) but still would have won it all had they been able to hold off the Colts in the AFC Championship game, and a stacked '10 team that went 14-2 in the regular season, but got stunned by Ryan's Jets in the divisional round. If I had to bet right now, I'd say the '18 Patriots ultimately end up in this group. I actually like them a lot better than the '06 team.
BEAT-UP PATRIOTS TEAMS WHOSE SEASONS ENDED IN DENVER: 2005, 2013, 2015
Huge Jake Plummer guy here. Still can't believe the Patriots lost a playoff game to him all those years ago. Or to knuckleballer Peyton Manning three years ago, for that matter.
VERY GOOD TEAM THAT DIDN'T HAVE BRADY: 2008
I'm still never quite sure how to categorize the '08 season, of which Brady missed 15 ¾ games after suffering a devastating knee injury in the opener. It's a feel-good story in the sense that they went 11-5 and made Matt Cassel a lot of money. But they didn't make the playoffs, didn't get a chance to avenge the ending in '07, and did end up winning five fewer games in the regular season than they did the year before. If you can have a mulligan season in football, I guess this is it.
PATRIOTS TEAMS THAT ARE DEFINITIVELY WORSE THAN THIS ONE NO MATTER WHAT HAPPENS FROM HERE ON OUT, REX: 2002, 2009
The '02 season was one long hangover from the feats of '01. They started 3-0 – remember the hype over the three-pronged safety package of Lawyer Milloy, Tebucky Jones, and Victor Green? — but lost four in a row after that, and ended up with nine wins, the fewest in the Brady era.
The '09 team? Well, that's easily the least-likable of this era. They got steamrolled in the first round of the playoffs by the Ravens at Gillette Stadium. It's the team that compelled Belichick to confess to Brady during an ugly loss to the Saints that he just can't figure out how to get through to some of these guys, a clip that was part of the "A Football Life'' two-part doc on Belichick.
You'd think Ryan would remember that quittin' time Patriots team rather well – he got his second career victory as Jets coach against them that September.