Patriots
Patriots players share the inspiration behind their personalized cleats
"I think it's something that needs to be focused on."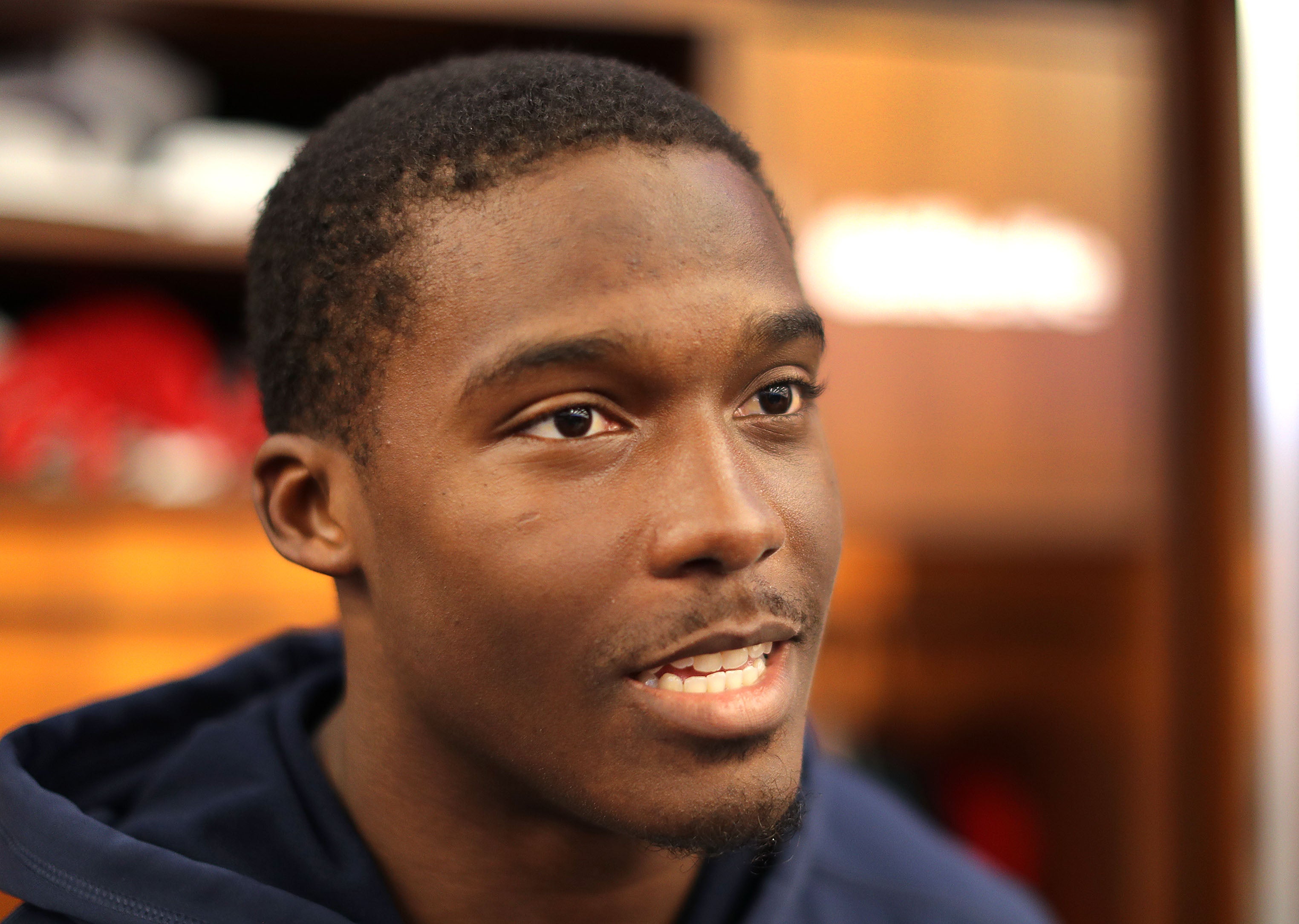 FOXBOROUGH — Twenty Patriots will be giving running back James White a run for his "Sweet Feet'' nickname Sunday against the Minnesota Vikings.
Coach Bill Belichick and 19 players will be participating in the NFL's third annual "My Cause, My Cleats'' campaign — an initiative that allows philanthropic passions to come to life through a pair of customized cleats or, in Belichick's case, sneakers. The Patriots will sport them only in Week 13, representing several charitable causes from intellectual and developmental disabilities (Best Buddies) to single-parent support services (One Family) to animal rights (MSPCA Angell).
A look at some of the participating Patriots and their charitable causes:
Devin and Jason McCourty — Players Coalition and Embrace Kids Foundation
After donning matching pairs the past two years, with one cleat dedicated to social injustice and the other to sickle cell, the Patriots' twin brothers decided to switch things up this season. Devin will support criminal justice reform via the Players Coalition, while Jason will honor the Embrace Kids Foundation, which works to improve the lives of those facing various health challenges, including sickle cell anemia.
Though it was not passed to them, their father is a carrier of the sickle cell trait and two of their relatives were diagnosed with the disease. Both Devin and Jason have been involved with Embrace Kids, a New Jersey-based organization, since their time at Rutgers.
In the NFL, the twins have established themselves as outspoken advocates for social causes and the need to address systemic injustices. Devin, Jason, and teammate Duron Harmon moderated discussion about the criminal justice system with candidates for Suffolk County district attorney in June. Along with teammate Matthew Slater, the pair also wrote an op-ed piece in July about the need for more school funding in low-income areas.
There was no squabbling between the siblings over who got to wear which cleats, but they aren't ruling out a halftime switch.
"Who knows?'' Devin said. "We might decide in the second half to swap.''
Phillip Dorsett — Boys & Girls Clubs
The wide receiver will be representing the Boys & Girls Clubs as an homage to his childhood. Growing up in Fort Lauderdale, Fla., Dorsett spent his summers at the Boys & Girls Club, where he said he "learned how to do everything.'' Dorsett's favorite activity — besides flag football — was shooting pool, something he still enjoys today. The 25-year-old said time spent there stimulated his competitive spirit.
"I was always the young one, but I always wanted to play with the older guys,'' Dorsett said. "It was a challenge for me, and I'm still that way. I'm looking for a challenge in everything I do. I always try to make it hard because if you can overcome that, that's a good thing.''
Dorsett commissioned one of the team equipment staffers to design the cleats. Though the finished product has yet to be unveiled, he saw a preview and knows they will be mainly blue with the Boys & Girls Club logo.
David Andrews — Warrior Dog Foundation
Having grown up around hunting dogs in Georgia, Andrews has always had a fascination with working canines. A book on the topic ended up sparking the center's interest in the Warrior Dog Foundation, a nonprofit that cares for dogs that have ended their service with American troops.
"They try to take in ex-military dogs or any government agency dog because, just like people, these dogs come back and, a lot of time, they carry extra baggage,'' Andrews said. "If they can't be redistributed or things like that, they could be put down.''
To avoid that, former Navy SEAL dog handler and trainer Mike Ritland, who founded the Warrior Dog Foundation, works to rehabilitate the dogs on his ranch in Cooper, Texas. If they are able, the dogs can go on to be adopted or employed by police forces or SWAT teams. If they are not, they stay with Ritland in Texas.
Andrews, who owns two German Shepherds and visited the ranch this spring, said he and his wife would be open to adoption once he retires from football.
Nate Ebner — Fuel Up to Play 60
Having studied nutrition as an exercise science major at Ohio State, Ebner has always monitored what he puts into his body.
"It's important to me and my everyday life,'' said the Patriots' special teams player and safety. "It plays a major role in what I do every single day. I don't know that that's a career path I want to go down, but it's a fundamental to my life.''
Earlier this year, Ebner was named the player ambassador for New England's "Fuel Up to Play 60'' program, which educates children about the importance of healthy eating.
"Fuel Up to Play 60 is not only about playing 60, obviously, but about what you put in your body to do so,'' Ebner said. "For me, especially with the health issues we have in our country nowadays, nutrition is often overlooked. I think what you put in your body is just as important, if not more than being active.''
Jacob Hollister — American Foundation for Suicide Prevention
There's a stark contrast between the tight end's two cleats.
Negative terms, such as "lonely'' and "scared,'' are crossed out in red on Hollister's left shoe, while positive terms, such as "beautiful'' and "happy,'' highlight the right one. The National Suicide Prevention Lifeline is central on both.
"When it comes to people who just feel like they don't have any worth in this world, you see an epidemic of that going on in this world,'' said Hollister, who selected the words. "I think it's something that needs to be focused on.''
Below is a list of participating Patriots and their respective charitable causes:
David Andrews — Working Dogs (Warrior Dog Foundation); Bill Belichick — Youth Sports (Bill Belichick Foundation); Tom Brady — Intellectual & Developmental Disabilities (Best Buddies) and Breast Cancer Awareness (Ellie Fund); Rex Burkhead — Pediatric Brain Cancer Awareness (Team Jack Foundation); Adrian Clayborn — Brachial Plexus Injury Awareness; Phillip Dorsett — Youth Development (Boys & Girls Clubs); Nate Ebner — Nutrition (Fuel Up to Play 60); Stephon Gilmore — Mental Health Awareness Anti-Bullying; Lawrence Guy — Human Sex Trafficking (My Life My Choice) and Animal Welfare (Show Your Soft Side); Duron Harmon — Autism Awareness (Autism Speaks); Dont'a Hightower — New England Patriots Single Parent Support Services (One Family); Chris Hogan — Cancer Awareness (Headstrong); Jacob Hollister — Suicide Prevention & Awareness (American Foundation for Suicide Prevention); Brian Hoyer — Animal Rights (MSPCA Angell); Devin McCourty — Criminal Justice Reform (Players Coalition); Jason McCourty — Sickle Cell Awareness (Embrace Kids Foundation); Sony Michel — International Relief; Derek Rivers — Duchenne Muscular Dystrophy Awareness (Jar of Hope); Eric Rowe — Anti-Bullying (Character Playbook); Matthew Slater — Human Trafficking (International Justice Mission); and Kyle Van Noy — Adoption & Foster Care Services (Van Noy Valor Foundation).