Patriots
Tom Brady explains why he nicknamed this Patriots teammate 'The Experiment'
"We're all just trying new things with him."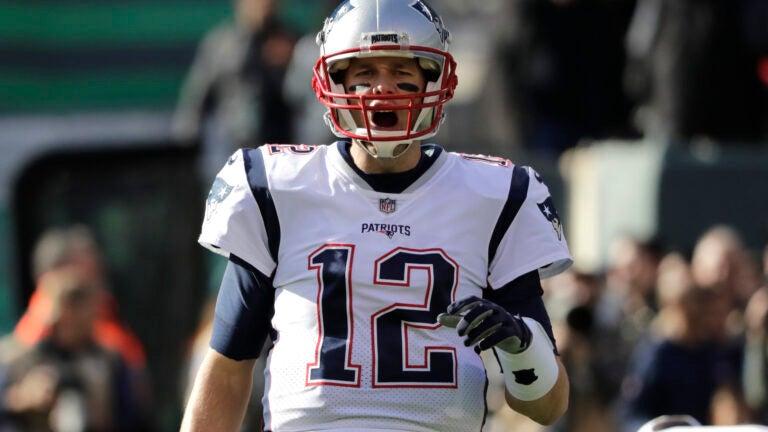 Tom Brady may have mixed feelings about his own nickname, but that doesn't mean he doesn't like giving them to his teammates.
During a press conference Friday afternoon, Brady said he has given Cordarrelle Patterson a nickname befitting of the wide receiver's versatility.
"I call him 'The Experiment,'" the Patriots quarterback said.
"Just because he can do it all," he explained. "We're all just trying new things with him. I just love what he does."
Indeed, since being traded to New England this past offseason, Patterson has been used by the Patriots in the rushing, receiving, and return games — and has scored touchdowns in all three phases.
Asked about the new nickname, Patterson (who in the past has gone by the nickname "Flash") said he was willing to take on the new moniker from Brady.
"Oh man, I like any nickname Tom Brady give me," he said, smiling. "That's Tom Brady, man. Why not? He can give me any kind of name."
Patterson also joked that he doesn't have to compete with fellow wide receiver Josh Gordon, who has also gone by the nickname "Flash."
"Josh ain't faster than me, so I give him the Reverse Flash," he said.
Cordarrelle Patterson smiles when asked if he likes the nickname "Experiment" by saying any nickname from Tom Brady is a good one … and then he explains why he calls Josh Gordon "Reverse Flash." pic.twitter.com/8H8ONViqLy

— Mike Reiss (@MikeReiss) November 30, 2018
Brady said Friday that Patterson has been a "great teammate" since joining the team.
"What we've asked him to do, both as a receiver, returner, and then play running back at different times — he's just a great football player," the quarterback said. "I think however he can impact the team — gaining yards, whether it's the kick game, pass game, run game — he's willing to do it."
In addition to running sweep plays as a wide receiver, Patterson has even lined up in the backfield as if he were a running back (something he also did with his two former teams).
Cordarrelle Patterson the goal-line back ? @ceeflashpee84 pic.twitter.com/mRRYNQM5b0

— The Checkdown (@thecheckdown) November 5, 2018
"We gave him the ball, he tried to jump over the top of the line of scrimmage last week on the goal line which was a great play, was really close to getting in but just a little short," Brady said Friday, recalling an unsuccessful goal-line attempt by Patterson against the New York Jets this past Sunday.
This Sunday, the Patriots are scheduled to play the Minnesota Vikings, the team that originally drafted Patterson in 2013. Earlier this week, Vikings coach Mike Zimmer said he wished they had experimented a little better with the speedy receiver.
"Everybody knew Cordarrelle was an outstanding athlete, strong runner, great when he had the ball in his hands," Zimmer said Wednesday. "We probably could have done a better job when we had him, after watching them."