Patriots
Bill Belichick, Adam Thielen have heated exchange during Patriots-Vikings
Things got intense during the fourth quarter at Gillette Stadium.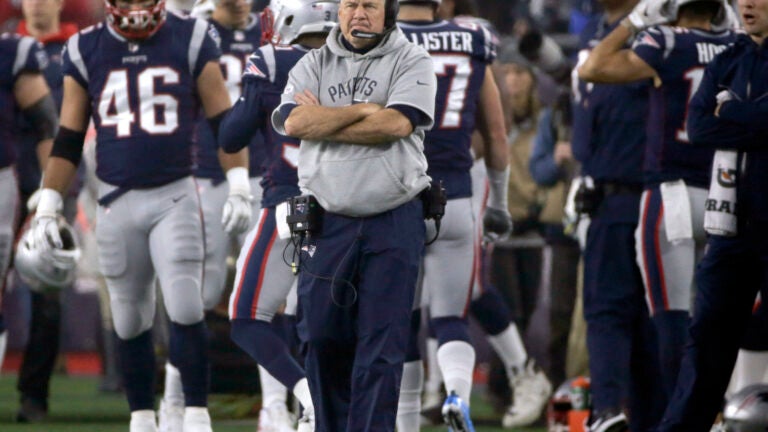 Patriots head coach Bill Belichick and Vikings wide receiver Adam Thielen were clearly not happy with each other during the fourth quarter of Sunday's Patriots-Vikings game.
"I just lost my emotions," Thielen said after Minnesota's 24-10 loss. "I let my emotions get the best of me."
On 4th-and-1 at Minnesota's 38-yard line, defensive ends Trey Flowers and Lawrence Guy appeared to stonewall running back Latavius Murray for no gain. The Patriots, leading 24-10, expected to take over on downs with just under nine minutes remaining. As the teams' personnel units started to switch, however, the officials ruled otherwise: Murray's forward progress earned the Vikings a first down.
"That's interesting," FOX broadcaster Joe Buck said. "I didn't see that."
With Patriots safety Patrick Chung down on the field, Belichick proceeded to search his socks for the red challenge flag and tossed it onto the field. Upon doing so, a fiery Thielen approached New England's sideline to spit some words in the direction of the coach. As officials got between the two, Belichick seemingly shouted, "Shut the f*** up," while Thielen backpedaled away.
Bill Belichick and Adam Thielen get into a shouting match during #MINvsNE pic.twitter.com/jL70vF175D

— Kevin Boilard (@247KevinBoilard) December 2, 2018
Thielen told reporters after the game he was upset that Chung went down on the play because it prevented the Vikings from getting off a quick snap and avoiding the replay review. He said his remarks were not directed at Belichick and also noted he did not take offense to Belichick's response. The pair did not speak after the game.
"It's football," Thielen said. "He can think what he wants about me, and it doesn't really change how I'm going to play the game. He can hate me all he wants. I'm still going to be the same person I am and try to go out and do my best."
"Obviously, I got to keep my cool," he continued. "I've got a lot of respect for him and what he's done. I can't lose it like that, but I just thought it was interesting timing for a guy to go down where there was a close play that could have been reviewed."
The ruling on the field was not overturned — burning another Patriots timeout for their second lost challenge on the day — and the Vikings continued their drive. Minnesota ended up turning the ball over on downs seven plays later.
Thielen, who entered the game boasting the second-highest receiving yards in the league, finished with five catches for 28 yards and a touchdown in the losing effort. Was frustration potentially responsible for his fourth-quarter outburst?
"How many catches did he have?" Patriots linebacker Kyle Van Noy asked coyly.