Patriots
Against Vikings, Rex Burkhead returns to Patriots' offense
He had been sidelined since Week 3.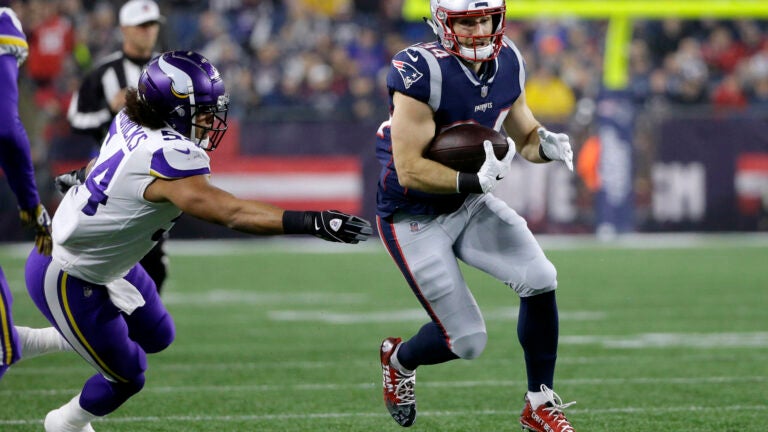 With running back Rex Burkhead taking the field for his first time since being placed on injured reserve, the Patriots touted an arsenal of healthy offensive weapons Sunday afternoon against the Minnesota Vikings.
Burkhead, who had been sidelined since suffering a neck injury in Week 3, rushed for 20 yards on seven carries in his return. He also caught two passes for 21 yards.
"Whenever you get out there, get the ball back into your hands [and] get a feel for it, it starts to come back quickly," Burkhead said after New England's 24-10 victory. "That was a great opponent that we faced so that was a big win for us."
Though his numbers didn't necessarily light up the scoreboard, Burkhead's presence was felt immediately. Through New England's first three drives of the game, the offensive snaps were split rather evenly amongst the three running backs (James White 14, Burkhead 10, Sony Michel 9). The Patriots were also able to run four different plays with two running backs on the field at the same time.
Burkhead had been practicing with the team for over two weeks before he was officially activated to the 53-man roster in the week leading up to Sunday's matchup. His versatility is expected to provide an additional source of production in New England's push for the No. 1 seed in the AFC and beyond. The 30-year-old logged 64 carries for 264 yards and five touchdowns last season, in addition to 30 receptions for 254 yards and three touchdowns.
"That is what's great about this offense," Burkhead said. "We have guys who can do multiple things and line up anywhere and, hopefully, when your number is called, you step up. That's what I try to do. Whatever role I have, I'm just trying to make the most of it."
His teammates also praised the jack-of-all-trades approach.
"It's always a plus to have more weapons back there," White said. "[Rex]'s a good football player, can catch, run, block. He makes plays on special teams, too. I'm happy for him to be back out there, and he'll continue to help us out."
"It's great when he's healthy because he can do some things in the run game [and] pass game," echoed quarterback Tom Brady. "He's just a very versatile guy."