Patriots
What Bill Belichick said about the Dolphins' walk-off winner
"It came down to one play, but there were a lot of things besides that."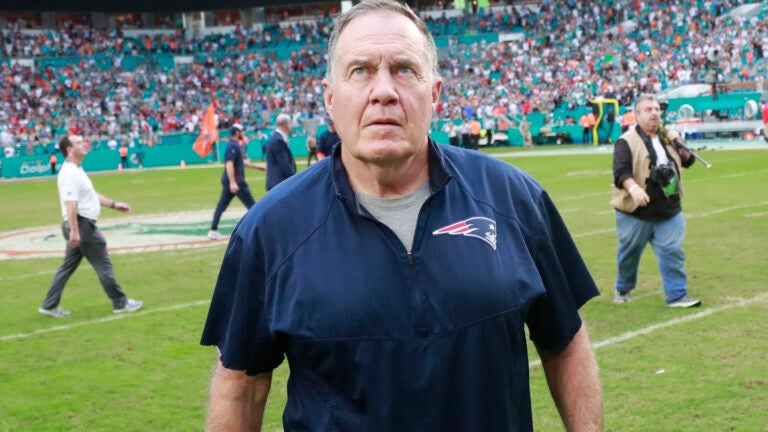 The clock did not favor the New England Patriots on Sunday.
Bill Belichick and his team ran out of time at the end of the first half, then couldn't shake the hourglass fast enough as the Miami Dolphins won the game in the final seconds.
The Patriots had no timeouts left when Tom Brady took the snap on the last play before halftime. Brady dropped back into the pocket, which soon collapsed, and the quarterback took a sack instead of throwing the ball away. The clock ticked to zeroes before Stephen Gostkowski could kick a field goal — three points New England would've appreciated at the end of their 34-33 defeat.
"Time ran out on us," Belichick told reporters postgame. "That's obviously not what we were trying to do."
The Patriots had the opposite problem two quarters later. There were only 16 seconds remaining in the game when the Dolphins offense got the ball back down 33-28, but that was enough time for Miami to pull off a stunning two-lateral touchdown.
THE MIRACLE AT HARD ROCK STADIUM

? » @NFLonCBS#NEvsMIA #FinsUp pic.twitter.com/Aoc1L5LcGG

— Miami Dolphins (@MiamiDolphins) December 9, 2018
Belichick dubbed the play a 'Desperado' as he explained why Rob Gronkowski was in the game for it. The towering tight end's presence was questioned because the Dolphins appeared to be out of Hail Mary range.
"Yeah, well they could throw it deeper," Belichick said. "They could have run the Desperado-type play, which is kind of an in between 20-yard pass, then it turned into a Desperado."
In the future, Belichick said, New England will have to coach and execute plays like that better. However, the head coach acknowledged there were plenty of other factors in the Patriots' defeat than one defensive lapse.
"Obviously, it's a real disappointing ending for us today," Belichick said. "There's a lot of things we could have done better. It came down to one play, but there were a lot of things besides that. In the end, we've just got to do a better job than we did. Miami played hard like they always do and they just made one more play than we did."