Patriots
Josh Gordon calls loss to Miami 'a momentum-shifter in a positive way'
"I know how much work we put in leading up to this game."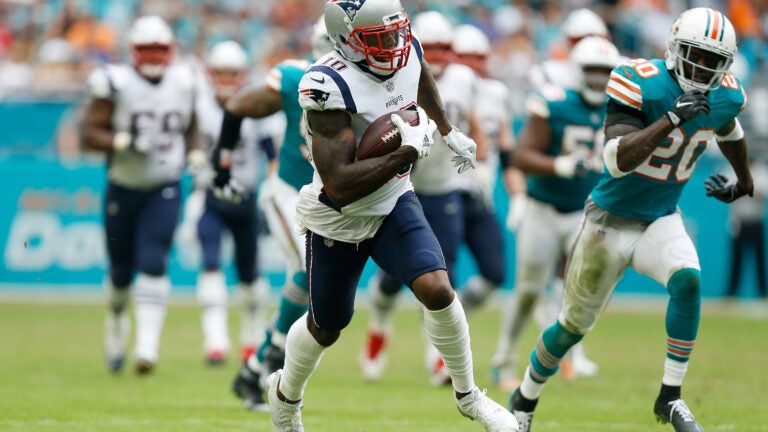 "I've never seen anything like that in my career," wide receiver Josh Gordon said after the Miami Dolphins strung together a wild series of laterals to edge the Patriots, 34-33, Sunday afternoon at Hard Rock Stadium.
Trailing by five points with seven seconds remaining, quarterback Ryan Tannehill hit wide receiver Kenny Stills for a 14-yard gain at Miami's 45-yard line. Triggering a series of desperate laterals, Stills shovel-passed it to DeVante Parker, who dished it to Kenyan Drake, who ran the ball 52 yards into the end zone.
Gordon was not a part of the defense for Drake's game-winning touchdown, but the 27-year-old has experienced similar situations in the past. He empathized with tight end Rob Gronkowski, who hobbled and dove to try and make a goal-line tackle as one of three safeties on the field.
"I'm sure he was definitely expecting a pass or something downfield, something he could jump up and go get, as opposed to pursue something that no offensive player has too much prowess of, so that's unfortunate," Gordon said. "But you live and you learn."
Despite the discouraging finish, Gordon maintained an optimistic point of view for New England's season. Though the No. 1 seed in the AFC may be out of reach, the Patriots can still secure a first-round bye if they win the remaining three games on their schedule.
"You know what? At the end of the game, I thought it was a momentum-shifter in a positive way, more so than a negative way," Gordon said. "I know how much work we put in leading up to this game. For it to end that way, it just doesn't seem like that's the end result for us, like that's the end of the story. We know we got more to prove and more to offer."
Gordon acknowledged the season is going to ebb and flow, but he placed more emphasis on how the team rebounds from the lows rather than how they manage the highs. He expressed confidence in the Patriots moving forward.
"Being here, I think we got a tough group of guys," he said. "We can handle it. We can bounce back. We're on to Pittsburgh now at this point, so it's a tough way to leave Miami, but we're here now."
Against the Dolphins, Gordon hauled in five catches on eight targets for 96 yards.