Patriots
Kenyan Drake on Miami's wild game-winning touchdown: 'That's the stuff dreams are made of'
The Dolphins came away with a 34-33 victory.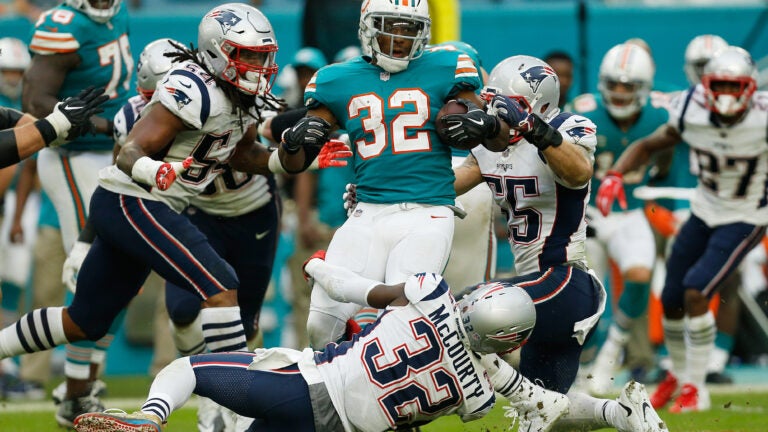 Much like the Patriots and their fan base, Miami Dolphins running back Kenyan Drake was in shock after he and his team pulled off a miraculous game-winning play for a 34-33 win at Hard Rock Stadium Sunday afternoon.
"To tell you the truth, I just kind of blacked out," Drake said in a postgame interview on the CBS broadcast. "That's the stuff dreams are made of. Honestly, I'm still in shock right now. I'm just like trying to take in the moment."
Drake's 52-yard touchdown run capped a wild, back-and-forth game for the Dolphins. With seven seconds remaining and New England leading 33-28, quarterback Ryan Tannehill hit wide receiver Kenny Stills for a 14-yard gain at Miami's 45-yard line. Stills then completed a lateral pass to DeVante Parker, who dished it to Drake. After breaking the initial tackle, Drake managed to evade a swarm of Patriots defenders to run the ball into the end zone.
"It worked to perfection," Drake said. "Praise to everybody that's standing around us that stick with us — coaches, fans, teammates."
With the win, the Dolphins improved to 7-6 and salvaged their postseason chances.
"We might be down, but we're never out — never," Drake said. "It's a 'never-say-die' mentality. In our eyes, we got to win out to make the playoffs. You have to have games like that, players like we have, [and] coaches like we have. At the end of the day, all this is about getting a win. It might be ugly, but I love it."