Patriots
Rob Gronkowski on his last-second missed tackle: 'I did sucky'
"You can have a great game, whatever, and if you don't get the 'W' it really doesn't matter."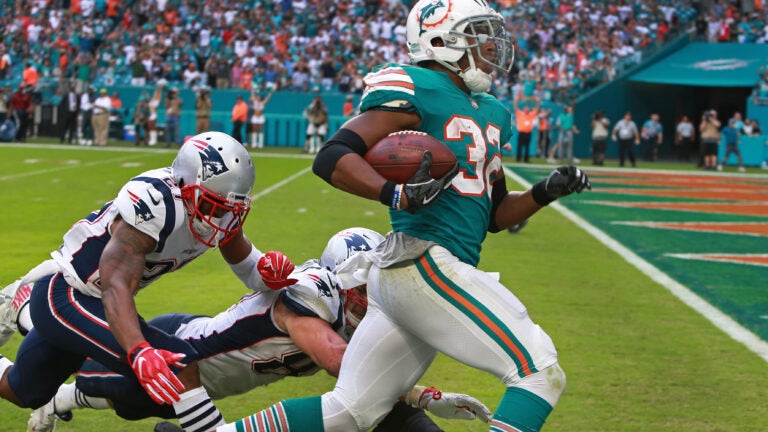 Rob Gronkowski sparkled all afternoon but stumbled at the finish.
Although the Patriots tight end excelled in his usual position on Sunday — catching all eight of the balls Tom Brady threw his way for 107 yards and a touchdown — he came up inches short on defense on the final play as the Miami Dolphins won a walk-off thriller, 34-33.
Gronkowski was the last line of defense for New England on the deciding snap, dropping deep into coverage to prevent Ryan Tannehill from connecting on a Hail Mary pass. Tannehill didn't throw up a prayer.
Instead, the Dolphins quarterback threw a pass to Kenny Stills 14 yards downfield. Stills tossed a lateral to DeVonte Parker, who flipped it to Kenyan Drake, who raced 52 yards through the Patriots defense for the winning touchdown as the clock ran out. Gronkowski had a chance to bring Drake down near the goal line, but tripped and could not prevent the Miami celebrations.
"We've practiced that play a few times for the Hail Mary," Gronkowski told reporters postgame. "You guys have seen it before. Just go up, get the ball. But they changed it up a little bit and I did sucky."
The tight end acknowledged that every time the Patriots have practiced the play it was to defend the Hail Mary toss, but noted the players have to be ready for anything.
"The way it ended, I mean, it sucked," Gronkowski said. "I've never really been a part of anything like that. I feel like it's going to test our character big time, how we bounce back from something like that. And, just, gotta make that tackle."
THE MIRACLE AT HARD ROCK STADIUM

? » @NFLonCBS#NEvsMIA #FinsUp pic.twitter.com/Aoc1L5LcGG

— Miami Dolphins (@MiamiDolphins) December 9, 2018
The 29-year-old, who granted he did "trip a little bit," said the final play and the game's outcome taught him once more that football is a game of inches and split seconds.
Despite the lackluster conclusion, Sunday marked Gronkowski's best performance since Week 1 against Houston. He caught his first red zone touchdown of the season, a 16-yard strike in the second quarter, and commanded plenty of attention from the Dolphins defense. However, it doesn't sound like his touchdown will be the play he'll remember from the game.
"Yeah, I mean, that's good and all," Gronkowski said. "But it just shows what happens when you lose. You can have a great game, whatever, and if you don't get the 'W' it really doesn't matter."