Patriots
Tom Brady on Miami's game-winning play: 'It shouldn't have come down to that'
"I've had some pretty tough losses in my career."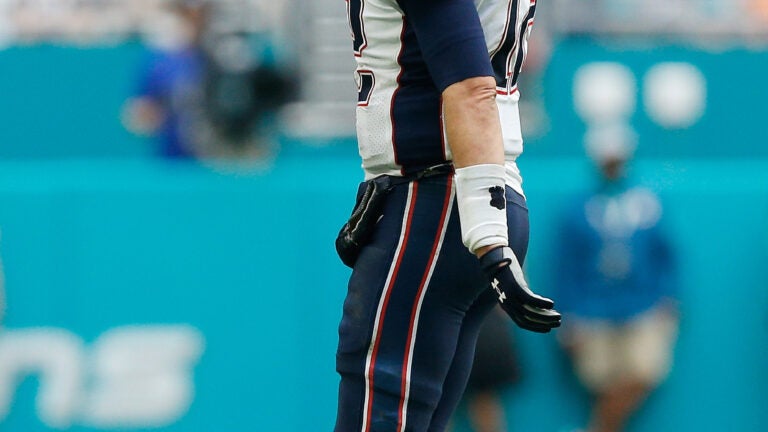 Patriots quarterback Tom Brady doesn't have much of an explanation for his underwhelming 7-10 record in Miami.
"They play well here," Brady said Sunday afternoon, after yet another loss to the Miami Dolphins on their home turf. "We haven't. It's that simple."
With the Dolphins trailing 33-28 and the clock ticking below 10 seconds in the fourth quarter, Sunday's game appeared to be a tally in the win column for Brady and the Patriots. But Miami managed to pull together an unbelievable string of plays that culminated with running back Kenyan Drake beating out a diving Rob Gronkowski to reach the end zone unscathed. Drake hurled the football into the stands before getting swarmed by teammates in celebration.
"They made some great plays today," Brady said. "They made one more than we did. That's the way it goes."
While Brady acknowledged Miami's astounding execution on the final play, he was also quick to recognize the game "shouldn't have come down to that." He said the Patriots "left a lot more points on the board offensively," particularly in the closing seconds of the first half. With 14 seconds remaining, he took a sack on 3rd-and-goal for a seven-yard loss to end the half and prevent Stephen Gostkowski from attempting a field goal. Brady admitted he thought the team still had a timeout.
"That was just a terrible play by me," he said. "That should never happen."
As Brady noted, however, the 41-year-old is no stranger to defeat via craziness. New England's dreams of going 19-0 were shattered by New York Giants wide receiver David Tyree's helmet catch in Super Bowl XLII. Four years later, he lost another Super Bowl at the hands of the Giants' fourth-quarter magic.
"I've had some pretty tough losses in my career," said Brady, who threw for 350-plus yards in the losing effort against the Dolphins. "I've had a lot of tough losses."
Sunday's game, of course, wasn't the Super Bowl, but its ramifications could extend beyond just a divisional loss. With the Kansas City Chiefs coming away with an overtime win over the Baltimore Ravens Sunday, the Patriots' hopes of nabbing the AFC's No. 1 seed are evaporating quickly. The No. 2 seed is also still very much up for grabs, as New England and Houston each have four losses.
With games against the Steelers, Buffalo Bills, and New York Jets remaining on their schedule, Brady said the Patriots still "got a lot of football left."
"We get back to work," he said. "We get back to work. If they didn't make that play at the end, we'd do the same thing. It's disappointing when we lose games, and I think we all realize we could have done a lot better job in certain areas. I wish I would have done a lot better job on certain plays, but that's football."