Patriots
2 former Patriots were critical of the Patriots' decision-making against the Dolphins
"I played there for six years, and I've never seen anything like this."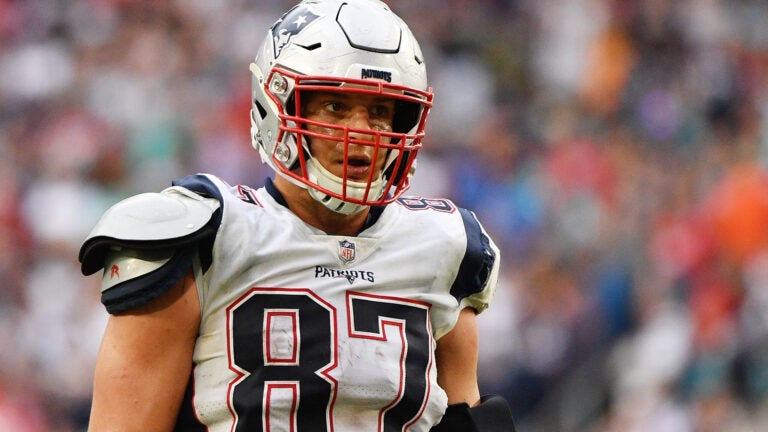 Why was tight end Rob Gronkowski on the field for Miami's final play of the game Sunday afternoon?
That's the question nearly everyone wants to know the answer to in the aftermath of New England's stunning loss to the Dolphins at Hard Rock Stadium. Known as the "Miami Miracle," the Dolphins managed to pull off a thrilling hook-and-ladder play in the closing seconds of Sunday's game to stupefy the Patriots, 34-33. Running back Kenyan Drake scurried over half the distance of the field to reach the end zone after beating out New England's last line of defense: Gronkowski.
The hobbling 29-year-old stumbled and dove, but ultimately could not make the game-saving tackle. It's not uncommon for an offensive player to be used as defensive reinforcement on the last play of a one-possession game, but given Miami's field position, a pair of former Patriots are questioning the coaching staff's decision to deploy Gronkowski as a safety.
"Situational football, the Patriots are the best in football at that," retired safety Rodney Harrison said on NBC's "Sunday Night Football" broadcast. "At the end of the game, they've got Gronkowski in, as you say, for a jump ball that's not going to happen. It's 70 yards away. We just are not used to seeing that from the Patriots."
"In a situation where chances of a Hail Mary are low, the "jumper" (Gronk) should be substituted for another safety/[defensive back]. For tackling purposes." tweeted retired linebacker Tedy Bruschi. "That was not done."
Gronk was in because that is a "last play" defense. The last play can be a hail mary pass. In a situation where chances of a hail mary are low, the "jumper" (Gronk) should be substituted for another safety/DB. For tackling purposes. That was not done.

— Tedy Bruschi (@TedyBruschi) December 9, 2018
The Dolphins began their final drive on their own 31-yard line, meaning quarterback Ryan Tannehill would have to chuck the ball about 70 yards to complete a traditional Hail Mary. Members of the Patriots' secondary acknowledged the chances of that happening were pretty unlikely.
"I knew it wasn't going to be a Hail Mary,'' said safety Devin McCourty, who watched the play from the sidelines despite being considered one of, if not, the Patriots' best defensive player. "He would have had to throw the ball pretty far to reach the end zone.''
"You just knew they're not going to throw the ball 75 yards to the end zone," added safety Duron Harmon. "We knew it was going to be a lateral situation. If the ball was at the 35-yard line or the 40-yard line, then we would be thinking of a Hail Mary, everybody get back, play the tip."
So, then why try to defend the deep ball with Gronk? Coach Bill Belichick said after the game the Hail Mary heave couldn't be ruled out, but many aren't buying the argument. Harrison, who was also critical of the confusion at the end of the first half, called the performance "very disappointing."
"I'm not used to seeing the Patriots play such sloppy football and bad situational football," Harrison said. "This is something they practice every single day."
https://twitter.com/BenVolin/status/1071949542797529090