Patriots
Patriots notebook: Rob Gronkowski hoping for big things against Steelers again
Safety Sean Davis is working to ensure the opposite.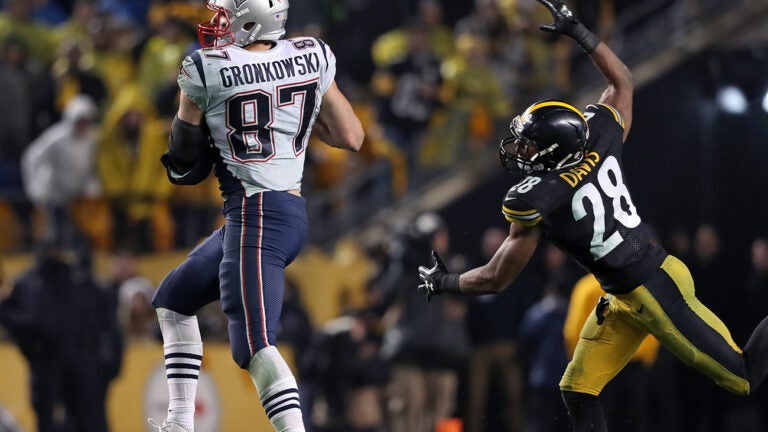 FOXBOROUGH — Rob Gronkowski says he hasn't thought about the controversial overturned touchdown from the last time the Patriots and the Steelers met.
"We haven't brought it up or anything this whole week,'' he said Thursday. "We've just been focusing on the game this Sunday.''
Winless against the Patriots since October 2011, coach Mike Tomlin and the Steelers had a chance to snap their ignominious streak in Week 15 last season. Quarterback Ben Roethlisberger and tight end Jesse James appeared to connect for the go-ahead 10-yard touchdown with 28 seconds remaining in the fourth quarter, but following a review of the play, officials ruled the reception no good.
"I probably was thinking the same thing as everyone else, like, 'What's going on? What happened?' and all that,'' Gronkowski said.
Two plays later, Roethlisberger faked a spike but ended up throwing an interception in the end zone. Game over.
Beyond its thrilling finish, however, New England's victory was a memorable one for Gronkowski. The tight end hauled in nine catches on a team-high 13 targets for a season-high 168 yards. Though he didn't record a touchdown, three of his receptions came on back-to-back-to-back throws from quarterback Tom Brady in the final minutes of the game. Together, they totaled 69 yards that set up the go-ahead 8-yard touchdown rush by Dion Lewis.
Steelers safety Sean Davis, who was responsible for tackling Gronkowski on two of those final catches, revealed to reporters in Pittsburgh on Wednesday that the stellar performance "has been lingering in the room'' — particularly with the defensive backs. He hopes to alleviate the gloominess this time around.
"I am going to be playing deep,'' said Davis, who transitioned from strong safety to free safety this season. "I am going to make sure the deep shots Gronk got on me last year, he's not going to get it this year.''
Gronkowski said he expects Pittsburgh to "throw a lot of [coverages]'' at him Sunday, from split safety to man to zone. But regardless of who is assigned to defend him, the 29-year-old has had his way in years past against the Steelers.
In each of the Patriots' last five games facing Tomlin and the Steelers, Gronkowski has logged at least 94 receiving yards. Though he doesn't have an explanation for the consistent success, attributing the uptake in production to "just playing ball,'' he's certainly hopeful the favorable trend continues at Heinz Field on Sunday.
After missing a few games because of ankle and back woes this season, Gronkowski said he "definitely'' feels as though he's in a better rhythm following his eight-catch, 107-yard performance in the loss to the Dolphins last week.
"You got to keep on building from it,'' he said. "You can't have a good week and stop things there. You got to keep going, you got to keep continuing, you got to keep putting that work in. It's a long season. It's a new week every single week.''
Déjà vu?
Having just prepared for the Vikings' receiving tandem of Adam Thielen and Stefon Diggs, safety Devin McCourty noted there is "some carryover'' when prepping for another elite duo in Pittsburgh's JuJu Smith-Schuster and Antonio Brown.
But what benefits the secondary more, according to McCourty, is the fact that the teams played each other last season.
"We know kind of what we're up against,'' he said. "I think that little bit of knowledge from last year, and how we prepared as far as just how good those guys are, helps. It's not the same as far as everything that we're preparing for this year, but I think that's the best comparison I can give.''
Smith-Schuster and Brown each rank in the top 12 in the league in receiving yards, receptions, and targets. Both have already eclipsed 1,000 yards receiving this season, combining for 18 touchdowns. McCourty noted the pair's versatility "makes it hard to set your defense.''
"It's not like one guy's a possession receiver and the other guy's a vertical threat, or one guy's a guy that's going to only run crossers and try to beat you with speed horizontally, they both do all of those things,'' McCourty said. "They don't just align at one position, either. They're in different spots in the offense, which makes it tough to kind of set a defense to just stop those two.''
Against the Patriots last season, Smith-Schuster recorded six catches for 114 yards, while Brown caught two passes for 24 yards before exiting the game with a leg injury.
Perfect attendance
All members of the 53-man roster were present and accounted for during Thursday's chilly full-pads practice, extending the Patriots' streak of practices with perfect attendance to five.
Dwayne Allen (knee) and Stephon Gilmore (ankle) were the only players listed on the injury report, though both were full participants. Allen, who banged up his knee against the Titans in Week 10, is the only Patriot to be inactive because of injury in the team's last two games.