Patriots
Nebraska-based 'Tom Brady of the outlet industry' bids $20K for his cleats
The QB's 'My Cause' gear has drawn nearly three times the money of any other player.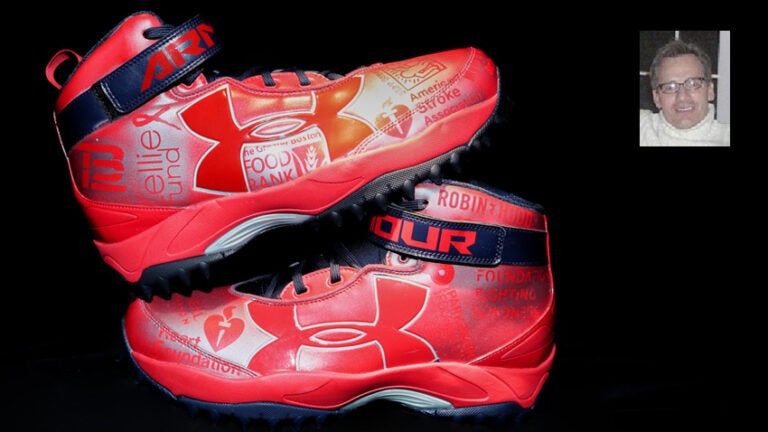 The sports memorabilia space is a bizarre world where everything can be for sale and value feels entirely subjective. Someone paid nearly $11,000 for David Ortiz's championship-winning beard hair in 2013. (And apparently regretted it, because it went unbid on in an attempted 2017 resale.) His tattered jersey yanked from new Yankee Stadium's foundation scored $175,100 for the Jimmy Fund and ended up at a Ford dealership in Mendon. A couple years ago, a podiatry student dropped $1,500 on a used Robert Griffin III ankle cast.
Amidst all that, an outlet mall outside Omaha, Neb., bidding more than $20,000 for game-worn Tom Brady's cleats feels downright normal. Especially when Rod Yates, the owner of the Nebraska Crossing Outlets, explains his motivation.
"I want to be the Tom Brady of the outlet industry," he said with a chuckle when reached by phone on Thursday.
Obviously. And just as obviously, should he win those cleats, he plans to hang them from the drop ceiling in his management office for everyone to see. Wouldn't you?
Let's back up a minute. The NFL is running more than 120 auctions in connection with the third-annual "My Cause, My Cleats" campaign, among them a mix of game-worn and/or autographed footwear from Hall of Famers, broadcasters and team personnel. All proceeds from the auctions benefit the charities identified by the specific owner.
The runaway stars have been Brady's kicks from the Dec. 2 victory over the Vikings. With 10 days still to go, 62 bids have run the price from $500 up to $20,010 — nearly three times that of the next closest, cleats worn by Titans running back Derrick Henry as he rushed for 238 yards and four touchdowns (including just the NFL's second 99-yarder).
This figures to be a boon for Brady's chosen charities, Best Buddies and The Ellie Fund. Both are longtime Brady favorites and hardly surprise choices. What might be a surprise is the auction's leader for more than a week: Yates and his outlet mall, which sits just off Interstate 80 between Omaha and Lincoln in the small town of Gretna. (Despite a population around just 5,000, it sports a current NFLer in Broncos fullback Andy Janovich.)
An Iowa native, Yates came to Nebraska in the mid-1980s to play split end for Tom Osborne's Cornhuskers, graduating in 1985. Yates credits Osborne with helping him get his first post college job, at a large property management company developing shopping centers. He's been in the industry ever since.
"We always think the mark of a great shopping center is how it caters to the community, so we do a lot with charitable giving," said Yates, noting specifically Osborne's TeamMates mentoring program. "Being a former athlete, I've always had a lot of admiration for Tom Brady. It's probably that video of him running his 40-yard dash at the pro day back in (2000), which was one of the funniest videos ever.
"Any time we get an opportunity to do something neat with charity and giving back, we always love to do it. So when I saw that opportunity to get Tom's cleats, being one of his loyal fans, I took the opportunity."
His outlets just celebrated their fifth anniversary and are in the midst of a fourth expansion, and have never skimped on big events to draw people out. The grand opening included a massive charity fashion show. After the Cubs won the 2016 World Series, Nebraska Crossing hosted the trophy for a photo op that drew more than 5,000 to what was then the nation's largest Under Armour store. Last month, young country star Kane Brown played a free concert in the parking lot.
And while Brady's not yet been — Yates would love to have the Under Armour star for an autograph signing — the G.O.A.T.'s presence precedes his footwear.
"You can take a tour around and you'll see at least 10 huge, larger-than-life blowups of Tom Brady with UGGs on, or with Under Armour gear," said Johanna Boston, the outlets' chief marketing officer. "I mean, who isn't a fan of Tom Brady? And if they're a fan of Tom Brady, they're a fan of Gisele. Who are we kidding?"
"Outside of our management office, there's probably a 10-foot by 8-foot poster of Tom Brady," Yates added. "I can't tell you how many people ask to buy that from me."
Anyone trying to pry the cleats from Yates, be they in the remaining days of the auction — it runs until Dec. 30 — or after it likely won't have much success. Asked how far he's willing to go beyond the $20,010 he's already offered, he was quick.
"I'm gonna win it," he said. "I'd go another 20 grand to win it."
You'd expect something less from the man trying to be the Tom Brady of the outlet industry?
"Tom is one of my idols," Yates said. "We try and embrace his work ethic."
"I've been working with him for five and a half years. You don't know Rod, but if you did, the guy works seven days a week," Boston said. "His brain never shuts down. He always wants to win. Taking no is not an option, and so I think it just really aligns with him actually winning these cleats.
"We really do like to be integrated into the community and we do a lot of charitable work, usually quietly. This is one that we definitely want to share."
If you're not ready to battle Yates, a dozen other Patriots have gear available. Among them:
• Bill Belichick's shoes are a relative bargain at $5,260, which will benefit his foundation.
• David Andrews's auction reminds how much the internet loves dogs and the military; his cleats representing the Warrior Dog Foundation sit at $4,410.
• Dont'a Hightower's cleats are an homage to his mother and single parent homes; they sit at $2,010.
• Rex Burkhead's red shoes from the Vikings game will go for at least $1,520, benefiting the Team Jack Foundation in its fight against pediatric brain cancer.