Patriots
Patriots capable of setting aside distractions as they take on Bills with shot at clinching AFC East
New England will have to look past the loss of talented, troubled receiver Josh Gordon.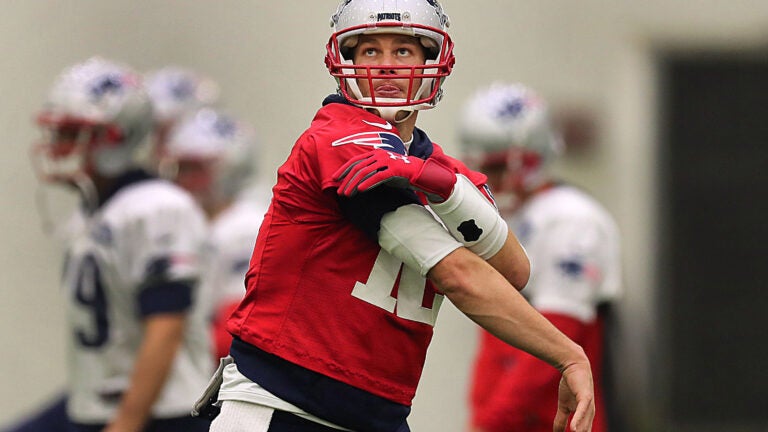 Welcome to Season 7, Episode 15 of the Unconventional Preview, a serious-yet-lighthearted, nostalgia-tinted look at the Patriots' weekly matchup.
The Patriots will take their third shot at clinching their 10th straight AFC East title Sunday when they take on the Buffalo Bills at Gillette Stadium (1 p.m., CBS, Greg Gumbel, Trent Green and Bruce Arians on the call.)
With the Patriots having lost two in a row, which you may have heard is a rare occurrence for them in December, and the Bills having won 3 of 5 (including victories over the Jaguars and Lions, who both beat the Patriots earlier), at the least it should be a more entertaining matchup than the Patriots' 25-6 win in Week 8, which was one of the more disjointed games of the season.
There's no team in the NFL — perhaps not in modern professional sports — that's better at dealing with distractions than the Patriots. And they had a big one this week — and a sad one, too — when talented, troubled receiver Josh Gordon announced Thursday that he was stepping away from football to focus on his mental health.
The news came a few hours before the NFL confirmed that he was being suspended indefinitely for "violating the terms of his conditional reinstatement under the Policy and Program for Substances of Abuse.''
Gordon's story is complicated, but our emotions shouldn't be. I feel sad for him — his back story is a brutal one of intertwined addiction and anxiety, and he probably just lost his last, best chance at salvaging his football career. Every day is a fight for him; that he kept it together for three months with the Patriots tells you he was trying his damnedest to make it work, even if he could not in the end.
I'm annoyed with him, too. He let down teammates who seemed to trust him and were getting awfully close to relying on him on the football field. He deserves some blame for that even though we know the demons he fights.
In a football sense, it's frustrating that the Patriots put themselves in a situation where they had to count on someone so unreliable. The Patriots are nothing if not practical, and I'm sure they never lost sight of the very real possibility that Gordon wouldn't be with them by season's end. But because of some dubious roster decisions between last season and this one, he was their last, best chance to give Tom Brady the receiving corps he deserves. It shouldn't have come to this.
I'll miss watching him play football for the Patriots. It was a fun 11 games. I hope the next time we hear from Gordon, the news is good, even if it comes with the knowledge that it doesn't always stay good for long.
Kick it off, Gostkowski, and let's get this one started . . .
THREE PLAYERS I'LL BE WATCHING NOT NAMED TOM BRADY
James White: Josh McDaniels has been an exceptional offensive coordinator during his time with the Patriots, and if you want to dispute that, I suggest you go back and watch some Drew Bledsoe tapes from the Ernie Zampese years before you dump on McDaniels. But even McDaniels does some strange stuff sometimes in terms of personnel deployment, and let me say this: There's no reason beyond an injury why White has been deployed so sporadically over the last two weeks. White has been the Patriots' best and most reliable offensive player this year. For much of the season, he was on pace for 100 receptions. But in the losses to the Dolphins and Steelers, White had just six rushing attempts and seven receptions, totaling 65 yards. I understand that he was probably drawing a decent portion of attention, but it's coordinator malpractice to allow your most dependable offensive player to be a bystander for two straight weeks, especially when you're struggling to score points. I'm starting to miss the days when it felt like the Patriots offense was always one step ahead. Use White, please. Use him a lot.
Chris Hogan: It feels like Hogan's third season in New England has been a disappointment, and in some ways it has. He has more receiving yards this season (468) than he had a year ago (439), and he's averaging more yards per catch (16.1 to 12.9), but he's also played five more games than he did a year ago. It would be huge for the Patriots if he could recapture his form from the 2015 season, when he had 38 catches for 680 yards and a league-best 17.9 yards per catch. I'd suggest his 63-yard touchdown catch last Sunday against the Steelers was a sign he's about to step up, but he was so open only because every Pittsburgh defensive back from Joe Haden to Carnell Lake to Mel Blount ran with Gordon on that play. I wouldn't write off Hogan, though. The opportunity is there, and this is a player who had nine catches for 180 yards in last season's AFC Championship Game.
Phillip Dorsett: Well, he's been efficient at least. Dorsett, the Patriots receiver who lost the most snaps when Gordon arrived and is likely to pick up the most snaps in his absence, does have 27 catches this year, and on just 32 targets. His best game of the season was the opener, when he had seven catches on seven targets for 66 yards and a touchdown in the Patriots' suddenly crucial 27-20 victory over the Texans. As far as fallback plans go, Dorsett isn't a bad one. He's actually caught every ball thrown his way since the Week 5 win over the Colts. Of course that's just 11 passes, and he doesn't have a reception in the last three games, which tells you that Brady only throws his way when he's wide open.
GRIEVANCE OF THE WEEK
I'll just leave this here. It's from Bleacher Report's superb NFL writer Mike Tanier, who also happens to be a former high school calculus teacher. He's sharing the probability of Panthers safety Eric Reid being drug tested at "random'' seven times this season.
Chance of being 1 of 10 people out of 62 chosen for weekly random drug tests over 9 weeks PURELY AT RANDOM:

0 Times: 20.5%
1 Time: 35.5%
2 Times: 27.3%
3 Times: 12.3%
4 Times: 3.5%
5 Times: 0.68%
6 Times: 0,087%
*** 7 Times 0.0072%
8 Times: 0.0003%
9 Times: 0.000007%

— Mike Tanier (@MikeTanier) December 18, 2018
Reid, who tweeted about his seventh test this season after the Panthers' game Sunday, has an ongoing grievance against the league alleging that team owners and the league colluded to prevent his employment earlier this season because he was a protester against social injustice. Reid, formerly of the 49ers, was the first player to join Colin Kaepernick in kneeling during the national anthem before games. He was signed by the Panthers in September.
Nothing the NFL does is coincidence, no matter how petty or small it might seem. Think he'd still be getting "randomly'' tested if he dropped the grievance and stopped kneeling during the anthem? No matter how you feel about the protests, you know the answer.
PREDICTION, OR WHERE HAVE YOU GONE, NATHAN PETERMAN?
Actually, we now have an answer to that: Oakland, where Jon Gruden is becoming the Rich Kotite of the West Coast. Peterman, who threw three touchdown passes and 12 interceptions in eight games with the Bills, was cut in November, a crueler fate than the one he seemed destined for — becoming the backup to Josh Allen for the next half-dozen years. Allen, the seventh overall pick in this year's draft, isn't exactly an accurate (52.2 percent completion percentage) or efficient passer (6 TDs, 9 INTs) in his 10-game career, but he has a phenomenal arm, and he's been strikingly effective when he runs the ball. Allen is the Bills' leading rusher (506 yards), with six touchdowns and a 6.7 per carry average. Considering that the Patriots are allowing 7.5 yards per rush over the last three weeks, Allen's ability to do damage on the run is a legitimate concern. Meanwhile, the Patriots, held to 10 points last week, will have to figure out how to make do without Gordon. They'll finally get those hats and T-shirts out of the box, but the battle to beat the Bills — like the path to clinching the division — won't be as easy as it once seemed.
Patriots 27, Bills 20.