Patriots
Tom Brady talked about his knee injury, Josh Gordon, and Patriots haters in WEEI interview
"Not a lot of people are rooting for the Patriots. We understand that."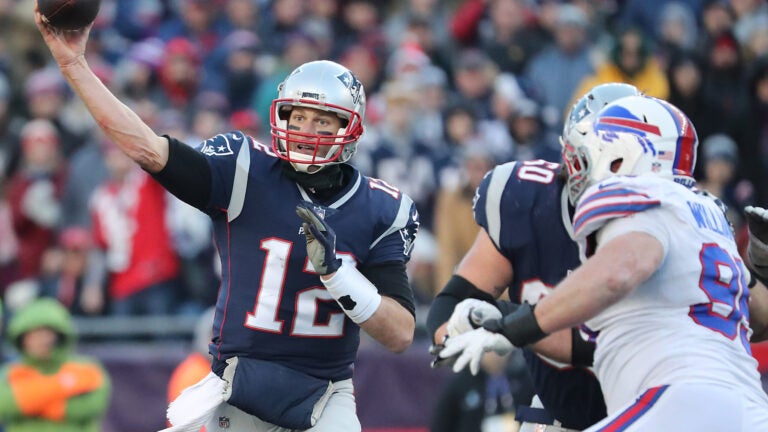 The Patriots won the AFC East for the 10th consecutive year on Sunday, but Tom Brady was clearly less than pleased with the team's passing attack when asked about it during his weekly interview on WEEI's "Mut & Callahan."
"It wasn't our best day in the pass game," Brady acknowledged. "That's very true. [The Bills are] the first ranked defense in the league in pass defense. They make it challenging on you, and there were certainly some plays we should've executed a little bit better. We'll just get back to work and see where we're at and what we can do better."
Brady was asked about a range of topics during the interview. Here are a few highlights:
The health of his knee
One lingering story regarding Brady has been the health of his knee. Since landing on the injury report in November with a knee injury, speculation has continued about its effect on his ability to play at a high level. Brady again refuted the idea that he's playing hurt.
"I was on the injury report for I think three or four weeks with a knee, but I've been practicing every day since I came off that, and I feel great," Brady explained. "I really do. Everyone has little bumps and bruises. It's just football, and it's a long season, but for this time of year I feel great. I feel ready to go and I'm excited for this week."
When asked about speculation that he's playing on a partially torn MCL, Brady didn't want to dive into details.
"I'm not getting into specifics of injuries," Brady said. "It just doesn't make any sense. There's nothing that benefits me talking about injuries and my injuries and so forth."
Josh Gordon's future
On the subject of Josh Gordon, Brady reiterated team comments from the previous week.
"Again, our team has talked about that," Brady said about his former teammate. "You know those things are really out of my control. I said last week we just all want to support Josh in whatever he needs to do to be in the best place he can be mentally, physically for himself, for his family. Regardless of whether football is in his future, I think everyone wants just the best for him. I'm just happy he contributed the way that he did this season. He was a great part of our offense, but he's just dealing with some other things now, and again we all support him in that."
The potential of a playoff bye
With the Texans' loss to the Eagles on Sunday, the Patriots moved back into the second position in the AFC playoff picture. New England can clinch a playoff bye if it beats the Jets on Sunday in the regular season finale.
Brady looks at the upcoming matchup (set for 1 p.m. at Gillette Stadium) as a playoff game in itself.
"If you win, it's essentially a playoff win, and I think those are hard to come by, so this particular week is essentially a playoff week for us," said Brady. "If we win, we keep advancing and obviously we advance past the first round."
The Patriots haven't played on the NFL's wild-card weekend since the end of the 2009 season.
Dealing with Patriots haters
One league-wide concept Brady is aware of at this point is the lack of support the Patriots have outside of New England. Neutral fans, in his opinion, aren't usually pulling for a team that wins a lot of the time.
Brady was asked about a recent Instagram post in which he referenced the "New England vs. everybody" narrative.
"I think that's kind of how we all feel," Brady said of his teammates. "Not a lot of people are rooting for the Patriots. We understand that. Our fans are, but I don't think we have many fans outside the New England area. But that's OK, we're going to keep fighting and keep showing up every week."
The importance of Robert Kraft
One of the last things Brady was asked about was the overall impact team owner Robert Kraft has had in the nearly two decades the Patriots quarterback has been with the organization.
Brady not only praised Kraft's commitment to supporting the team with all of the proper resources, he noted the personal impact.
"I mean Mr. Kraft has been a second father to me in so many ways," Brady explained. "He's been a part of so many important events in my life. He was at my wedding. I love him like a dad."