Patriots
Can the Patriots win with Tom Brady playing the role of sidecar?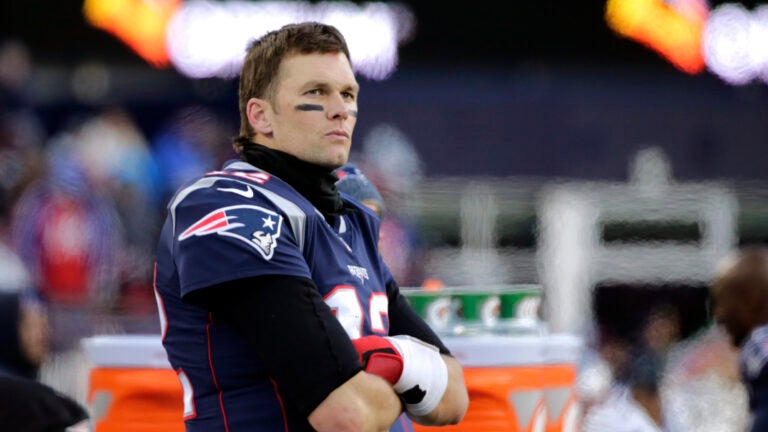 COMMENTARY
Tom Brady looks old.
It's an observation that gets overlooked in a hot take world of trying to determine when the ever-approaching cliff is coming to swallow up the quarterback's career. It's been a good half-decade of "Brady is finished" angles that have often come back to the slush pile after the Patriots quarterback is finishing up another NFL season in the Super Bowl.
The race to declare Brady's career "over" has, indeed, become a farcical pursuit.
But he sure does look old.
Brady was terrible last Sunday against the Buffalo Bills, completing only 13 of his 24 passes for 126 yards and one touchdown as the Patriots rode their running game to a 24-12 win. He managed to toss two interceptions, finishing with a 48.3 passer rating. It was easily the worst game of his mediocre 2018 season. It was easily one of the worst games of his brilliant, Hall of Fame career.
And yet, the win clinched a 10th-straight division title and has the Patriots sitting pretty for the No. 2 playoff seed in the AFC.
Go figure.
But the 41-year-old Brady hasn't looked right for much of this season, never mind the final third during which he has delivered a mediocrity that feels completely unfamiliar. When Brady did drop back to throw against the Bills, it came with an uncertainty against the pressure, a lack of the accuracy with his throws that has carved the opposition in the past.
Part of the reason might be that Brady is injured, reportedly suffering from a possible partially-torn MCL in his left knee. It seems an easy enough excuse for Brady's recent struggles, yet one that the quarterback isn't willing to admit just yet.
"I'm not injured," he said Sunday after being lifted for Brian Hoyer with 6:39 remaining in the game, a scenario you'd normally be less apt to see during a Patriots game than Bill Belichick wearing the dreaded red hoodie.
"I am not getting into specifics of injuries," Brady said Monday morning during his weekly guest spot on WEEI. "It just doesn't make any sense. Nothing benefits me talking about injuries and my injuries and so forth. Again, it's football. There are a lot of guys dealing with a lot of things. It's the nature of the sport."
It's also the nature of being a 41-year-old professional athlete. If you hang on long enough, age is inevitably going to catch up.
There's just so much more at stake with Brady's aging process than there ever has been with any other franchise quarterback on the downside of his career. After all, this is a guy who pledged only last year that he wanted to play until he was 45, forcing the team to trade Jimmy Garoppolo. It ended what most thought to be a natural transition of arms, from Brady to Garoppolo, in order to keep the Patriots' dynasty alive into the 2020s.
Instead, that dominance might be on the same borrowed time as the quarterback.
There's also the matter of Brady's sports therapy pursuits looking unfulfilled the more the quarterback struggles. Once Brady has to succumb to the wills of his body, does the TB12 Method flutter away into the Atkins' ether?
Depending on how the Patriots finish their playoff schedule, it's bound to be an offseason filled with questions of determining the end, and whether or not the Patriots bought into their past in trying to gauge their future. What else is new?
For now though, the immediate concern is the season finale against the New York Jets Sunday at Gillette Stadium.
And the Patriots quarterback looks old.
"We'll see what happens next week, but I have a lot of confidence in our quarterback," Belichick said last Sunday. "When we need to throw, hopefully we'll be able to throw if we have to. If we need to run it, hopefully we'll be able to run."
New England managed that philosophy during its run-heavy game against the Bills. Can that be a viable game plan all the way to Atlanta in February?
The Patriots clinched another division and, despite lots of hand-wringing, might just have another first-round bye as they head into January. They could also have secured the No. 1 seed had they not choked in delirious fashion against the Miami Dolphins and committed a litany of mental mistakes against the Pittsburgh Steelers.
The Chiefs, Chargers, and Texans have done everything they could manage in order to pave the way for the Patriots. It's the least they could do this time of the year.
But none of them can soothe the most-pressing fear that lingers around Foxborough. Age seems to be catching up with the 41-year-old quarterback to whom the Patriots have committed themselves for the foreseeable future.
But Tom Brady isn't finished. He's not approaching the campy cliff.
Instead, what the Patriots seem to be facing was always an inevitability, no matter how long its arrival seemed like it was never going to arrive.
Tom Brady looks hurt.
Tom Brady looks slow.
Tom Brady looks old.