Patriots
Former Patriots linebacker Ted Johnson criticized Tom Brady's claim that his 'brain's wired for contact'
"I'll be honest, and I love Tom, it made me throw up in my mouth a little bit."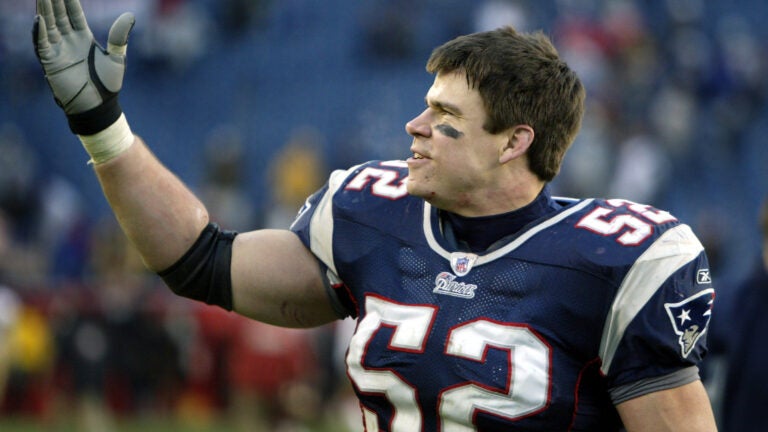 Ted Johnson, who won three Super Bowls as a linebacker for the Patriots from 1995-2005, has never been afraid to say what he thinks.
In 2007, Johnson – who suffered both documented and undocumented concussions while playing for the Patriots – was an early voice in the ongoing discussion about head injuries in football, telling the New York Times, "There's something wrong with my brain."
He's continued to openly discuss his post-NFL struggles, telling CNN in 2009 that he barely left his house for two years after retiring from football.
Given his personal experience with the lingering damage caused by head injuries, Johnson was not a fan of Tom Brady's recent comments about his brain's relationship with playing football.
"Your body gets used to the hits," Brady told Westwood One's Jim Gray in a December interview. "The brain understands the position that you're putting your body into, and my brain is wired for contact."
The comments came amid Brady's explanation for his longevity in the NFL, crediting the method's he's developed with his business partner, Alex Guerrero. The two published the 2017 book, "The TB12 Method," outlining their principles to go along with an existing health and wellness business.
Johnson, speaking Thursday on 98.5 The Sports Hub's "Felger  & Mazz," was disappointed in his former teammate.
"I'll be honest, and I love Tom, it made me throw up in my mouth a little bit," Johnson said after hearing Brady's description to Gray. "It was – and I have to say it – it was very irresponsible for Tom to talk like that. 'My brain's wired for contact?'"
Johnson listed several former NFL players whose deaths were tied to chronic traumatic encephalopathy (CTE), a neurodegenerative disease linked to continual head trauma.
"So what, Kevin Turner's wasn't? Junior Seau's wasn't? Justin Strzelczyk's brain wasn't? Andre Waters's brain wasn't wired for contact? But yours is? It was very insensitive and I thought irresponsible to talk like that."
Johnson believes that Brady has changed over the years as the Patriots' quarterback.
"People ask me all the time, 'What's Tom Brady like?'" Johnson said. "I can tell you what he was when I played with him, but he's a different guy now."
One reason for Brady's change, Johnson believes, has been a shift away from a core Belichick principle. That was Johnson's main takeaway after reading ESPN writer Seth Wickersham's 2018 article in which it was explained how Guerrero, who has never been a member of the Patriots' medical staff, was allowed access to the team.
"I couldn't believe that," Johnson admitted. "That was news to me. I didn't know about any of that. Shocking to me that [Brady] was given that kind of privilege, because what made this thing work for so long is that Belichick coached [Brady] as hard as he coached the last guy on the bench."
For Johnson, giving Brady star treatment is a slippery slope.
"Tom's given different privileges and he's given leniency here and there, and then that foundation starts to crack. And it's just not quite the same."