Patriots
What Bill Belichick had to say after the Patriots advanced to their 8th straight AFC Championship
"We'll see how it goes."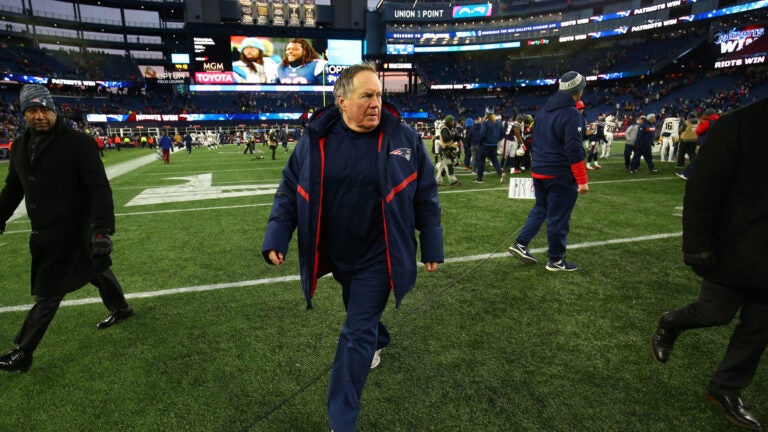 Coach Bill Belichick has been here before.
With a 41-28 win over the Los Angeles Chargers Sunday, Belichick and the second-seeded Patriots advanced to their eighth consecutive AFC Championship. But Belichick isn't interested in relishing in the team's sustained dominance, nor is he interested in comparing the successes of one group to another.
"I don't really care about that right now," Belichick told reporters following New England's victory at Gillette Stadium Sunday.
Instead, he's focused on one thing: "What this team can do."
Against the Chargers, the Patriots certainly made a compelling case that this team is capable of quite a bit. New England racked up 35 points in the first half alone. Running back Sony Michel finished the day with 129 rushing yards on 24 carries and wide receiver Julian Edelman added 151 yards in the air, but Belichick neglected to single out individual contributions. He expressed satisfaction with the team's red-zone conversion rate and balanced attack in all three phases of the game.
"We got plays from everybody," Belichick said. "We could list all the guys that played, we got contributions from all of them."
Though the Patriots jumped out to a commanding 35-7 lead at halftime, Belichick kept his foot on the gas pedal. He said the team was trying to score up until "the game got to the point where [the Chargers] didn't really have enough possessions to catch [them]."
"Look, we've seen Peyton Manning come back from 21 points in four minutes and win, so it's not over until it's over in this league," Belichick said. "I know I'm in the minority on that, but, until it's over, you're trying to score and you're trying to find a way to win. There's no lead, 28-point lead, 24-point lead, 21-point lead, I don't think that's ever really safe in this league. I've seen them evaporate."
Up next for the Patriots are the top-seeded Kansas City Chiefs. The two met at Gillette Stadium in October, when the Patriots won a shoot-out, 43-40. Belichick called the Chiefs a "well-coached" group with "a lot of explosive players."
"We'll see how it goes," he said. "We played a tremendous game with them here earlier, but that was a long time ago. We'll see where we are now [and] see where they are."