Patriots
Julian Edelman moved up to second all-time in NFL postseason receptions
"Doesn't mean anything unless you win, though."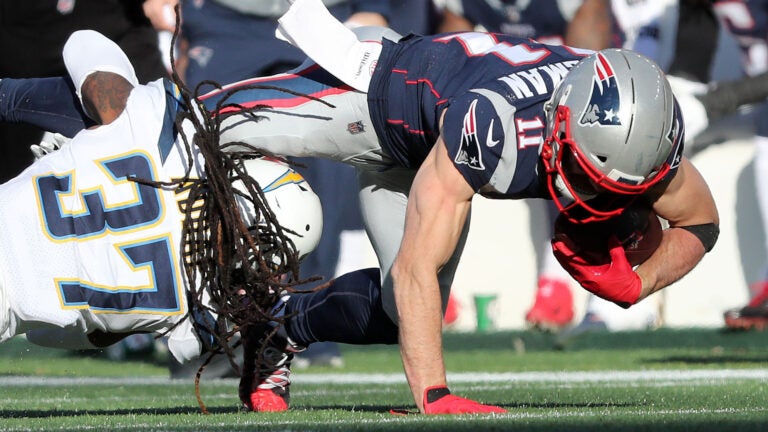 Julian Edelman hauled in nine catches for 151 yards to help the Patriots beat the Los Angeles Chargers in Sunday's NFL divisional round playoff matchup, 41-28. In doing so, the 32-year-old receiver moved up the all-time rankings in a few playoff categories.
Edelman, who made his playoff debut in 2010, passed Reggie Wayne to rank second on the all-time list of playoff receptions with several first half catches.
All-time leaders in postseason catches, NFL history:
1. Jerry Rice: 151
2. Julian Edelman: 94
3. Reggie Wayne: 93
T-4. Hines Ward/Wes Welker: 88

— Field Yates (@FieldYates) January 13, 2019
Additionally, Edelman now has 1,175 career receiving yards in playoff games. His tally on Sunday moved him from 13th all-time in postseason receiving yards up to seventh. Jerry Rice ranks first in the category with 2,245 yards.
"That's pretty cool," Edelman said after the game about ranking behind Rice. "I grew up in the Bay Area. I grew up close to that family, and he's the GOAT. Any time that you're in the same sentence as him, you pinch yourself, so it's pretty cool. Doesn't mean anything unless you win, though."
Edelman has frequently been a favorite target of Tom Brady's in the postseason. He led the NFL in playoff receiving yards in 2015 and 2017, though injuries kept him out of the 2013 and 2018 postseasons.
And after missing all of last season with a torn ACL, Edelman tried to explain the feeling of playing in his first postseason game since Super Bowl LI.
"It's a high you can't really feel anywhere else," Edelman told reporters, "and I get to go out and experience it again next week. So I'm looking forward to it."
Still, Edelman tried to keep his own personal accomplishments in perspective.
"Right now, honestly, I don't really care," Edelman said of his statistics. "After the season, you could think about it, but right now we've got to turn the page and get ready for — like I keep on saying – the best team in the AFC. Maybe down the road, we can talk about that, but right now just like Bob Seger said, 'turn the page.'"