Patriots
Football analysts predicted their demise last week. Then the Patriots crushed the Chargers.
Sunday's win proved Belichick and Brady can still deliver when it matters most.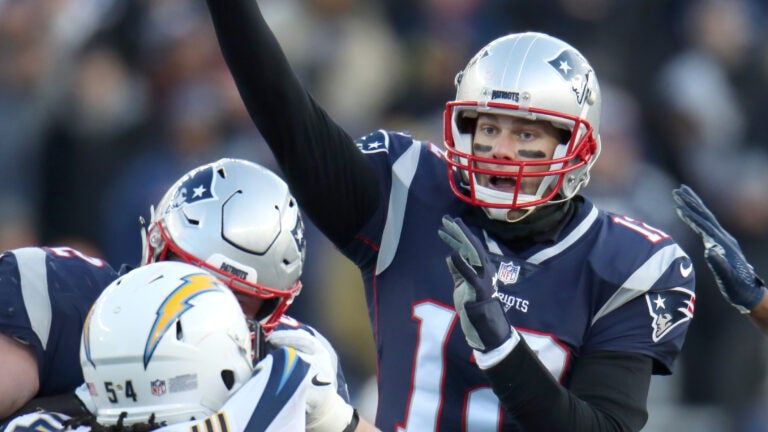 The Patriots defeated the Los Angeles Chargers, 41-28, on Sunday, in an impressive all-around effort that propelled Bill Belichick and Tom Brady to their eighth consecutive AFC Championship appearance. Though New England faces the AFC's best regular season team, the Kansas City Chiefs, next Sunday, the Patriots join the fray confident as ever after proving their detractors wrong in the playoffs' divisional round.
It had, after all, been the first season the Patriots won fewer than 12 games since 2010. Tom Brady was playing through an MCL sprain through the later portions of the regular season, as NFL.com's Ian Rappaport reported. Even before that injury was confirmed to the public, Brady's subpar performances were noted as possible evidence of his long-elusive decline.
Sunday's win proved Belichick and Brady can still deliver when it matters most. As the Patriots look forward to Patrick Mahomes and the high-flying Kansas City Chiefs offense, we might as well take one last look back at what media personalities said about the Patriots before Sunday's victory.
Stephen A. Smith is no stranger to divisive opinions. He delivered last week on ESPN's First Take when he said not only that the Chargers would win, but that he did not trust the Patriots to win the game. Smith expressed doubt in Julian Edelman, who led Patriots receivers with 151 yards gained on Sunday, according to ProFootballReference, as well as voicing concerns over Rob Gronkowski's health and the late-season loss of wide receiver Josh Gordon.
Max Kellerman, who appears opposite Smith on First Take, would not be outdone. Kellerman said he believes this season is evidence that Brady's decline has finally arrived, referencing his statistics are down "all across the board."  Kellerman went as far to state he would rather take any of the remaining AFC quarterbacks in the divisional round – Patrick Mahomes, Andrew Luck, and Philip Rivers – over Tom Brady.
I'd rather have all other QBs in the AFC not named Tom Brady in these playoffs right now, and so would you. #FirstTake pic.twitter.com/D6fGByw6W8

— Max Kellerman (@maxkellerman) January 11, 2019
According to ProFootballReference, Brady threw for 343 yards, completed 77.27 percent of his 44 pass attempts, and threw one touchdown on Sunday. This season, Brady has only thrown for more yards than he did on Sunday once when he threw for 358 against the Miami Dolphins on Dec. 12. Rather than walk back his statements Monday morning, Kellerman stood firm and insisted that while Brady did a fine job leading the Patriots offense against Los Angeles, he is still in decline and the Chargers neglected to challenge him enough.
"Every receiver was open by ten yards," Kellerman said on First Take Monday. "He [Brady] threw into zero tight windows. He faced zero pressure."
The Ringer's Bill Simmons weighed in Friday on his podcast, saying that a Patriots loss in the AFC divisional round would mark the end of the Belichick-Brady era. Simmons did add a shade of nuance, though; he predicted the Patriots would squeak by the Chargers and ultimately lose in the AFC Championship game.
If the Patriots lose to the Chargers, does that signal the end of the Brady-Belichick era?

Full #BSPodcast: https://t.co/zxXUzlf4sq pic.twitter.com/LHp3mp7JvE

— The Ringer (@ringer) January 12, 2019
"You never know the dynasty is going to end until it ends," Simmons said. "I think that will be the legacy if the Pats lose at home to the Chargers. I think it will be an ass-kicking if they lose, and then we'll come out of it and we'll go, 'This is over'."
Just as the Patriots and Chargers took the field on Sunday afternoon, Pittsburgh radio host Andrew Fillipponi took to Twitter to declare the end of the Patriots dynasty imminent.
The Patriots dynasty is in its final hours. Gronk's last game. Brady will get beat up. Feel like Christmas morning. Last time we have to take the Patriots seriously as a Super Bowl threat.

— Andrew Fillipponi (@ThePoniExpress) January 13, 2019
Rob Parker of Fox Sports 1 asserted that Brady "is not the same Tom Brady from a year ago," on his radio show Thursday.
"The problem is they're living in the past," Parker said, of those who insist Brady is productive as ever. "They're looking at the Tom Brady who did win… did they watch this year?"
Even Colton Underwood, current star of ABC's The Bachelor and briefly a linebacker for the Chargers in 2014, got in on the action. Underwood said on Twitter that Patriots coach Bill Belichick would have plenty of time to watch him on television after the Chargers beat the Patriots. Belichick will instead spend this week preparing for the AFC Championship game.
He will have plenty of time to watch The Bachelor after the Chargers win this weekend… https://t.co/ifDmlsepz4

— Colton Underwood (@colton) January 9, 2019
Ultimately, the Patriots caught some pundits off-guard with their smooth-sailing victory over Los Angeles. As the Patriots approach their next foe, the Kansas City Chiefs, in the conference championship game, time will tell if popular opinion sways New England's way now, or if Brady and Belichick must prove their worth to NFL fans once again.