Patriots
Tom Brady talked Julian Edelman, Rob Gronkowski and the 2014 Chiefs debacle in WEEI interview
"He's as mentally and physically tough as anyone who's played for the Patriots."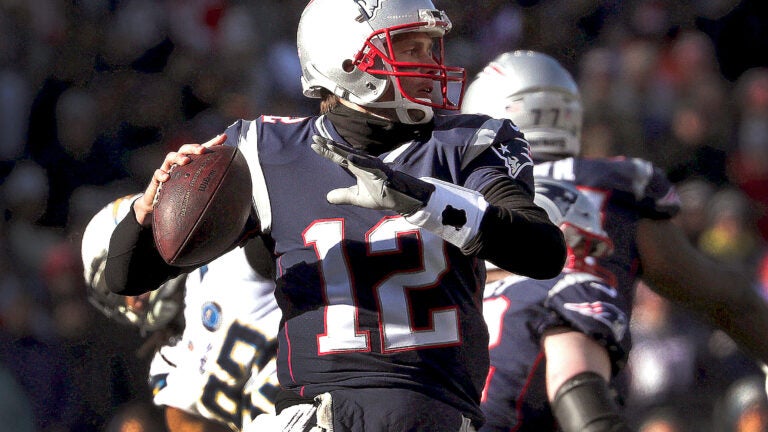 The day after defeating the Chargers to advance to another AFC Championship Game, Tom Brady offered a lengthy interview in his weekly appearance on WEEI's "Mut & Callahan."
Brady offered opinions on Patriots critics, the upcoming game in Kansas City against the Chiefs, the performance of his teammates, and two moments from his past.
Initially, the 41-year-old – who has had a number doubters this season – circled back on his immediate postgame soundbite from Sunday. Speaking to CBS after carving up the Chargers' defense, Brady said that, "I know everyone thinks we suck, and can't win any games."
Asked about the comment on WEEI, Brady said that it's impossible to escape media comments about the team even though he tries.
"We have TVs on from time to time," Brady noted, "so I don't think you're completely immune to anything, but I just know a lot of people didn't think we could win yesterday. And I'm sure a lot of people don't think we can win in Kansas City."
Looking ahead to the Chiefs, Brady knows what to expect in terms of the quality of the opposition.
"It's a big task, it's a tough game, but that's what you expect this time of year," said Brady. "There are no easy games with four teams left. You're playing against the best."
Julian Edelman's impact
Brady praised the Patriots' defense, the offensive, and the team's running backs ("That whole running back position has been incredible for us"), but spoke at length about Julian Edelman specifically.
The 32-year-old receiver caught nine passes for 151 yards, and moved up a few notches in the all-time playoff rankings in several categories.
"I mean nothing surprises me with Jules," said Brady. "He's as mentally and physically tough as anyone who's played for the Patriots. And it started with his upbringing, going to junior college and going to Kent State, and transferring to the receiver position, working and grinding. That's just him. That's all he knows. It's a real blessing for him in a lot of ways. I've been around to see it all happen, and I just have so much respect and trust in Julian. I'm so proud of everything he's accomplished. It's really amazing to see."
Looking back at Edelman's circuitous rise – even as a member of the Patriots – Brady highlighted an important trait.
"You just remember when no one really thought about Julian as what he's become except Julian," said Brady. "I think when you believe in yourself, that's a great lesson for all of us. You can accomplish a lot of things."
In trying to rank Edelman's Sunday performance, Brady placed it near the top.
"I think yesterday was one of the best games he's ever played at the biggest moments," Brady explained. "That's when Julian's at his best: in the biggest moments."
The speculation around Rob Gronkowski's future
Prior to the game against the Chargers, a report emerged from NFL insider Ian Rapoport that Rob Gronkowski was once again considering retirement at the end of the season. That could potentially mean Gronkowski made his final appearance at Gillette Stadium as a Patriot in Sunday's win.
Brady deflected questions about Gronkowski's future, offering instead a wide view of what the tight end has accomplished.
"I don't know," said Brady about Gronkowski's plans beyond the season. "Gronk and I have never talked about it, but he knows how I feel about him. He's been just a great person and player for us and teammate and friend. It's amazing what he's accomplished. Again, we haven't talked about it. Everyone makes different choices at the end of every season, but I love playing with him."
Looking back on a non-playoff season
Tom Brady has now led the Patriots to 13 conference championship appearances, and has only missed the playoffs once as the team's starter. Brady was jokingly asked what happened in that year.
"That was tough, man, 2002 we had a chance," Brady recalled. "We were 9-7, but we didn't have a great year."
In an unusually close season in the standings, three AFC East teams (the Patriots, Dolphins and Jets) all finished 9-7. The Bills finished 8-8. New England lost a tiebreaker to the Jets, who won the divisional and advanced to the playoffs.
Tom Brady, then in his first full season as the Patriots starter, led the NFL in touchdowns with what looks like a low total of just 28. Brady laughed at the statistic, knowing that the game has since seen the rise of more prolific offenses (Brady's AFC Championship opponent, Patrick Mahomes, led the NFL in 2018 with 50 touchdown passes).
"I know, a little different time then," said Brady. "Offenses were a little different."
For Brady, the changes in the game are offset by one thing that's stayed the same for him.
"A lot of things have changed since then, but still love winning. That's the constant."
The disastrous game against the Chiefs in 2014
Heading into a pivotal matchup at Arrowhead Stadium, Brady was asked about another notable time he played in Kansas City. In Week 4 of the 2014 season, the Patriots were crushed on Monday Night Football by the Chiefs, 41-14.
The aftermath of the game was marked by an infamous soundbite from then-ESPN analyst Trent Dilfer, who posited that the Patriots are "not good anymore." Brady and the Patriots responded by thoroughly thrashing the 3-0 Bengals the next week, 43-17. The season culminated with a dramatic Super Bowl win over the Seahawks.
"I just remember playing Cincinnati the next week after that game," Brady remembered. "We had some really emotional conversations as a team about getting our minds better prepared for what we we're facing. That was great for that season, and that's what we needed at the time. We turned that season around, and it turned into something pretty special."