Patriots
Patriots notebook: What Bill Belichick had to say about facing Andy Reid in the AFC Championship
"There is, I think, historically no better fast-starting team than the Chiefs."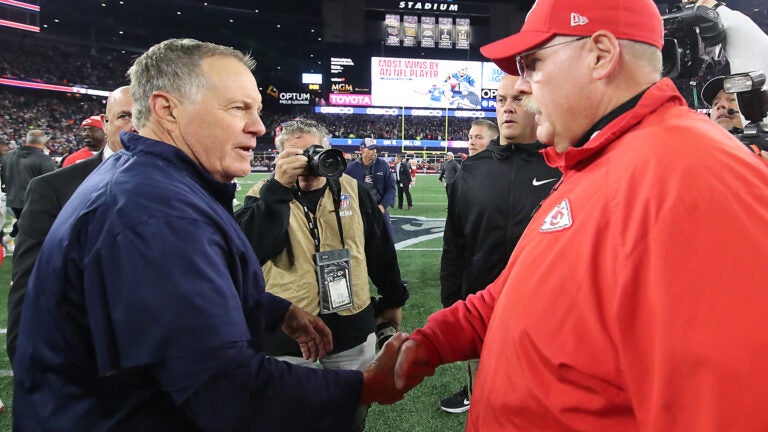 What are some of the hallmarks of an Andy Reid-coached team?
"I'd say the number one characteristic is they're always good," Patriots coach Bill Belichick told reporters at Gillette Stadium on Tuesday.
Reid, who began his NFL head coaching career with the Philadelphia Eagles in 1999, has fared considerably better against Belichick since migrating to the AFC in 2013. During his 14-year tenure with the Eagles, Reid faced Belichick four times and came up empty-handed each go-around, including a 24-21 loss in Super Bowl XXXIX. During his six-year tenure with the Kansas City Chiefs, however, Reid is 2-2.
His pair of victories — last year's season opener and the 2014 debacle that spurred former ESPN analyst Trent Dilfer's infamous "They're not good anymore" proclamation — boast quite an impressive point differential (42). His pair of losses — an AFC divisional-round matchup in January 2016 and October's 43-40 barnburner — were both decided by one possession.
"Andy's a tough matchup for anybody because they do so many things and they do so many things well," Belichick said. "The success that they've had, not only this year but all six years that he's been there, is very impressive."
Despite their extensive history, Belichick didn't sound too interested in digging deep into Reid's previous game plans, nor did he seem inclined to out-weasel him through any sort of extensive trickery. Instead, Belichick's focus remained on the Patriots' ability to execute the fundamentals.
"There are a lot of things they could do," he said. "I don't think trying to read [Reid's] mind is really that beneficial. They're so good at so many things that I think the most important thing for us is that whatever we try to do, that we're able to do it well and able to adjust to the multiples that he's going to give you."
Like offensive coordinator Josh McDaniels, Belichick sees value in getting on the board early, especially against a team like the Chiefs. Kansas City kicked a field goal or found the end zone on 12 opening drives this season and averaged a league-high 35.3 points per game. New England's offense is no slouch, however, scoring on nine of its opening drives and averaging a fourth-best 27.3 points.
"There is, I think, historically no better fast-starting team than the Chiefs," Belichick said. "Coach Reid's always done a great job of that. They've outscored their opponents by I think it's about 100 points or so this year. That's a big advantage to play the last three quarters with. Certainly, we don't want to be in that position, nor do they, I'm sure.
"Everybody's going to compete for 60 minutes or longer, however long it takes this weekend, and that's what we have to be ready for. But yeah, of course, we want to do well early and we want to do well in the fourth quarter, too."
Arctic blast?
The early forecast projects an arctic blast to hit Arrowhead Stadium on Sunday, with temperatures at kickoff possibly ranging from 10 degrees to well below zero. But the Patriots, who are no strangers to the cold, don't seem convinced the weather will have that much of an impact.
"I don't think it will be much of a factor because it's not like we're playing in 10 [degrees] and they're playing in 50 [degrees]," wide receiver Phillip Dorsett said. "We're both playing in the same temperatures, so we both have got to adjust and both have to be ready for it."
"It could be cold, but, at the end of the day, you've got to play football," added safety Duron Harmon. "You've got to tackle, you've got to catch the ball, you've got to block, you've got to run, you've got to do everything you can to win the game.
"They're going to be cold. Everybody is going to be cold. The guy that understands it and is mentally tough enough to get through it and fight through it and help [give their team a chance to win] is going to be the team that's standing at the end."
Even if temperatures dip well below freezing, the playing surface shouldn't be frozen because Arrowhead's field is heated. When the Chiefs faced the Tennessee Titans in a record-low 1 degree in December 2016, the turf registered at 60 degrees. Belichick said the team "absolutely" takes into consideration the field conditions when preparing to play on the road.
"I'd say during the year we've practiced in most every condition we could get, and it would be pretty unusual for something to come up that we haven't at least approximated in the practice setting so that we can refer back to," he said. "It would have to be something pretty extraordinary to fall outside of that."
He stressed that the game is ultimately going to come down to "how [the] Patriots compete against the Chiefs," not a detail about the field or the weather.
"The major part of it is playing the opponent that you play," he said. "They're the number one seed in the AFC, so in no way, shape, or form am I suggesting we would look past our opponent toward something that could possibly affect the game."
Mighty Mahomes
Belichick didn't offer a historical comparison for the Chiefs' second-year sensation Patrick Mahomes, but he certainly had no shortage of praise.
"He's an outstanding player in every facet of the game," Belichick said. "He's got a strong arm. He can throw the ball the length of the field. He's got a great touch. He's got the ability to read coverages and extend plays, make good decisions, and make explosive plays without taking too much of a risk and putting his team in jeopardy. He does all of those things well and that's a credit to him."
Mahomes finished the year with a league-high 50 touchdowns and was one of two quarterbacks to eclipse 5,000 passing yards. He also rushed for 272 yards on 60 attempts, averaging 4.5 yards per attempt. Belichick said the coaching staff has talked to the defense about Mahomes's ability to scramble and extend the play.
"We don't want that situation to come up, but I'm sure at some point it will," he said. "Probably more than once, and we'll have to deal with it then. It's very challenging. He can do a lot."