Patriots
How Peabody elementary students created the viral Lego portrait of Tom Brady and Bill Belichick
Andover artist Rob Surette and the students made the masterpiece in the midst of the Patriots' latest Super Bowl run.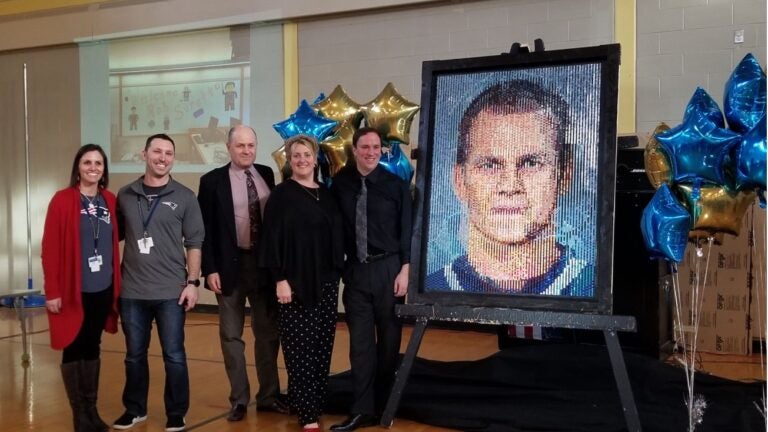 In 2014, Andover-based artist Rob Surette led a three-day workshop at Bancroft Elementary School in Andover, collaborating with young students as they participated in the creation of a portrait of former Red Sox slugger David Ortiz made entirely out of Legos.
Surrete returned to the Lego arena again last week, this time teaming up with students at the Brown School in Peabody for an even more ambitious project: a 4.5-foot by 3.5-foot portrait that shows New England Patriots head coach Bill Belichick — or quarterback Tom Brady — depending on what angle it is viewed from. The portrait had made waves on social media and received attention from The Boston Globe, USA Today, and WCVB Channel 5 in Boston.
"MIND-BLOWING LEGO MURAL!"I was so happy to be invited to the Brown School in Peabody, Massachusetts this past Monday, Tuesday and Wednesday to conduct a week-long community-building Artist in Residence LEGO Workshop!Every student and adult in the school helped create this 22,500 LEGO masterpiece, and after 100 hours of work, we unveiled it in grand fashion yesterday afternoon!Brown School Principal, Lauren King, hired me back in the Spring of 2014 to create a DAVID ORTIZ LEGO Masterpiece with the students of her former school in Andover, Massachusetts (see link below, in comments) and called me again this Fall, asking if I could think of a magical concept for the students of her new school.Brown School's motto is, "Aim High…Together We Will Fly!" which is a particularly beautiful message since Brown has a wonderfully diverse and truly special population. One message that runs clear and true in the Brown School is a spirit of inclusion and acceptance. We are all different, we all have different needs, and we are all working on different goals. These students are not only learning a true message about tolerance and acceptance, but they are also learning how to help and support one another. This encapsulates the Brown School (AND THE NEW ENGLAND PATRIOTS TOM BRADY – BILL BELICHICK) motto, "Aim High…Together We Will Fly!"Brown SchoolNew England PatriotsNew England Patriots CheerleadersTom [email protected] BelichickTB12Bill BurtToday ShowWCVB Channel 5 Boston7News – WHDH BostonWBZ | CBS BostonNECNCraig BurnsLegoland Discovery CenterLEGOLEGO EducationGood Morning [email protected] BündchenTODAYKelly RipaGood Morning AmericaEllen DeGeneresThe White House

Posted by Rob Surette – Amazing Hero Art on Saturday, January 12, 2019
Surette said he was invited to lead this workshop and art project at the Brown School by principal Lauren King, who had previously hired Surette to create the Ortiz portrait in 2014 while working in Andover, because his workshops with elementary school students create an environment of inclusivity and encourage community building.
When Surette gathered Legos this time, he said he encountered pieces with different slants to them, almost like LEGO shingles on a roof.
"I thought to myself, 'Wait a minute, I wonder if I could do this magic trick where half of them angle one way, and half of them angle the other way, so you get two portraits in one,'" Surette said.
Though Surette decided early on to portray Belichick and Brady, inadvertent timing led him to create his latest masterpiece in the midst of the Patriots' playoff run. After weeks of measuring Lego pieces to make sure each would be placed at the proper angles to achieve the portrait's optical effect, and blending spray paint to achieve proper skin tones to do justice to Brady and Belichick's likenesses, Surette led a three-day workshop at the Brown School that he said every student and adult in the building participated in, putting in 20 LEGO pieces each.
Surette said he did not tell the students what the portrait would portray until he could unveil the finished product to them.
"I told them, 'you're going to be blown away,'" Surette said. "'Because you're going to put in 20 LEGOs, and you're going to think your contribution is insignificant, but wait until you see what 400 kids and every adult, even the lunch ladies and the custodians, what we're going to create.'"
After three days, Surette said the students and staff at the Brown School helped him complete about twenty percent of the mural. He then spent the remainder of the week finishing the portrait, including the finer details of the two Patriots' legends faces, and completed the project by Jan. 11, when he revealed it to the students and staff of the Brown School, who appeared amazed by the impressive art piece they helped create.
"The place erupted. They erupted," Surette said of showing the portrait in front of the school. "I unveiled it very slowly as I rotated the masterpiece, and I only let them see the Belichick side. They started cheering really loud, like, 'Oh my God, it's Bill Belichick,' but then I kept rotating it slow, slow, slow. By the time like 3/4 of the kids saw the Belichick side, now you see the beginning ripple effect of the audience seeing Brady, and they start going crazy."
Aim High…Together we will Fly!!!#amazingheroart #aimhightogetherwewillfly #patriots #Bellichick #TomBrady #BrownSchool #Lego #PatsNation #EverythingWeGot

Posted by Brown School on Friday, January 11, 2019
Surette said he's thrilled with the reactions he's received from parents of students who participated in this workshop.