Patriots
Scott Zolak is not one to take Patriots' success for granted
Zolak said New England's win over the Jets in their regular-season finale might end up being a pivotal moment.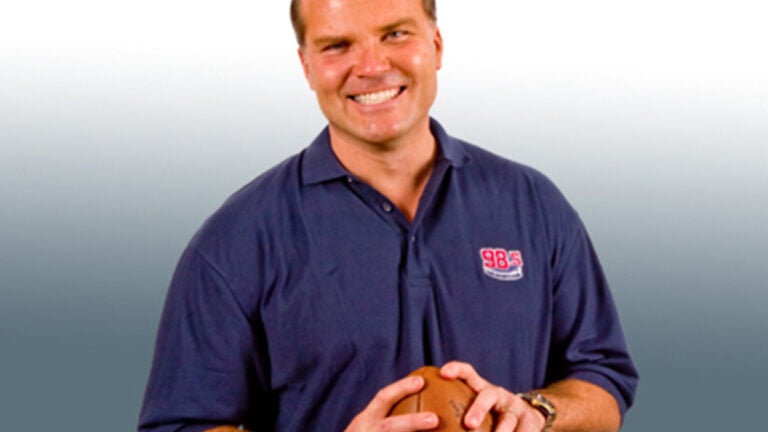 Scott Zolak has been an analyst on 98.5 The Sports Hub's Patriots broadcast team for eight years — one as a third voice on the sideline, one in the booth with Gil Santos after Gino Cappelletti's retirement, and the past six with play-by-play voice Bob Socci.
In his eight seasons, the Patriots have reached the AFC Championship game every time.
Coincidence? Well, yeah, obviously. Broadcasters don't have a tangible impact on a game, though there has been a time or two when we thought Tommy Heinsohn might pick up a technical foul for berating a referee during a Celtics telecast.
The Patriots will be playing for their ninth Super Bowl berth of the Tom Brady/Bill Belichick era when they visit the Kansas City Chiefs Sunday. Despite the franchise's nearly two decades of excellence, including this extraordinary streak of reaching the NFL's version of the final four every year he's been on the broadcast team, Zolak says he does not take it for granted.
"No. Definitely not,'' he said. "It's crazy. It's ridiculous. You know it will be over someday. I remember when Willie [McGinest] and Adam [Vinatieri] were at the end and moving on here, and I was telling people, 'This could be the end, man. It's going to be tough replacing these guys.' That was, what, 12 years ago?''
Even a little longer than that. Both departed as free agents in March 2006. Vinatieri, who owns at least three of the most memorable clutch kicks in NFL history, signed with the Colts, while McGinest, a stalwart defensive end/linebacker, joined the Browns
"Man, that really is amazing, especially in the salary cap era,'' said Zolak. "Bill and Tom have just kept it rolling, to the point that an 11-win season is looked at like a down year or something. I remember in '96 when we got to the Super Bowl, we won 11, and we felt like even getting to 10 was a great year.''
The Patriots did endure some turbulence, at least by their heightened standards, along the way. The 11-win total this season is their lowest since 2009, when they went 10-6.
I asked Zolak if he ever thought it was possible, or even likely, that this team was going to fall short of the conference championship game.
"Well, there were definitely valid reasons for concern,'' said Zolak. "The Miami loss, you can chalk that up to a freak-of-nature type of play. You've just got to move beyond it. It's the Miracle in Miami, it's never going to happen again. You screwed up, but you get past it.
"Pittsburgh, you went there against a good team and you blew some opportunities in the red zone and lost that one. So you're coming out of that with a second loss in December, which doesn't happen around here, and you're thinking, 'OK, we're in trouble.' ''
But in the ensuing weeks, Zolak took a broader look at the league and realized that even teams that had excelled all season were dealing with their own problems.
"You watch the rest of these teams, and you realize that the Rams didn't really finish the regular season like they started it, and the Chiefs lost Kareem Hunt, and they lost to the Chargers, and the Chargers lost to the Ravens [late in the regular season],'' he said.
"So everyone was dealing with something. Sometimes you forget or don't notice that because you're focused on your own team's problems. It was a weird year, especially in the AFC.''
Zolak said the Patriots' win over the Jets in their regular-season finale might end up being a pivotal moment, for one reason: It was the first time Brady looked healthy and sharp since suffering a reported MCL injury in a Week 10 loss to the Titans.
"I remember I was the first to see [that something wasn't right with Brady], post-Tennessee,'' said Zolak. "I watch everything in warmups. I know his routine, I know he runs all the way down the field [when he takes the field]. That day, he came out, jogs 20 yards, and starts warming up. It was very strange.
"So on Sunday [before the Patriots' 41-28 divisional-round victory over the Chargers], I'm standing with Tom's dad, and I say, 'Shoot, what are we going to see when he comes out of the tunnel? Is he going to pull up?' And his dad says, 'Yeah, he's probably going to pull up.'
"Then Brady comes out and, boom, runs the 100 yards down the sideline, all fired up. And his dad says, 'Shoot, I don't even know. Don't ask me.'
"But there was a change from Buffalo [a win in Week 16] to the Jets game. He looked like he was moving a lot better. I thought he looked a little stiff against Buffalo, but I talked to [Julian] Edelman a little before the Jets game and he said Tom was throwing the ball as well as he's thrown it all year.
"And he was great against the Chargers, obviously. When that's happening this late in the season, you've got to feel pretty good about their situation.''