Patriots
Max Kellerman explained why Tom Brady was 'obviously' lucky to beat the Chiefs
"Duh, he was lucky."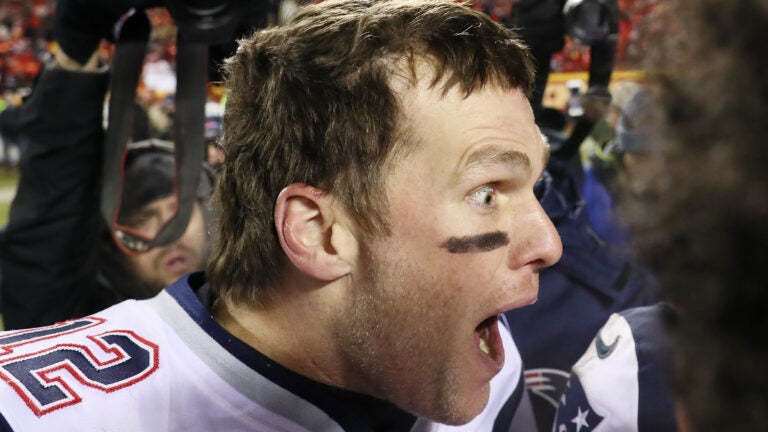 There were a number of too-close-for-comfort plays in the fourth quarter of Sunday's AFC Championship Game. Many of them went the Patriots' way, from the offsides penalty against the Chiefs that negated an interception to Chris Hogan's controversial catch to that very definition of chance: a coin flip.
For Max Kellerman of ESPN's First Take, the tight margins added up to an "obvious" answer — Tom Brady was lucky to reach his ninth Super Bowl.
"Of course he was lucky," Kellerman said. "The answer is unequivocally yes, obviously, and duh, he was lucky."
Kellerman pointed to the aforementioned flag on Kansas City linebacker Dee Ford for lining up in the neutral zone. He also posited that Hogan's third-and-eight catch was not, in fact, a completion, and noted a questionable roughing the passer that benefited New England.
The kicker for Kellerman's argument was the coin flip. The Patriots won the toss, and in keeping with the NFL's overtime rules, won the game by scoring a touchdown on the opening drive. Patrick Mahomes and the Chiefs offense never saw the ball in the extra period. Kellerman argued that the rule should be changed.
"You have the opportunity to play defense — and it is possible to score on defense — but it is much, much, much more likely that you're going to score on offense, giving the team that wins the toss a really unfair advantage," he said. "It's based on luck."
Kellerman's colleague, former Pittsburgh Steelers safety Ryan Clark, disagreed. He said the rule should stay in place because it gives the defense a chance to stop the opponent and give the ball back to the offense, or force a turnover and score themselves. He noted the rule has already changed and defenses can even allow a field goal and still have a chance to win.
"Now, you're giving the defense a chance to get the ball back to the offense," Clark said. "You just have to find a way to keep them out of the end zone. Kansas City, show up and play 'D.'"
If Brady takes issue with Kellerman's invocation of Lady Luck, he can take comfort in the fact that he converted another believer. Shannon Sharpe, the former Denver Broncos tight end and current host of FS1's Undisputed, reversed his long-held belief that Aaron Rodgers is better than No. 12.
"I fought it as long as I could, but I can't fight it anymore," Sharpe said. "Moving forward, from this day on, I will never ever say again Aaron Rodgers is better than Tom Brady."