Patriots
What Rex Burkhead had to say after scoring the 2 final TDs of the AFC Championship
He had more touchdowns in this game than in the regular season.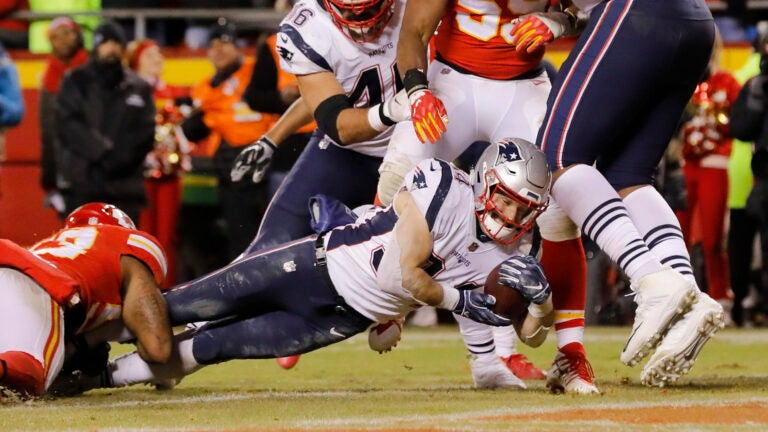 For a fleeting moment, it looked as though running back Rex Burkhead might be one of the scapegoats if the Patriots lost the AFC Championship.
When quarterback Tom Brady handed the ball to Burkhead on fourth and 1 from the Kansas City Chiefs' 25-yard line, the 28-year-old came up short. Many fans expressed their disappointment and confusion with the play call, but Burkhead quickly made them forget about what had just transpired.
"It's frustrating when you don't convert on a fourth and short, of course," Burkhead told reporters. "Definitely had some motivation to get out there and make some plays."
In the end, he more than compensated for the one miscue, scoring both the go-ahead touchdown in the final minute of regulation and the game-winning score in overtime of New England's 37-31 victory Sunday night.
Hello Super Bowl!@rbrex34 with the game-winner #EverythingWeGot pic.twitter.com/oyyzZ1WZkN

— New England Patriots (@Patriots) January 21, 2019
Burkhead finished with 12 carries for 41 yards, along with two receptions for 23 yards. No plays were bigger than the two TDs. The first was a 4-yard scamper with 39 seconds left in the fourth, and the second came on a 2-yard plunge to cement yet another trip to the Super Bowl.
.@rbrex34's second most important TD of the night#EverythingWeGot pic.twitter.com/3lOrAYxAZY

— New England Patriots (@Patriots) January 21, 2019
Burkhead, who suffered a neck injury in Week 3, returned to the field Week 13 against the Minnesota Vikings. He had more fumbles (two) than touchdowns (one) in an injury-plagued regular season, but he responded by scoring one against the Los Angeles Chargers and two more against the Chiefs.
The final one elicited pandemonium among the Patriots.
"You get in and hear everyone screaming," Burkhead told reporters. "Not the fans in this case, but your teammates lift you up. It's a great feeling. I'm just happy to be part of this team and have another chance at a Super Bowl."
https://embed.sendtonews.com/oembed/?SC=88liCBUzLk-488964-8402&autoplay=off&sound=off&V=2&format=json