Patriots
What Bill Belichick had to say about Rams DT Aaron Donald
The 27-year-old defensive tackle led the NFL in sacks this season.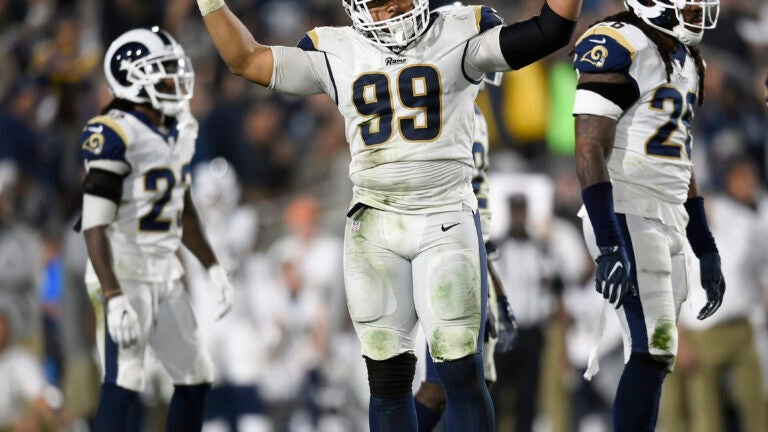 Bill Belichick did not underplay how effectively Rams defensive tackle Aaron Donald plays in his first conference call with the media ahead of Super Bowl LIII.
"Everything," Belichick said when asked what stands out about Donald and his play style. "He's pretty much unblockable."
This year, Donald wreaked havoc on offensive lines and quarterbacks with a league-leading 20.5 sacks in the regular season – 4.5 more sacks than the next player on the leaderboard, according to ProFootballReference. The 27-year-old, 280 pounds defensive tackle also set career highs in tackles for a loss of yards (25) and quarterback hits (41), showing an elite ability to bypass the offensive line and get to the quarterback.
Donald poses the greatest threat of this postseason to the Patriots' offensive line, which has played near-immaculate football over the last two games. Neither the LA Chargers in the divisional round nor the Kansas City Chiefs in last weekend's AFC Championship sacked Tom Brady. Even combined, those defenses only hit the Patriots quarterback three times total. Donald has recorded zero sacks in the Rams' two playoff games.
Belichick indicated the challenge Donald poses does not mean teams should or could double block Donald to great effect, though.
"Well, I mean, you've got to block the other guys," the Patriots head coach said when asked if it is rare to see Donald single blocked in game footage. "You can't just have guys running free into the backfield. There's plenty of times that you could single block him."