Patriots
Greg Schiano in line to take over top defensive role for Patriots, report says
Schiano was in the conversation last year to replace Matt Patricia as defensive coordinator.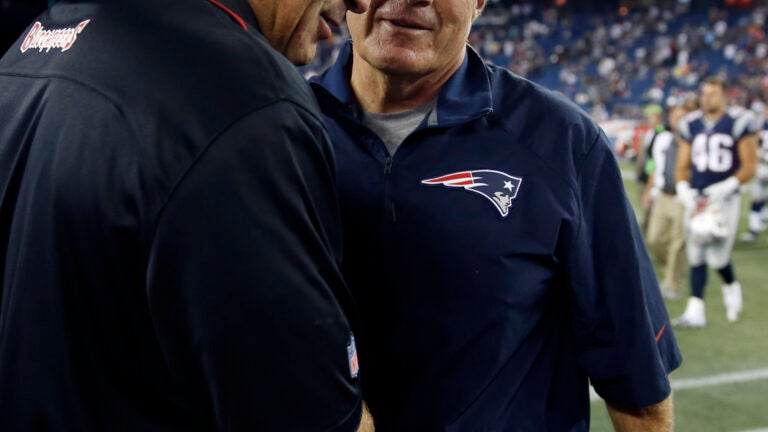 Greg Schiano, the former Ohio State defensive coordinator and Tampa Bay Buccaneers head coach, is likely to take over the top defensive role for the Patriots, the NFL Network reported Wednesday. Brian Flores, who currently holds that job for New England, is expected to become head coach of the Miami Dolphins when the Patriots' season ends.
Schiano, who coached at Rutgers from 2001-11, is friends with Bill Belichick, coached Belichick's son and Patriots safeties coach Steve Belichick at Rutgers, and was in the conversation last year to replace Matt Patricia as defensive coordinator before deciding to stay at Ohio State.
"I think Greg's a tremendous coach. I've learned an awful lot from him and had an opportunity to spend a lot of time with him when he was at Rutgers,'' Belichick said in November 2017. "He's one of the very best coaches I think in our profession. I have a tremendous amount of respect for Greg and the way he runs his program and the job that he does.''
Schiano also coached current Patriots Devin and Jason McCourty and Duron Harmon while at Rutgers. The Scarlet Knights went 68-67 under Schiano. Four of Schiano's first five years at Rutgers were losing seasons, but the Scarlet Knights went 11-2 in 2006, starting a string of four straight seasons with bowl victories.
"I would say the most impressive thing for me is the way that our players, which we've had a lot of Rutgers players come through here, the loyalty and I would say love of the program, the college program that they were in at Rutgers when he was there, how they maintained that for years and years after they had left,'' Belichick said in November 2017. "Not taking anything away from any other school, but I would just say that it's extremely strong.
"I think the relationship that he has with his kids, with his players and how well prepared his players are to come into this league is exceptional. He's a great coach. I'm sure he'll be a great head coach. Again, he's done an awful lot. He's helped me in a lot of different ways and I have a lot of respect for him.''
After leaving Rutgers, Schiano spent two seasons as head coach of the Bucs, holding joint practices in training camp with the Patriots, and went 11-21 before he was fired. He then spent two seasons coaching prep football before Urban Meyer brought him onto the Ohio State staff in 2016.
Schiano signed a memorandum of understanding to become head coach at the University of Tennessee in November 2017 before it fell apart after backlash from the fan base, including state representatives and gubernatorial candidates.
Their complaints stemmed from Schiano's background as an assistant at Penn State during Jerry Sandusky's tenure as the Nittany Lions' defensive coordinator. Sandusky is serving 30 to 60 years in prison for his conviction on 45 counts of sexual abuse. Court documents released in 2016 of a deposition in a case related to the Sandusky scandal suggested Schiano might have been aware of Sandusky's sexual abuse against children, though Schiano has said he had no knowledge of what was happening at the time.
Belichick was asked about Schiano after the deal with Tennessee fell apart, and Belichick said he would "100 percent'' vouch for Schiano's character.
"I have great respect and think he's a great football coach,'' Belichick said. I'm not really involved in any other situation, but speaking about him as a coach and a person, [I have] the utmost respect and zero reservations. Zero.''