Patriots
A Jets defensive back clobbered Pat Patriot at the Pro Bowl
Jamal Adams and the mascot had some fun in Orlando prior to the exhibition this weekend.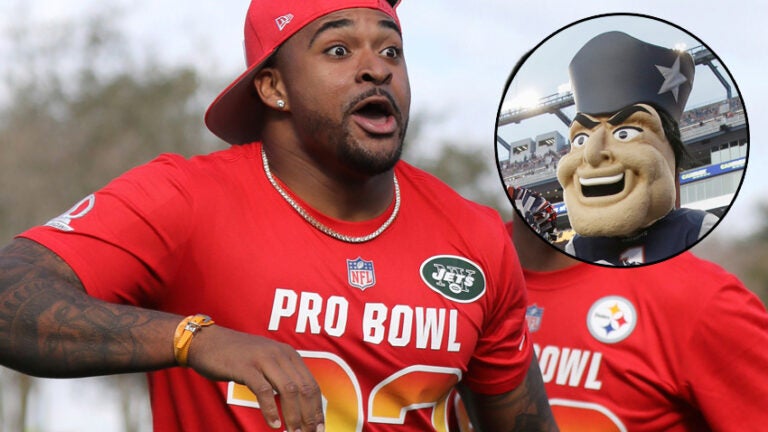 The Pro Bowl is in Orlando this year, which you can be forgiven for not knowing because Patriots involvement with it is largely limited to 'Career Highlights' lists on Wikipedia pages. Tom Brady made his 14th Pro Bowl this season. Know how many he's actually played in?
Two. He was 2-for-5 with an interception and three kneeldowns, closing out an AFC victory in February 2002, then 4-for-9 with another interception and a 2-yard run in February 2005. That's it. He's been inactive for 12 straight Pro Bowl appearances, including this year, which will be the fifth time he's missed the game due to Super Bowl responsibilities.
While the whole thing feels silly, especially in its current structure where the best teams are disqualified from playing, more than 8 million people tuned in a year ago and the game features the same sort of weeklong party that the Super Bowl does.
Wednesday was both the first day of practices at the ESPN Wide World of Sports Complex, as well as the Pro Bowl Skills Showdown which will air Thursday night at 9 p.m. on ESPN. During the festivities, Jets defensive back Jamal Adams had some fun with the Patriots' representative at the event … the mascot, Pat Patriot.
Fans at #ProBowl practice were booing the Patriots' mascot all day.

This is the moment @TheAdamsEra became The People's Champ ? pic.twitter.com/dRKvnoBaFI

— ESPN (@espn) January 23, 2019
While it seems cruel for a 6-foot-1, 213-pound NFL player to assault a reportedly 242-year-old man appearing at his sixth Pro Bowl, Pat Patriot was heavily booed by the crowd and ate it up, taunting about his team's fistful of championship rings. Pat also appeared to take the attack in stride, both clapping back on Twitter and scoring a pinfall on the LSU product later in the day.
The rivalry runs deep for Jamal Adams and the Patriots' mascot ? #ProBowl @TheAdamsEra pic.twitter.com/XWa93P6FVF

— The Checkdown (@thecheckdown) January 23, 2019
Adams, you may recall, was the Jets player who publicly declared his team didn't have a game plan for Baker Mayfield in Week 3. (Since-fired coach Todd Bowles later said Adams "misspoke.") The second-year pro played well against the Patriots when New England won at the Jets in November, posting 10 tackles and nearly intercepting Brady.
He did not, however, appear to take the AFC Championship game well.
They left too much time for #12… pic.twitter.com/reXVOzDQa4

— Jamal Adams (@TheAdamsEra) January 21, 2019
https://twitter.com/TheAdamsEra/status/1087180238180753408