Patriots
Robert Kraft discussed NFL officiating, laser pointers, and Tom Brady in 'Good Morning America' interview
The Patriots' owner also had a gift for a former Super Bowl nemesis.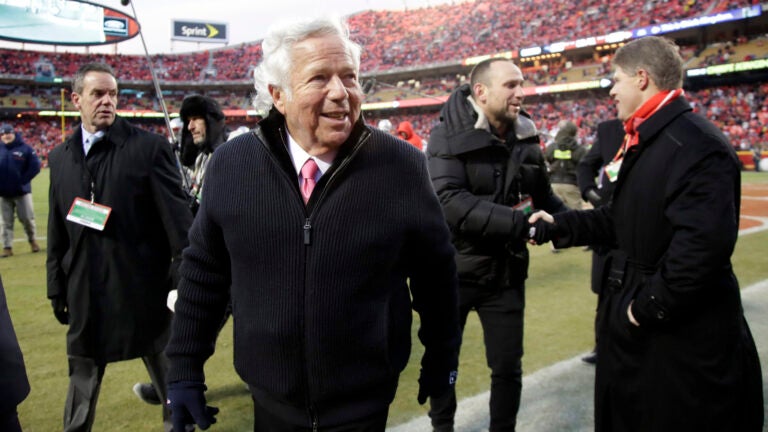 Robert Kraft is very aware of the circumstances. He knows that his football team has one game left to play.
For that reason, the CEO of the Kraft Group – which owns the Super Bowl-bound Patriots – was diplomatic in his assessment of NFL officials during a Wednesday interview on ABC's "Good Morning America."
"We have one game left, so I love the refs," Kraft joked. The subject came up when Kraft was asked about the controversial call in Sunday's NFC Championship, where Rams defensive back Nickell Robey-Coleman committed pass interference against Saints wide receiver Tommylee Lewis but wasn't called for it.
The Rams went on to win the game in overtime, advancing to Super Bowl LIII.
"We have human error sometimes, but we have to move on. It's unfortunate," Kraft admitted. "We have to be diligent about trying to get it corrected."
Patriots owner one-on-one with @MichaelStrahan; Robert Kraft talks Tom Brady, Bill Belichick and 10th Super Bowl. pic.twitter.com/BcT6Rmjtt1

— Good Morning America (@GMA) January 23, 2019
Overall, Kraft said he approves of the work that league referees do.
"They have a tough job."
Kraft was also asked about the usage at Arrowhead Stadium of a laser pointer during the AFC Championship. Video showed a laser being shined into Tom Brady's face during the game. The NFL is investigating the matter, though Kraft connected the incident to Brady's overall demeanor.
"In that last drive, we had three third down and 10s, and he was laser focused," Kraft said of Brady. "So whatever it was, I think it was a positive influence. But I think part of the security check has to be those kinds of things don't happen."
On the subject of Brady, who at 41 is heading into his ninth Super Bowl appearance, Kraft explained how impressed he is with the ongoing character of the Patriots' quarterback.
"He's still the same guy that he was when he came out of Michigan and I met him, that skinny beanpole coming down the steps with that great physique that you speak about," Kraft said, alluding to a now-famous pre-draft photo of Brady from 2000.
"He's the same person today as he was when he was fourth on the depth chart back there in 2000," Kraft continued. For the 77-year-old Kraft, who bought the Patriots 25 years ago this week, a major part of Brady's legacy is how he is on a personal level.
"When my wife – her blessed memory – passed away almost eight years ago, he was there for me in a way only my sons were, and the guys in the locker room were. He cares, and he connects, and I think he's able to do that in the huddle, even with guys half his age. They see how hard he works, and what he does, how genuine he is."
The "Good Morning America" interview was conducted by former Giants defensive end Michael Strahan. Strahan's last game in the NFL was Super Bowl XLII in 2008, in which the Giants defeated the Patriots 17-14. Kraft, who humorously referenced Strahan's victory earlier in the interview, jokingly left the former Giant with a parting gift: A Patriots hat.