Patriots
Does Jamal Adams regret decking the Patriots mascot? We'll let his answer speak for itself.
"I didn't hit him that hard, man."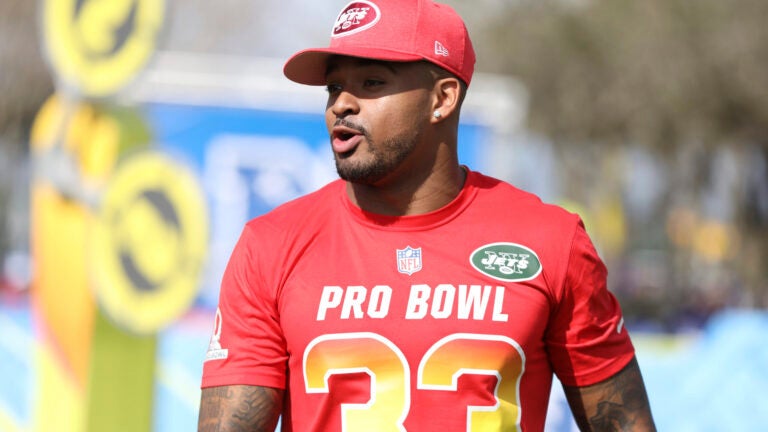 New York Jets safety Jamal Adams says he wasn't intending to hurt Pat Patriot when he leveled the New England Patriots mascot with an unexpected, blindside hit during Pro Bowl practice Wednesday.
But he isn't exactly sorry, either.
Since most of us saw Jamal Adams's video of him tackling the Patriot mascot…he's been getting heat for it… Does he regret it? pic.twitter.com/ecG2zQVnO7

— Dianna Russini (@diannaESPN) January 24, 2019
In an interview Thursday afternoon, Adams told ESPN's Dianna Russini that he's received calls from NFL officials claiming that the hit resulted in the hospitalization of the man inside the Pat Patriot costume. However, a Patriots spokesman told WBZ that the hospital claim was untrue and that the unidentified man was "sore, but still fulfilling his mascot duties."
#StillHere and having some fun at the #ProBowl ? pic.twitter.com/B0Br6x7Lks

— Pat Patriot (@PatPatriot) January 24, 2019
According to the Patriots, the mascot had no idea the hit was coming. In an email Thursday, a team spokesman told Boston.com that it was uncoordinated and "painful."
.@TheAdamsEra really decleated the Patriots mascot at #ProBowl practice ? pic.twitter.com/HGY2soELvq

— SportsCenter (@SportsCenter) January 23, 2019
"They're not happy with me right now," Adams told Russini. "The NFL is calling my phone, blowing me up."
Does he regret it? Adams's answer was, emphatically, no.
"[The mascot] was running around and everybody was booing him, so I said, 'You know what? Let me go tackle him,'" he said Thursday, according ESPN's Michael DiRocco.
"I didn't hit him that hard, man," Adams added. "All jokes aside, I didn't hit him that hard. I don't know what's really going on. I don't know what's really going on, but they did tell me he's in the hospital. My intention was never to hurt him. It was all about just a joke but I definitely want to check on him and make sure everything is good."
Adams has faced criticism from those concerned that he could have seriously injured the mascot. In a tweet Thursday afternoon, he suggested people were taking the incident too seriously.
C'mon! Don't make nothin into something! Life's too short!

— Jamal Adams (@TheAdamsEra) January 24, 2019
Pat Patriot himself appeared to take the incident in good fun, tweeting shortly after the video of the hit was posted online Wednesday afternoon: "Hate us cause they ain't us."