Patriots
The Slater household won't be split over this Patriots-Rams Super Bowl
"I kind of gave him a hard time, like, 'Are you going to be coming to this game like with Ram attire on and waving a Ram towel?'"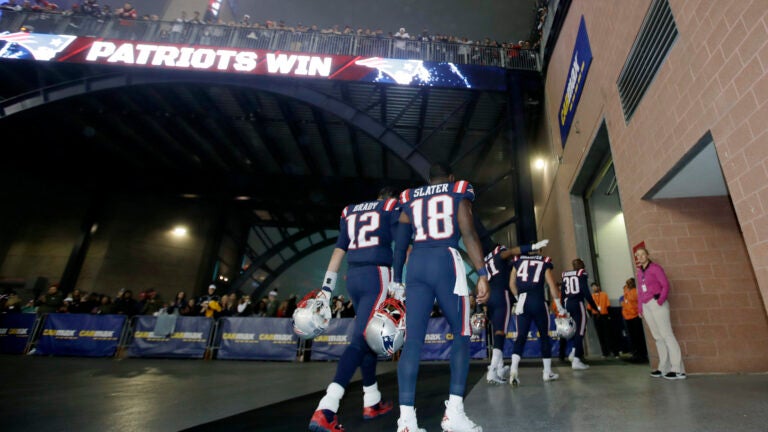 FOXBOROUGH — He wasn't a member of the team at the time, but there's one memory from the Patriots' Super Bowl XXXVI win over the Rams that still sticks out in Matthew Slater's mind.
With the score tied at 17 and less than 90 seconds remaining, New England regained possession at its 17-yard line. Slater, who was 16 years old and in high school at the time, remembers Fox commentator John Madden weighing in on the broadcast: "You know, I really think they should play for overtime here.''
Instead, Patriots quarterback Tom Brady, then 24, completed 5 of 8 passes to bring his team into field-goal range. Adam Vinatieri converted the winning 48-yarder to give the Patriots their first Super Bowl title.
There was no celebration in the Slater household, however.
"My house was pulling for the Rams,'' Slater said Thursday at Gillette Stadium. "I remember Tom just going down the field, slicing and dicing, and Adam kicking that field goal, and we were just kind of sitting on the couch going, 'Oh man.' ''
Slater's Rams fandom stemmed from his father, Jackie, who played his entire 20-season NFL career as an offensive tackle for the organization. Growing up in Southern California, Matthew Slater spent much of his childhood attending games at Anaheim Stadium and hanging out at the practice facility with his brother, David. He even had a brief stint as a water boy.
"Everybody was calling me 'Little Jackie,''' Slater said. "I don't think they knew my name, but that was a lot of fun. Those were great memories.
"The whole reason I got into football was because of my dad. He was my hero. There's no one in my life that has had more influence in my life, on who I am [and] where I am, than my father. My love for the game, I got it from him.''
Slater will have to suppress any waves of nostalgia when the Patriots once again face the Rams for the Lombardi Trophy on Feb. 3 — 17 years after their meeting in the Super Bowl. That task will surely be more challenging for his father.
According to Slater, the pair had a discussion following the AFC Championship game to "clear the air.''
"I kind of gave him a hard time, like, 'Are you going to be coming to this game like with Ram attire on and waving a Ram towel?''' Slater said. "We had a good laugh. Ultimately, you know, I'm his son and he's always going to support me and want to see me do the best that I can and be successful. This coming weekend that will mean him seeing the Patriots be successful, even if it's against his old team.''
This Super Bowl will be Slater's fifth in his 11-year career — something he said his dad will jokingly bring up in conversation as a reminder of just how lucky he is. Known as one of the most consistent members of the Rams' offensive line, Jackie Slater earned seven Pro Bowl nods and three first-team All-Pro selections, but only one trip to the Super Bowl, during his two decades in the NFL.
"That really brings it into perspective,'' Matthew Slater said. "I never would have dreamed of this scenario coming into the league. It's funny what God can have in store for you. To be going into my fifth Super Bowl, it seems pretty surreal. Even saying it now, it doesn't sound right.''
While Slater already has surpassed his dad in Super Bowl rings, Slater does hope to match his dad in another feat: Jackie played for the Rams and only the Rams. So far, Slater can say the same about himself and the Patriots.
"That's something that I really am proud of, that I've been able to be here for the entirety of my career, because my dad did that,'' Slater said. "A lot of times as a player you don't have control over that, but I'm very thankful that things have worked out the way that they have.''