Patriots
Tony Romo still sees the field like a quarterback at the top of his game
"People think Tony is a fortune-teller, but this isn't guesswork and it isn't psychic ability."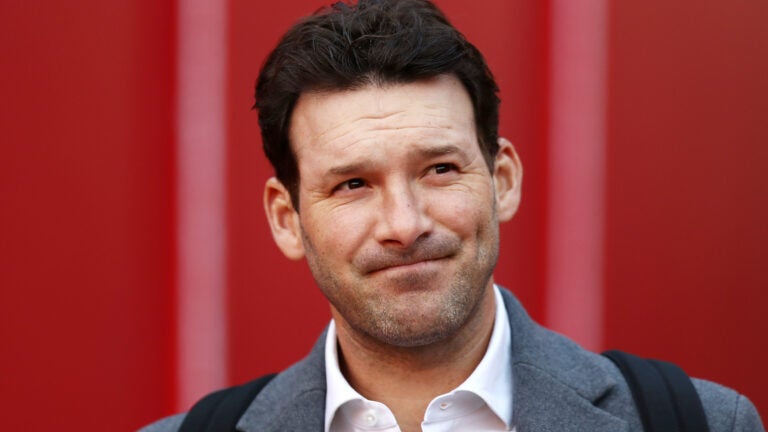 Tony Romo's greatest feat as a fledgling broadcaster is making a former Dallas Cowboys quarterback seem regular-guy relatable with his easy affability and enthusiasm.
A close second is his uncanny knack for identifying and easily explaining what an offense – in particular, the Tom Brady-helmed Patriots offense – wants to do, right before it goes out and does it.
In his two years as the color analyst on CBS Sports' No. 1 NFL broadcast team, the 38-year old Romo has received deserved acclaim.
But his prophetic prognostications in the Patriots' 37-31 overtime win in last Sunday's AFC Championship game drew almost as much postgame attention as the thrilling game itself.
The fundamental question: How does Romo know?
Jim Nantz, Romo's broadcast partner and arguably the most accomplished national play-by-play voice of his time, acknowledged during a conference call Wednesday that he too found himself thinking about how Romo does it as the praise rolled in.
Then Nantz articulated his thoughts in a detailed explanation of what Romo knows and how he knows it.
"I've given it a lot of thought and I've chalked a lot of it up to the fact that he and Tom Brady are seeing the same thing,'' said Nantz, who along with Romo and other CBS personnel was on the call to discuss the network's upcoming coverage of Super Bowl LIII.
"People think Tony is a fortune-teller, but this isn't guesswork and it isn't psychic ability, this is a testimonial to a guy that obviously in his career spent a lot of time figuring it out. And Tom Brady has too. That's why he's able to complete three third-and-10s in overtime and then take them down for the winning touchdown.
"And that's why Tony saw all of the same things. My partner had to have been in his Cowboys days, and remains to this day, some sort of sick film-room guru who took the time that was needed to completely solve the puzzle.''
In other words, Romo is still seeing the field like a quarterback at the top of his game – but he's added the dimension of being able to concisely explain what he sees to the viewers in that brief window between when Brady lines up behind the center and when he takes the snap.
Per Yahoo! Sports's Kevin Kaduk, Romo made 15 predictions of what would happen on a given play in the game. Thirteen involved the Patriots offense. Twelve of the 15 predictions came true, two did not, and one could have gone either way.
The most notable of his many moments of prescience came when he used the telestrator to quickly show where Brady should go with the ball on a crucial third-and-10 situation at the Chiefs 30 in overtime if safety Todd Sorensen shifted to certain spot.
"Gronk is out wide,'' said Romo, referencing Patriots tight end Rob Gronkowski. "Watch the top of your screen. Watch the safety. If he comes down, there's a good chance he's throwing out there.''
Sorensen moved right to where Romo had marked on the telestrator. Brady found Gronkowski for 15 yards. Three plays later, the Patriots were headed to the Super Bowl.
"When we have these key moments late in the game and we're all dazzled at what he's doing, it's a testament to his years and years of work and preparation,'' said Nantz. "He's not guessing. He's not getting some sort of message from the gods. He's seeing what Brady saw. He sees a wrinkle, he sees an opening, and basically, he's suggesting where this is where the play should go.
"And it married up. It was a perfect symmetry with what Brady was seeing too. What we're talking about is two quarterbacks who played or have played for a long time and put the effort and work in to be as good as they can be.''
Romo has said in past conversations that he tries to look at each play like a quarterback would approaching the line of scrimmage. But on Wednesday he didn't divulge many specifics of his preparation – such as how much film he watches, how much information he gets when the broadcast team meets with players and coaches late in the week, and any other ways he might have of gathering intelligence.
"The game kind of calls itself,'' said Romo on Wednesday. " I feel like when you're young in your career you go in with all this planning of everything and you want to be prepared so you have all this information. But I try not to predetermine too much of the stuff you're going to say because I feel like the game is the story and you've just got to call it. Sometimes you just get passionate, you get excited in the moment and you start talking out loud about what's going through your brain. And once in a blue moon, you get lucky.''
It's not luck, of course. Its preparation and knowledge gained from hard work and a couple of decades of experience at quarterback. Yet Romo makes it look so easy that it leaves you wondering why all of those other ex-quarterbacks scattered around NFL broadcast booths don't do the same thing.
Then you remember: Most of them can't. What Romo is doing – the processing and sharing of all of that information in real time — is not easy, not at all.
He now wears a suit and tie on game-day, but to viewers' great benefit, Romo is still playing 60 minutes at quarterback in his mind. Last Sunday, it was even a few more minutes beyond 60. And like Brady but in a different way too, Romo was at his sharpest when the game demanded it.