Patriots
What Bill Belichick said about the Patriots' offensive line, the Rams' defensive rush, and Wade Phillips's scheme
He spoke to the media Thursday, 10 days before Super Bowl LIII.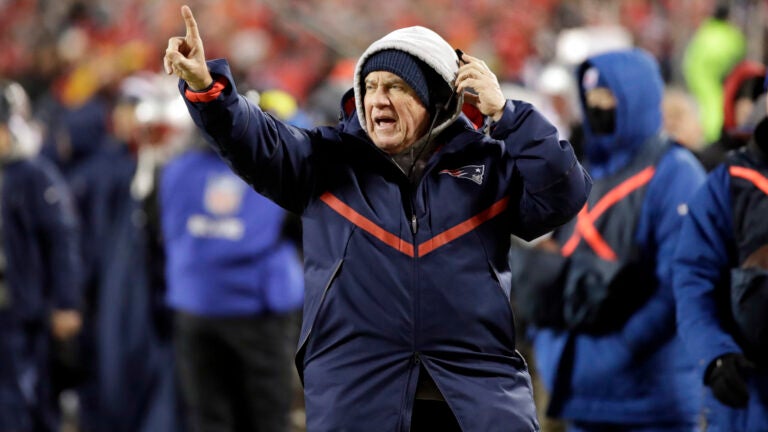 In his press conference Thursday, Bill Belichick spoke to reporters about the Patriots' offensive line, the Los Angeles Rams' defensive tendencies, and Rams defensive coordinator Wade Phillips's scheme.
More specifically, Belichick praised the offensive line for its athleticism, addressed how the Rams' defense is far from "cookie cutter," and assessed how this particular Phillips scheme compares to other Phillips-coached teams Belichick and the Patriots have faced throughout the years.
"I think our offensive line is a pretty, overall, pretty athletic group," Belichick told reporters. "They work hard. They train hard. They all run well. When we do conditioning drills, I would say it's always good, but it's always a little bit surprising to me how well they run as a group relative to other groups. They're not that far behind other players, in some cases skill players that you think of as faster but actually, those guys, they run pretty well."
The Patriots offensive line has played some of its best football of the season in the playoffs, giving Tom Brady and the offense opportunities to advance the ball downfield without blitzing defensive players breaking directly into the backfield. Neither the Los Angeles Chargers nor the Kansas City Chiefs were able to sack Brady at all, and both teams barely managed to pressure the 41-year-old quarterback.
Against the Rams, though, the offensive line faces its toughest challenge yet when it lines up against Rams defensive tackle Aaron Donald, who led the NFL in sacks this season with 20.5. Belichick told reporters there's no one easy fix to lining up against any individual defense.
"It's not always cookie cutter, just five on four and you know where everybody is," Belichick said. "There's some of that, but then there's a lot of other variations that come in that you have to be ready to deal with schematically."
Patriots fans should be familiar with Phillips, the team's defensive coordinator, by now. He's coached in the NFL in some capacity since he started in 1976 as a linebackers coach with the Houston Oilers. Phillips has bounced around the league over the years, serving as defensive coordinator for the New Orleans Saints, Philadelphia Eagles, and Denver Broncos through the 1980s and early 1990s. Phillips served stints as head coach of the Broncos, Buffalo Bills, and Dallas Cowboys before returning to a defensive coordinator position with the Houston Texans in 2011. He joined the Rams' coaching staff in 2017. Belichick said that while Phillips does a great job of effectively using his players, he doesn't think the defensive scheme has changed much over the years.
"Certainly, there's an element of game planning and how he plays one team or another team varies, but it's within the system that he has," Belichick said. "I don't think he's out there drawing up a lot of new defenses. I think he has a menu and he selects the ones that fit best against his opponent and the situations as the situations come up in that game. Now, this year, they've definitely gone from a higher percentage of man coverage to a higher percentage of zone coverage here in the second half of the season, but that's been very effective for them."