Patriots
Here is the Patriots' schedule during Super Bowl week
The Patriots will have to balance preparing for the Super Bowl and dealing with the media frenzy that goes with the territory come Sunday.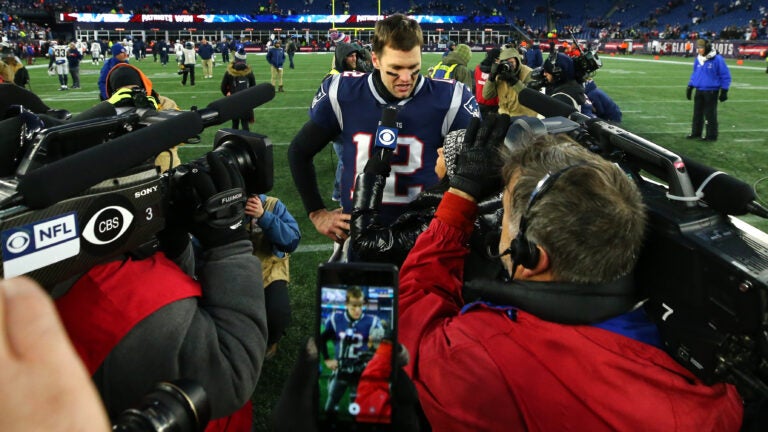 The weeks leading to the Super Bowl can be an arduous process for the fans, players, and coaches of the two teams involved. As the hype builds, the Patriots' fourth trip to the NFL's big game in five seasons will get busy quickly.
"I've been telling a lot of people, if you haven't been there, it's going to be the best week of your life," wide receiver Phillip Dorsett, who was on the Patriots' roster for last year's Super Bowl against the Philadelphia Eagles, told reporters Wednesday. "It's the Super Bowl. It's the ultimate team game. If you're a football player, you dream of being in the Super Bowl. I don't take it for granted. It's going to be a great week, but you can't let your focus shift to things that don't matter. The only thing that really matters is the game, and that's all you can really worry about."
With that in mind, here's the Patriots' schedule during Super Bowl week:
Sunday, Jan. 27
Get up early and head to Foxborough: The Patriots are hosting a send-off rally for the team at Gillette Stadium at 10 a.m. Sunday. According to the Patriots, the event will feature live music and entertainment, a performance by the team's cheerleaders, and giveaways for fans. Bill Belichick, Tom Brady, David Andrews, Patrick Chung, Devin McCourty, Matthew Slater, and James White will address the crowd. This event is free for fans to attend. Gillette Stadium's gates will open at 8 a.m.
Be here on Sunday for our #SBLIII send-off!

Gates open at 8 AM.
Program begins at 10 AM.#EverythingWeGot pic.twitter.com/neGkDlJrJg

— New England Patriots (@Patriots) January 24, 2019
The Patriots are expected to depart from Gillette Stadium at noon on Sunday for T.F. Green Airport in Providence, Rhode Island, to fly to Atlanta.
For fans in Atlanta, Super Bowl LIVE, an open-to-the-public fan village and concert festival, will open from 12 p.m. to 7 p.m. at Centennial Olympic Park in downtown Atlanta. The festival will feature musical artists from a different genre each day. Sunday will feature country artists REMakes, Jake Michael, and Seckond Chaynce, among others.
Monday, Jan. 28
Both Super Bowl teams will be available for photo and interview sessions at Super Bowl Opening Night at State Farm Arena. The Rams are scheduled to appear from 7:10 p.m. to 8:10 p.m., while all Patriots players and coaches are expected to appear from 9 p.m. to 10 p.m.
Fans may attend Super Bowl Opening Night and will receive a free radio to listen to the NFL Network's coverage of the event and individual interviews with players and coaches. According to the NFL, it's the only time the Patriots and Rams will be in the same place at once before the Feb. 3 game.
Super Bowl LIVE will open from 4 p.m. to 9 p.m. at Centennial Olympic Park and will feature hip hop and R&B artists Ayanis, DJ Holiday & Friends, and Goodie Mob, among others.
Tuesday, Jan. 29
Bill Belichick, Sean McVay, and select players will be available to speak with the media. Belichick and the Patriots' scheduled availability is from 12:40 p.m. to 1:30 p.m. Tom Brady is the only Patriots player the NFL confirmed would appear, but 10 players in total are scheduled to speak with the media.
Wednesday, Jan. 30
Head coaches, assistant coaches, and players from each team will be available to speak with the media for 1 hour, 15 minutes. The Rams are scheduled to speak in the morning, and the Patriots will talk to reporters from 4 p.m. to 5:15 p.m Wednesday.
Thursday, Jan. 31
Patriots players and coaches will be available to speak with the members of the media from 4 p.m. to 5:15 p.m Thursday. The Rams will speak earlier in the day, from 9:45 a.m. to 11 a.m.
At the Georgia World Congress Center, the Super Bowl Experience will host a taping of Nickelodeon's Double Dare as current NFL players team up with actors from the network's show Cousins for Life. The taping is open to fans with Super Bowl Experience tickets on a first-come, first-serve basis. Audience placement starts at 2:30 p.m. Thursday.
Super Bowl LIVE will open from 4 p.m. to 10 p.m. Thursday. The festival will feature country and rock artists Craig Campbell, Hero The Band, Tyler Tritt, and Lyn Avenue.
The 20th annual Super Bowl Gospel Celebration, an annual gospel concert featuring NFL players, gospel and Christian artists, as well as top pop artist in the country, will tape from 7:00 p.m. to 10:00 p.m. Thursday. The show will air on BET on Saturday, Feb. 2. at 8:00 p.m. Eastern time.
The Walter Payton Man of the Year Legacy Reception will be held Thursday evening, featuring past award winners and the 2018 NFL team nominees. The award is given to an NFL player to honor his charitable work off the field.
Former NFL quarterback Michael Vick will be at the NFL SHOP for an autograph session between 3 p.m. and 4 p.m. on Thursday. Current Denver Broncos linebacker Bradley Chubb, artist Charles Fazzino, Falcons' cornerback Desmond Trufant, and actress Alyssa Milano will also appear at the pop-up store that evening.
Friday, Feb. 1
There are no scheduled media availabilities for either team Friday. The Super Bowl Experience at the Georgia World Congress Center will be open from 10 a.m. to 10 p.m., where fans can take part in interactive exhibits and games, take photos with the Lombardi Trophy and a collection of every Super Bowl ring, and get autographs from current and former NFL players. The following players will be available on Friday:
Desmond Trufant – Atlanta Falcons
Devin Funchess – Carolina Panthers
Jamison Crowder – Washington Redskins
Keenan Allen – Los Angeles Chargers
DJ Reader – Houston Texans
Jaylon Smith – Dallas Cowboys
Super Bowl LIVE will open from 2 p.m. to 10 p.m. Friday. Pop and EDM artists ATLiens, Hearty Har, The Jacks, and Seed & Feed Marching Band are scheduled to perform.
Shaq's Fun House, described by NBA legend Shaquille O'Neal on the event's website as 'part music circus, part carnival, part circus," will take place Friday at Live! At The Battery located at Sun Trust Park in Atlanta. Diplo, Migos, Lil Jon, T-Pain, and apparently Shaq himself (or DJ Diesel, as the event's website reads) are scheduled to perform.
Saturday, Feb. 2
There are no scheduled media availabilities for either team on Saturday. The Super Bowl Experience at the Georgia World Congress Center will be open from 10 a.m. to 10 p.m. The following NFL players will be available:
Johnathan Cyprien – Tennessee Titans
Antonio Gates – Los Angeles Chargers
Denzel Ward – Cleveland Browns
Ha Ha Clinton-Dix – Washington Redskins
David Njoku – Cleveland Browns
The Taste of the NFL, an annual food and wine event which donates proceeds to Feeding America affiliated food banks in each city NFL teams are located in, will take place Saturday at the Cobb Galleria Centre in Atlanta. Celebrity chefs, former and current NFL players, and one restaurant from each NFL city will attend the event. Special musical guest Martina McBride is scheduled to perform.
Hosted by Steve Harvey, the 8th annual NFL Honors will be broadcast from Atlanta's FOX Theatre at 9 p.m. on CBS. Awards include AP Most Valuable Player, Coach of the Year, and Defensive Player of the Year.
Super Bowl LIVE will open from 11 a.m. to 10 p.m. Saturday. The final day of the festival will feature hip hop artists Kelechi, Monica, and DJ Smurf & So So Def All-Stars.
Sunday, Feb. 3
The Patriots and Rams will play in Super Bowl LIII at Mercedes-Benz Stadium in Atlanta, Georgia. The game is scheduled to begin at 6:30 p.m and will be broadcast nationally by CBS. Jim Nantz will commentate, and Tony Romo will be the in-game analyst, with Tracy Wolfson on the sidelines. Maroon 5 headlines the game's famous halftime show, joined by rapper Travis Scott and Atlanta native Big Boi.
Monday, Feb. 4
The head coach of the winning team and Super Bowl MVP will be available to speak to the media at the Super Bowl Media Center at the Georgia World Congress Center at 8:30 a.m.