Patriots
Tom Brady: 'You think I play this s*** to go to Pro Bowls?'
"We're trying to win rings. That's what it is here."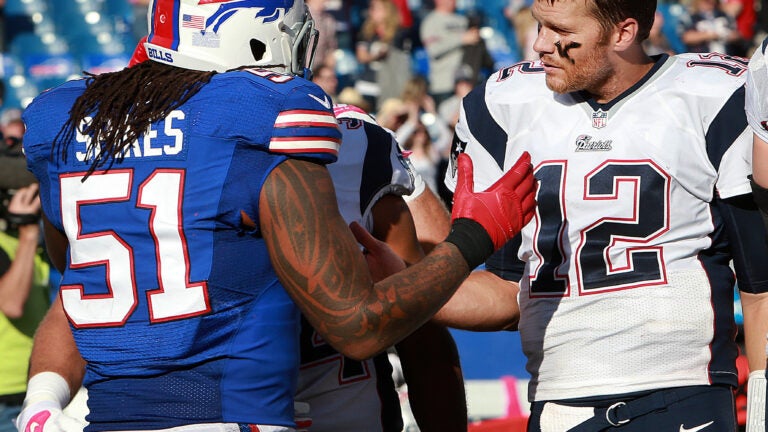 Tom Brady has been selected to the Pro Bowl 14 times. He's made the trip to Hawaii to play in the game twice.
The Patriots quarterback usually has a good excuse to skip the all-star exhibition held on the Sunday between the conference championships and the Super Bowl. He's had to prepare for eight Super Bowls, not including the upcoming Lombardi Trophy decider against the Los Angeles Rams.
It's no secret that Brady would rather be watching game-week film of an opponent than watching the Honolulu waves roll in. His former teammate, Brandon Spikes, gave more insight this week into Brady's approach to the two final games on the NFL calendar.
Sports Illustrated's Robert Klemko asked Spikes, who spent four seasons as a linebacker in New England, for his fondest memory in Foxborough.
"I had one of my best years my third season," Spikes said. "I'd been playing off the charts. And I didn't get picked to go to the Pro Bowl. I was moping around, actually in tears, and a few guys were trying to lift me up, like, 'It's gonna be alright man. We've got to worry about what's in front of us.'
Then The Pharaoh himself walks up to me — I used to call Brady The Pharaoh and he hated that — Brady walks up to me and says, 'Hey B, you think I play this s*** to go to Pro Bowls? Get it together. Get your head up. We're trying to win rings. That's what it is here.' That's where I knew what kind of environment I was in, how blessed I was."
In December, Brady was selected to the 2019 Pro Bowl. Houston Texans quarterback Deshaun Watson will take his place. The 41-year-old can't make it that day.