Patriots
Why Patrick Chung said Rob Gronkowski 'made me the player I am'
"I actually need to thank him."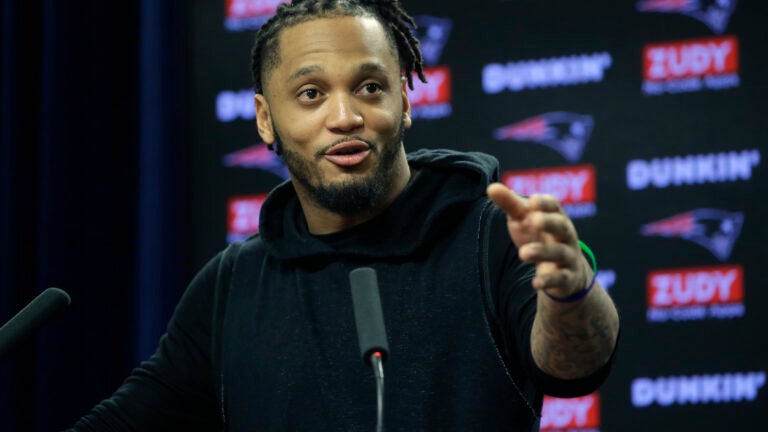 On Sundays, opposing defenses are charged with the vexing problem of stopping Rob Gronkowski. During the week, that quandary belongs to Patrick Chung.
Chung has spent eight years practicing against the Patriots' All-Pro tight end. When asked what Gronkowski has meant to the game, the two-time Super Bowl champion safety said reporters can see that impact for themselves.
"But, to me, he has made me the player I am," Chung said. "I get to go against him every day for the last eight, nine years. So, he's definitely made me better, period. So, I actually need to thank him.
"Personally, that's how I feel about him. And we've been grinding it out. There's days we don't want to grind it out and we're going to grind it out. So, much love to him. Thank you."
Devin McCourty Live Press Conference 1/24: https://t.co/SLy2wnoIYu

— New England Patriots (@Patriots) January 24, 2019
Chung, who has five solo tackles and one quarterback hit through two playoff games, noted that New England needs everyone on board to win — but it certainly helps when you have Gronkowski in your colors.
"He's the man," Chung said. "I mean, we all have to play good. You can't just go out there and be the man – we all have to play good. But, Gronk is Gronk. Hopefully he can do that, and we'll be good."
The respect between the practice opponents is mutual. In 2016, Gronkowski told reporters he would "definitely" want to give some of the credit for his success to the player lining up against him when the first-team offense and first-team defense meet.
On Thursday, head coach Bill Belichick praised Chung for his leadership as a first-year captain this season. The safety described the bond between him and his teammates as "family."
"You're playing for your family," Chung said. "If someone takes a cheap shot at somebody, we don't take cheap shots, but you remember it. It's like someone trying to get your brother. If you've got a brother or sister, I hope you go fight for them. If not, then you guys suck. But, it is what it is."