Patriots
Announced crowd of 35,000 sends off Patriots to Super Bowl LIII
Chants of 'We're still here' carry five-time champs to Atlanta, Rams.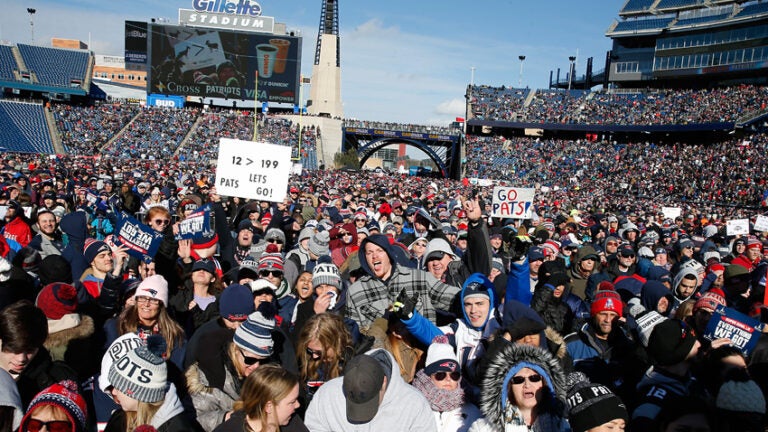 Whether it was a desire to send off their team into hostile territory outside New England right, a chance to get on the Gillette Stadium field, or a combination of both, an estimated 35,000 fans woke up in the wee hours and braved the cold on Sunday morning to salute the Patriots as they head to their record 11th Super Bowl and ninth of the Tom Brady-Bill Belichick era.
Patriots Super Bowl Send-Off Rally At Gillette Stadium Draws Estimated 35,000 https://t.co/JLDWKI66l5 pic.twitter.com/ckO7RVj1F9

— WBZ | CBS Boston News (@wbz) January 27, 2019
"Twenty-five years ago this week, last Monday, we paid the highest price ever paid for any sports team, anywhere in the world. And we kept it from going to St. Louis," Patriots owner Robert Kraft told a crowd and fan base he declared the G.O.A.T. "And people worried because the team never sold out in 34 years. The games were blacked out locally. And within less than 24 hours, 6,000 of you lined up on a snowy morning and bought season tickets. We knew right then our family made the right decision.
"Thank you. Thank you. Thank you."
Capping a program that included Blue Man Group, Fitzy, the Foxboro High marching band, team broadcasters Bob Socci and Scott Zolak, Bill Belichick, and the six Patriots captains, Tom Brady led the crowd in a "WE'RE STILL HERE" chant before a phalanx of buses headed to T.F. Green airport outside Providence, flying the Patriots to Atlanta and another Super Bowl week.
"This feels like a home game. … We gotta take this right here and bring this to Atlanta with us," said Brady, a week from starting his record ninth Super Bowl. "I've been so blessed, obviously, being here as long as I have. To play with so many great teammates and coaches, to represent this team and organization and, obviously, to represent you guys is what it's all about. So I can't thank you enough."
The Los Angeles Rams await at 6:30 p.m. on Sunday, Feb. 3.
This wasn't the first pregame rally the Patriots held, but previous versions were smaller affairs on a Monday outside the stadium in front of the team Hall of Fame. The changes this year drew a crowd that dwarfed those, with that refrain from Brady and his teammates sending a loud message to a nation that spent much of this year thinking the Patriots' run was at its end.
"You're a big part of who we are, and it's such an honor to represent the New England region," said Matthew Slater, headed to his fifth Super Bowl. "Great team, great coaches, great brotherhood, and it's really just a blessing to be a part of this."
"Double attendance today. Double attendance," said Patrick Chung, who snapped a video of himself while the throng shouted 'BEAT LA.' "I appreciate the support. We gonna go out there and kick their [expletive], baby."
"It's unreal, getting the chance to go home, play in front of a lot of my friends and family," said center David Andrews, who grew up in the Atlanta suburbs and went to college at Georgia. "Can't wait to see all y'all down there take over Atlanta, show them what a real fan base is down there."
The last word, not surprisingly, went to Brady, 18 years removed from the iconic drive in the final 90 seconds against the St. Louis Rams that birthed this dynasty and cemented a legend he's only kept building on.
"We've had so many great players over the years, and I think what exemplifies this group of men is the selflessness and it's all about the team," he said. "And I know at different times this year, it's been up and down. The coaches always talk to us about not riding the emotional roller coaster, and we stayed focused. We played our best football at the end. We're not quite at the end yet. We got one more to go."
Wiw pic.twitter.com/7rkZgnAhEW

— Scott Zolak (@scottzolak) January 27, 2019
Keep up to date with all the 2019 Super Bowl news at Boston.com.