Patriots
Here's what experts thought of the Patriots hiring Bill Belichick in 2000
After weeks of negotiations with the Jets, Belichick formally took over in New England.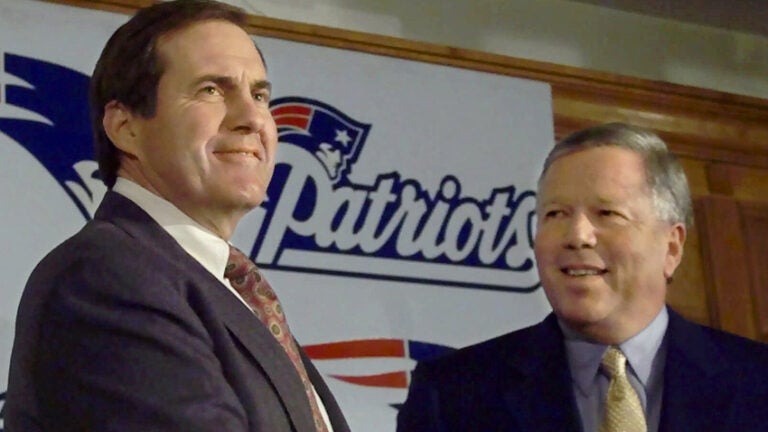 Robert Kraft spent more money to buy a team than anyone had in NFL history, and the Patriots he bought were a perennial loser in desperate need for a new stadium. ("We dreamed of the NFL mattering in New England," Jonathan Kraft quipped at Sunday's Super Bowl LIII rally, "because it didn't matter back then.")
That team put together arguably the most dominant, improbable dynasty in modern American sports, in large part because it chose Tom Brady, a 199th overall draft pick, to lead it long-term over Drew Bledsoe, a No. 1 overall draft pick.
And the coach who made that decision, Bill Belichick, was hired by Kraft immediately after he was named head coach of the New York Jets, quit as head coach of the Jets, then — met with pushback about moving on — asked the Jets if they'd take him back.
It's little wonder there were doubts. Doubts have never been far from the Patriots, and they certainly weren't in the immediate aftermath of Jan. 27, 2000, when longtime NFL assistant and Cleveland Browns washout Belichick was introduced as the 14th head coach in franchise history at the cost of a first-round draft pick.
"I think the combination of [Dom] Capers and [Tom] Donahoe was more promising," said West Roxbury resident Mike Cusack to The Boston Globe, referencing a coach who'd go 18-46 in four years leading the expansion Houston Texans and a personnel man whose Buffalo Bills would go 31-49 and miss five straight postseasons from 2001-05.
New England spoke to at least a half-dozen other candidates for the head coach and general manager jobs, among them Capers and Donahoe. Willie Shaw, fired as the Raiders defensive coordinator during the process, never became a head coach. (His son David has, excelling at Stanford.) Gary Crowton went from Chicago's offensive coordinator to four years leading BYU. Marvin Lewis, then Baltimore's defensive coordinator, ended up getting his break three years later with the Cincinnati Bengals and coached them for 16 seasons (without winning a playoff game).
To be fair to Cusack, though, he was far from alone. Belichick's hiring followed a soap opera that included threatened antitrust lawsuits and restraining orders, according to the Globe, and that ultimately required mediation from commissioner Paul Tagliabue to help bring the sides together. The Patriots essentially traded the 16th overall pick in the 2000 draft for Belichick, a pick the Jets flipped to San Francisco and that became five-time Pro Bowl linebacker Julian Peterson.
"I am in a way surprised Kraft went for the deal, and at the steep price of a No. 1," former NFL defensive back John Dockery, a Harvard man who won Super Bowl III with the Jets, told the Globe at the time. "A No. 1 is an awfully steep price, especially for an assistant coach. I could understand if it was Parcells. That's really surprising."
"I'm kind of a little surprised. Giving up a No. 1, I think, is a lot. Belichick is one of the game's outstanding defensive coaches, but as a head coach he didn't prove much," said Ron Jaworski, yet to begin his long-time association with ESPN. "I would think there were other qualified coaches out there so you don't have to give up a No. 1, who should be a Pro Bowl player. And they don't have the talent to give that up."
Some of the first in a long line eating at the crow buffet in Foxborough.
the NY Post view pic.twitter.com/A8c11wAQvg

— Soxbats (@soxbats) January 28, 2018
Here's a sampling of some of the more critical thoughts about the Belichick hire, which was the talk of the run-up to that year's St. Louis Rams-Tennessee Titans Super Bowl in Atlanta.
Ted Sarandis, longtime night WEEI host: "Parcells snookered Bob Kraft again. This guy has a worse record than Pete Carroll. What kind of coach is he when the players want him? The inmates are running the asylum. I wouldn't hire Belichick to run a Burger King."
Butch Stearns, Fox-25: "I still think Tom Donahoe is the key. The Patriots need a football guy to run the team. That's what's been missing. We know Belichick is a good coach, but is he a leader? Coaches come and go, but you need someone to run the organization."
Karen Guregian, Boston Herald: "Football coaches worth surrendering first-round draft picks for: Vince Lombardi. George Halas. Paul Brown. Bill Parcells. Joe Gibbs. Don Shula. Chuck Noll. Tom Landry, Bill Walsh. Sorry folks. Bill Belichick does not fit the mold. He is not in that coaching stratosphere. Not in my book, anyway. … We just don't have any evidence that Belichick is that caliber of coach. He has yet to prove his mettle. He hasn't won a darn thing as a head coach. And that's the point."
Steve Buckley, Boston Herald: "It's not just that the Browns fell apart during Belichick's last year on the shores of Lake Erie; it's that Belichick, during that last season, developed a bunker mentality and allowed few people, if anyone, to get close to him. Making with the ha-ha-ha with a bunch of sportswriters during those midweek pressers is not going to make Belichick a better coach. Nor will it make the Patriots a better team. But if Belichick can learn to chill a little, to laugh at himself, to see the world as something more than a great big ol' football field, the betting here is that he'll sleep better at night. And if he sleeps better at night, he'll be better equipped for the day-to-day rigors of coaching a National Football League team."
Sam Rutigliano, longtime NFL assistant and seven-season Cleveland head coach: "Hiring Belichick was the greatest error that Art [Modell] ever made … He just doesn't have the communicative abilities to handle that part of the job. I think that he's miscast as a head coach. It's very obvious he is outstanding as a defensive coordinator. That's where he belongs."
There were, however, plenty with praise for the future architect of nine Super Bowl trips in 19 seasons.
Hugh Millen, former Patriots quarterback: "I think it's a relatively good move. They probably have to get back to a little toughness. … If they can't have Bill Parcells, I'm sure they think Bill Belichick is the next best thing."
Note: Millen started and lost six of the first seven games in the 1992 season, with injuries finally forcing him to the sidelines. Tommy Hodson replaced him, having his thumb broken when the Patriots fell to 0-9 on Nov. 8. Hodson's replacement? Scott Zolak, who'd start New England's only two victories that season, hang around with the team for a few more years and … no idea what happened to him.
Bob Lobel, WBZ-TV: "The players really wanted him and he was promised the job, which is one reason he left the Jets. I like the choice. Neighbors on Nantucket tell me Belichick is a really nice guy who keeps to himself. … If the players wanted him, he's worth [the draft pick]."
Mike Lynch, WCVB-TV: "He was their first choice all along and I think it's great. He beat nearly every team in the AFC East. Every time the Patriots lost to the Jets, the players credited him — especially Drew Bledsoe. Belichick won't leave people falling asleep in the parking lot or drag racing on I-95."
Gene Lavanchy, WHDH-TV: "I think Belichick is a good coach, but my question is the price. He knows how to stop other teams and the players respect him. He's probably worth it. The Patriots didn't do a great job taking players like Sedrick Shaw and Andy Katzenmoyer with the picks they got for Parcells."
Dan Shaughnessy, Boston Globe: "Belichick's behavior in recent weeks indicates he might be enough of a wacko to be an effective NFL head coach. … What matters is winning football games. The Patriots three years ago were a young Super Bowl team on the rise. Today they are a team in disarray, with a window starting to close on the professional lifetimes of stars Drew Bledsoe, [Terry] Glenn, Ted Johnson, and Ty Law. … Belichick sounds like a guy who can get the job done."
Marty Schottenheimer, then working for ESPN and soon to be hired as Washington's coach: "Bill is a very knowledgeable football man. All you have to do is look at Mike Shanahan's situation: He struggled in Oakland, then won the championship in Denver. I think you have to look at each situation independently. There are other factors that enter into it, such as personnel. One think that will be difficult for Bill, and he knows this, is that the AFC East is a very tough division."
Note: Belichick's Patriots ended Schottenheimer's NFL coaching career on Jan. 14, 2007, upsetting his 14-2 San Diego Chargers in the divisional round. Belichick finished last in the AFC East in 2000, going 5-11, but has bounced back to win 16 division titles in the 18 years since.
Joe Theismann, longtime Redskins quarterback: "I think it's great for Bill and great for the Patriots. … I think Bill is a great head coach. I don't think he got a fair shake in Cleveland, where Art Modell left him out to dry. Nobody looks at the playoff year they had, just the last year with all that turmoil [before the team's move to Baltimore]. I think Mr. Kraft made a great move."
Randy Cross, former 49ers offensive lineman and longtime CBS/NBC analyst: "I guess I'm different than most. I think Bill Belichick is a heck of a football coach. I think he learned a lot from his Cleveland experience. Let's face it, they'd got some great talent [in New England]. I think he's going to give them an edge, an attitude they haven't had."
Gil Brandt, three-decade Dallas personnel executive: "It's a great thing for the Patriots. Belichick should really do an outstanding job. It's someone Kraft is comfortable with, and I know Belichick is very comfortable with Kraft. Compatibility between coach and owner is very, very important these days. A [No.] 1 seems like a high price to pay, [but] in today's day of free agency, it's not as serious to lose a No. 1 as it was before free agency, because you can recoup."
Drew Bledsoe, then starting Patriots quarterback: "He's consistently provided problems for our offense. It's a great relief he's not going to be doing that anymore. … He was well respected by his team [in Cleveland], so that's a good sign. Look at what he's done together with Bill Parcells. Look at Parcells's record without Belichick and his record with him."
Bledsoe also noted that the hire wasn't something he pushed for specifically, and that "hopefully we can be together for a long time."
Well, at least that part worked out for the Patriots.