Patriots
Tom Brady on first working with Alex Guerrero, a Super Bowl party regret, and the send-off crowd
"I got asked to do it, and I thought, 'Oh this will be great.' I did it, and I would never do anything like that again."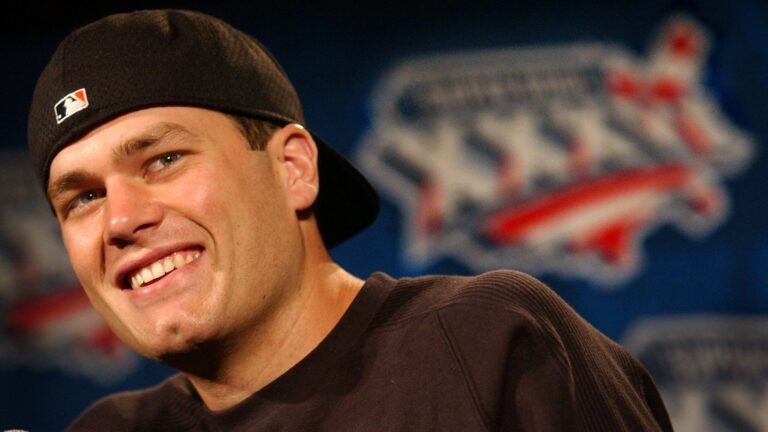 The Patriots left for Atlanta on Sunday in preparation for Super Bowl LIII, and Tom Brady reacted to the 35,000 fans at the team's Gillette Stadium send-off like everyone else.
"That was probably the best and biggest crowd I've ever seen for one of those rallies," Brady said in a Monday interview on WEEI's "Mut & Callahan," "and how fortunate are we to have something like that? Everyone came out, and really after we left the stadium, we were driving down Route 1 and people were still lined up. We got to Providence where the plane was and there were fans still lined up. So it was just a great send-off for us."
Asked if he thought Patriots fans are actually getting more excited over the years for Super Bowls than less, Brady concurred.
"I feel that too," said Brady. "When I first got there, people loved football, but it wasn't the same as it is now. I think maybe just a lot more appreciation for the game. It's such a great sports town. All the teams are supported so well. I feel like it's just gained momentum with football over the years."
The retirement question
Inevitably, Brady will be asked many questions during Super Bowl week about his timetable for continuing to play football. The 41-year-old answered on Monday by again citing his day-by-day focus.
"I don't know when the exact time's going to be. I said earlier that it'll just feel right," Brady noted of when he will retire, "but like I said, I set a goal that I want to play to my mid-40s, and I have long term goals, short term goals, but you just have to treat your body right. You have one body, and if you decide to bury and drive it into the ground, that's what's going to happen. I committed a long time ago. Everything that Alex and I talk about, treating your body the right way, giving it the right food to eat, make sure it's drinking the right things, and make sure he and I are staying up on all our treatments, the right amount of strength. In the end it comes down to discipline."
"A lot of people ask me, 'What do I do? What's the one thing,' and I'll say it's not one thing," Brady continued. "It's kind of everything. It's all these choices. In your job, it's the same thing. If you're good at your job, it requires daily acts. And it's doing a lot of the right things over and over and over again."
Willie McGinest and Alex Guerrero
Brady offered an interesting recollection of how he used to feel earlier in his career before he began working with his TB12 business partner "body coach," Alex Guerrero.
"I was in a lot of pain when I was a younger player," Brady explained. "When I was 25, I worried how can I play football when I'm hurt all the time, when every day I wake up, I'm sore. I was doing what I had learned in college, and what I saw a lot of guys do when they were young. I was just copying them, because that's what you do."
According to Brady, it was former Patriots linebacker Willie McGinest who first introduced him to Guerrero, and has produced different results.
"Then I learned from Willie [McGinest], after my arm was hurting so badly that I couldn't do training camp," Brady remembered. "He was like, 'Dude, you have to do something different. You have to come work with Alex [Guerrero].' And I did, and I've never had arm pain since. And that arm pain – you know the same way I treated my arm was the same way I treated my knee. And it's still the same way that I treat my ankles, my knees, my hips, my shoulders, all these things that you see athletes have problems with, and you know I'm fortunate to be 41 and still feel like I can go out there and perform at a championship level."
Recalling a 'stupid' Super Bowl party
Super Bowl LIII will be Brady's ninth experience on the NFL's biggest stage. The Patriots' quarterback was asked if he remembered doing anything in his first experience (in 2002 at Super Bowl XXXVI) that he regretted.
"I went to this event the Friday night before the game. It was like a Super Bowl party," Brady said. "That was pretty stupid. I introduced someone on stage. I got asked to do it, and I thought, 'Oh this will be great.' I did it, and I would never do anything like that again."
The event violated a core tenet of Brady's lifestyle.
"I was definitely out at 9:30, 10 p.m. on a Friday night," Brady noted. "This Friday I'll probably be asleep by 8:30."
Fighting to avoid 'mental scar tissue'
Brady enters Sunday's game 5-3 in Super Bowls. Asked if the Patriots are particularly motivated this year after losing a year ago, he tried to place it in context.
"All of these losses are tough. Every one that you've had, you'll remember these forever," said Brady. "But this is a new team, new season, and it's a different game. Certainly because it happened just a year ago, you still remember some of those emotions as opposed [to] 12 years ago when we lost in '07. Those are still a little bit fresh, but we just realize everything that we have to put into it."
As for the legacy of Super Bowl LIII, Brady bluntly explained why the result is the only thing that matters.
"I think if you get to this game and don't perform your best, and you don't perform well enough to win, you kick yourself for the rest of your life, and I don't think anyone wants to go through that," said Brady. "I think hopefully we learn that lesson, and hopefully that serves as motivation that the whole point of this week is to win the game. If you win it,  you'll have something to celebrate for the rest of your life. And if you don't, it'll be some mental scar tissue that you'll have to deal with for the rest of your life."