Patriots
Rob Gronkowski, Todd Gurley face off in a game before the game
The result doesn't bode well for the Patriots, but Gronkowski offered reassurance.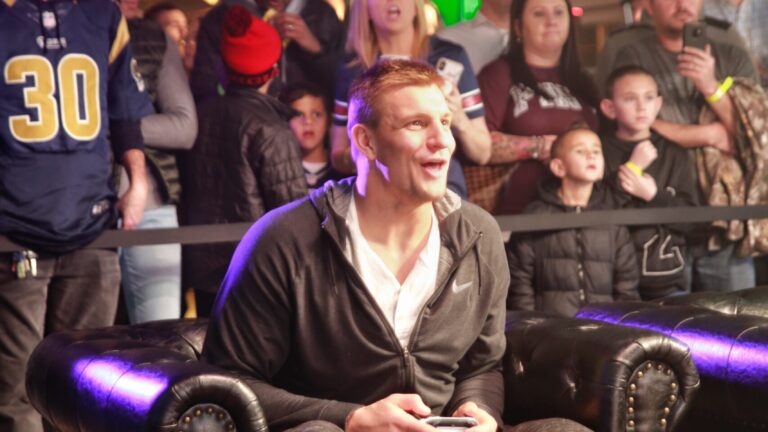 ATLANTA — Patriots tight end Rob Gronkowski was a member of the Rams for less than a minute Tuesday night.
In a game before the game, Gronkowski and Rams running back Todd Gurley faced off in a round of Madden NFL 19, but the pair accidentally assigned the wrong teams to their respective controllers. Upon realizing the error after the first play, they quickly rectified the situation.
"Man, I got traded for one play and then I got traded right back," Gronkowski joked.
So, what did Gronkowski do with his brief opportunity?
Pass to Tyler Higbee, naturally.
"Of course, he went to the tight end," Gurley said.
Once with his correct team, however, things didn't change. Gronkowski continued to target himself and fellow tight ends Jacob Hollister and Dwayne Allen. During the Patriots' first drive, the Rams notched an interception on a pass intended for Hollister, though the pick was nullified by a pass interference penalty.
"Ah, they're trying to get us back for last week," Gurley quipped, referencing the controversial no call in the final moments of the fourth quarter of the NFC Championship.
The flag didn't faze Gurley, who ended up tallying three interceptions to go on to win the contest, 21-6. But is the result indicative of what's to come Sunday? While Gronkowski acknowledged he needs to "work on his arm," he said the poor performance was all planned.
"I'm just making Todd feel good," he said. "The coaches, they pulled me before I came here and said, 'Let Todd win.' "