Patriots
Two years later, 28-3 still stings for Falcons
Atlanta is 18-16 since losing that 25-point lead.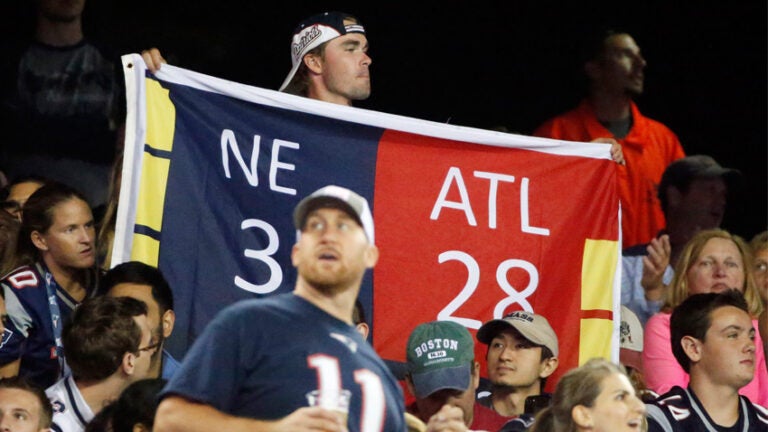 ATLANTA — The Patriots have landed. They're preparing for a Super Bowl in our city. Nothing they do while they're here, however, will ever have the impact of what they did — and what they were aided in doing — in Houston on Feb. 5, 2017. It has been almost two years, and Atlanta hasn't come close to getting over it. In 122 years, our great-great-grandchildren will still be asking, "How could 28-3 have happened?"
The confetti hadn't stopped falling in NRG Stadium before a heap of Atlanta- and Falcons-related propositions had become almost conventional wisdom. These weren't Saints-like conspiracy theories — at least give us credit for not trying to blame Roger Goodell — and some were actually true. Others were less so. As Super week dawns, we revisit 28-3, still trying to make sense of the nonsensical.
Proposition No. 1: Bill Belichick, evil genius, set the Falcons up.
He's the greatest NFL coach ever, but even he's not that great. His team's first seven possessions: punt, punt, fumble, punt, interception, field goal, punt. With 6:04 left in the third quarter, it trailed by 25 points and faced fourth-and-3 at its 46-yard line.
Had that play failed — it didn't; Tom Brady found Danny Amendola for 17 yards — the Falcons would surely have won 42-10. Even then, it took New England nearly four more minutes to score its first touchdown, after which Stephen Gostkowski doinked the PAT off the left upright, after which Belichick ordered an onside kick, which failed.
More than five minutes of the fourth quarter elapsed before the Pats scored again, and then it was only a field goal, Grady Jarrett having sacked Brady twice on goal-to-go.
It was 28-12, technically a two-score game, but nothing yet suggested the Patriots, who'd needed 50-plus minutes to score 12 points, would muster 16 over the final 9:40. At that moment, Belichick hadn't outcoached anybody. His team had been all but overwhelmed.
Proposition No. 2: Dan Quinn and Kyle Shanahan messed everything up.
No argument here. From the time it was 28-3, the Falcons ran the ball on consecutive plays only once. Those two runs made it third-and-1 at the Pats' 36 with 8:31 remaining. Shanahan, the offensive coordinator working his final game for the Falcons before leaving to coach the 49ers, called a pass. Devonta Freeman missed the blitzing Dont'a Hightower, who divested Matt Ryan of the ball.
The game changed then. At the laborious rate the Patriots were moving, they mightn't have had time to drive 70 yards twice. The Pats still needed 2:28 to cover 25 yards, but they got their touchdown and a 2-point conversion.
Proposition No. 3: The Falcons still should have won, but Quinn and Shanahan blew it even bigger.
Yes and yes. Ryan's on-the-move throw to Julio Jones on the right sideline might have been the best pass of his life; it was also Jones' greatest catch. The Falcons were at the New England 22 with 4:40 remaining. Had they run three times and gained nothing, Matt Bryant would have tried a 40-yarder to make it 31-20. He'd missed one field goal indoors all season, that from 58 yards.
Bryant never got to try. Trey Flowers drove Alex Mack, playing on a leg broken in the NFC championship, into Ryan as the Falcons sought to pass on second-and-11 — because why? — and Jake Matthews was called for his second holding penalty of the fourth quarter. The Falcons wound up punting from the 45.
Talk about Seattle's Darrell Bevell ordering a pass on first-and-goal from the 1 all you want, but this was the worst-managed series in Super Bowl history.
Proposition No. 4: The Falcons' defense wore down at the end, another tribute to Belichick's grand design.
That the defense was dead on its feet long before overtime had to do as much with circumstance — the Patriots held the ball for 19:35 of the first half's 30 minutes, but that was because the Falcons were moving faster and scoring touchdowns — as scheme. The fourth-quarter clock-botching by Quinn/Shanahan added to the frazzled festivities. The Pats would run 93 plays to the Falcons' 46, the most astonishing stat in an astonishing game.
The Pats won the OT toss, at which point all hope well and truly vanished. They drove 75 yards in eight plays. They didn't face a third down. The game hadn't gone to script for New England — nobody's game plan calls for a team to spot its opponent 25 points — but it wound up fitting Brady's skill set. He completed 43 of 63 passes; his longest completion, to running back James White, spanned 28 yards.
Everything came in drips and drabs, but there were so many drips and drabs that the GOAT painted his masterpiece.
Proposition No. 5: Once the Patriots started their comeback, the Falcons got that deer-in-the-headlights look.
This is another of those proclamations that rang true at the end but semi-false up until then.
Example: The Jones catch. That was the sort of play that wins Super Bowls. The Falcons wadded up their windfall and threw it back. That was more them being wasteful than the Pats being irresistible.
Another: The game's most eventful play — Julian Edelman's rebound scoop off the turf — should have been a clinching interception. Robert Alford had jumped the route. For the second time that day, Brady threw the ball straight to the cornerback. The first resulted in a Pick-6. The second glanced off Alford's hands and wound up in a pile of four bodies, three of them wearing Falcons jerseys. Guess who got it. That was Edelman making an amazing play. It was also a play Alford should have made first.
Proposition No. 6: The Falcons would never recover from this loss.
As knee-jerk as that might have sounded that bitter night, it was an accurate appraisal of the magnitude of this collapse. I've averred that 28-3 is the most infamous partial score in the history of American sports, and I really can't think of any challengers. Quick now: What was the Brooklyn Dodgers' lead when Ralph Branca stared in at Bobby Thomson? (It was 4-2, but I had to check to be sure.)
The Patriots made the Super Bowl last year, losing to Philadelphia. They're back again now. The Falcons are 18-16 since losing that 25-point lead. Quinn just fired three coordinators and promoted assistant line coach Kyle Flood to game-management specialist. Flood promptly left for Alabama. Yep, they're still the Falcons.
One team saw nearly everything go wrong and found the skinniest of paths — the Falcons' win probability percentage topped out at 99.8 — to a victory that beggared belief. Before that night, the biggest lost lead in a Super Bowl was 10 points. The Falcons saw that and raised it 2½ times.
In the cold light of hindsight, that star-crossed game looks no better than it did 103 weeks ago. It will never look better. It will always be 28-3.
https://embed.sendtonews.com/oembed/?SC=mvlLAGJhkp-491923-8402&autoplay=off&sound=off&V=2&format=json