Patriots
Here's what ESPN experts believe will happen in the Super Bowl
More than half expect the Patriots will prevail, and many think it will be close.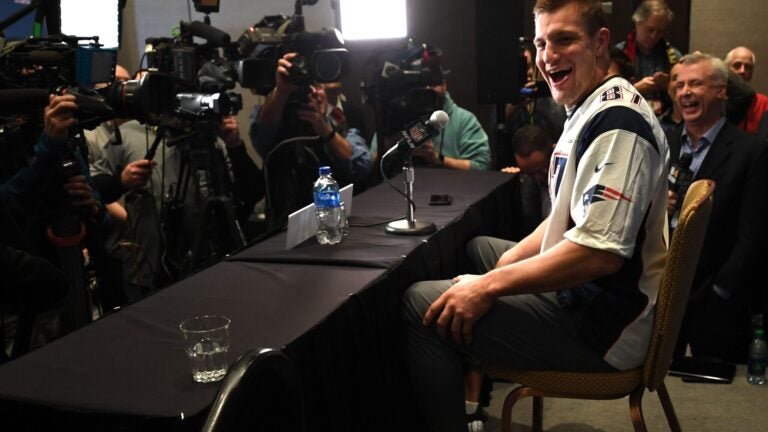 More than half of ESPN's experts picked the Patriots to beat the Los Angeles Rams in the Super Bowl.
Out of a group of 72, 45 chose New England, while the remaining 27 went with Los Angeles.
Seven out of the 72 predicted a final score of 30-27, with five of those seven selecting the Patriots. One of those reporters was Mike Reiss, who covers the Patriots for ESPN.
Miami Dolphins reporter Cameron Wolfe went with the Rams, but Buffalo Bills reporter Mike Rodak and Jets reporter Rich Cimini chose the Patriots.
Two reporters predicted the Rams will score 40-plus points, but no one believes the Patriots will do so. Raiders reporter Paul Gutierrez and national NFL writer Dan Graziano both have the Rams winning 20-17, which is the lowest combined score of everyone polled.
Thirty of the 72 experts believe the margin will be three points or fewer.
Picking the Patriots:

Aaron Schatz, Football Outsiders: 37-34

Alisha Miller, NFL editor: 30-28

Anthony Olivieri, ESPN The Magazine: 38-34

Ben Arledge, NFL editor: 31-27

Bob McClellan, NFL editor: 36-34

Courtney Cronin, Vikings reporter: 34-26

Dane Beavers, NFL editor: 33-29

David Newton, Panthers reporter: 31-21

Dianna Russini, NFL reporter: 28-24

Domonique Foxworth, The Undefeated: 27-21

Eric D. Williams, Chargers reporter: 31-23

Field Yates, NFL analyst: 30-24

Ian O'Connor, senior NFL writer: 34-27

Jenna Laine, Buccaneers reporter: 32-27

Jeremy Fowler, Steelers reporter: 30-27

Jeremy Willis, NFL editor: 38-34

John Buccigross, SportsCenter anchor: 33-32

John Keim, Redskins reporter: 31-28

John Pluym, NFL editor: 30-27

Jordan Raanan, Giants reporter: 33-32

Kevin Seifert, national NFL writer: 27-24

Matt Bowen, NFL analyst: 31-27

Michael DiRocco, Jaguars reporter: 24-21

Michael Rothstein, Lions reporter: 27-23

Mike Golic Jr., ESPN Radio: 31-24

Mike Reiss, Patriots reporter: 30-27

Mike Rodak, Bills reporter: 34-27

Mike Sando, senior NFL writer: 30-27

Mike Triplett, Saints reporter: 29-26

Mike Wells, Colts reporter: 31-27

Mina Kimes, senior NFL writer: 31-28

Nick Wagoner, 49ers reporter: 31-27

Rich Cimini, Jets reporter: 31-17

Rob Demovsky, Packers reporter: 28-24

Roman Modrowski, NFL editor: 34-31

Sarah Spain, ESPNW reporter: 37-30

Scott Kendrick, NFL editor: 31-26

Seth Walder, ESPN analytics writer: 30-26

Seth Wickersham, ESPN The Magazine: 28-17

Steve Levy, SportsCenter anchor: 38-24

Tim McManus, Eagles reporter: 30-22

Todd Archer, Cowboys reporter: 27-23

Vince Masi, Stats & Information: 30-27

 

Picking the Rams:

Adam Teicher, Chiefs reporter: 27-20

Alden Gonzalez, ESPN reporter: 31-28

Ben Fawkes, ESPN Chalk Editor: 31-27

Brady Henderson, Seahawks reporter: 34-30

Cameron Wolfe, Dolphins reporter: 30-27

Chris Grandstaff, NFL editor: 27-24

Chris Sprow, NFL editor: 34-31

Dan Graziano, national NFL writer: 20-17

David Fleming, ESPN The Magazine: 40-24

Doug Kezirian, ESPN Chalk analyst: 26-20

Eric Karabell, senior fantasy writer: 37-34

Heather Burns, NFL editor: 31-28

Jamison Hensley, Ravens reporter: 33-21

Jason Reid, The Undefeated: 38-28

Jon Hudec, NFL editor: 34-31

Josh Weinfuss, Cardinals reporter: 34-30

Katherine Terrell, Bengals reporter: 28-21

KC Joyner, NFL writer: 37-34

Keith Lipscomb, NFL fantasy editor: 30-27

Lindsey Thiry, Rams reporter: 28-24

Matthew Berry, senior fantasy analyst: 31-30

Mike Clay, NFL analyst: 33-32

Pat Sutherland, NFL editor: 33-27

Paul Gutierrez, Raiders reporter: 20-17

Tim Kavanagh, NFL editor: 41-32

Todd McShay, NFL draft analyst: 37-35

Trey Wingo, NFL analyst: 27-17