Patriots
Tom Brady and Bill Belichick are vouching for 2 former Patriots to get into the Hall of Fame
"Ty Law was a pain in the ass … which I know he would acknowledge as the term of endearment it is intended to be."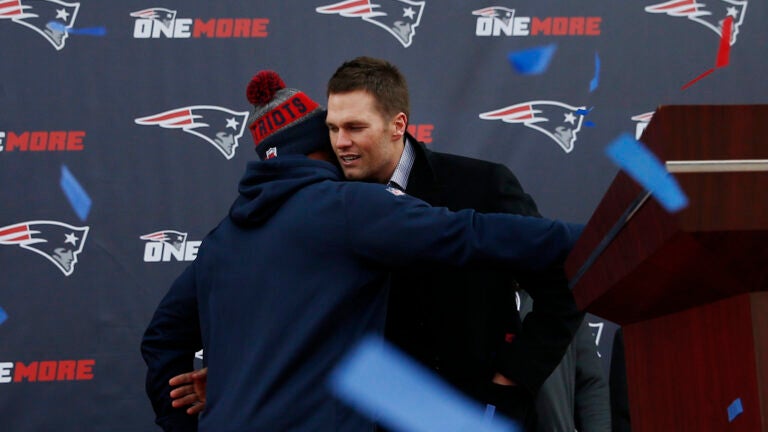 It looks like Tom Brady and Bill Belichick found some time to write during the two-week Super Bowl break.
The Pro Football Hall of Fame's 2019 class will be decided on Saturday, and the two Patriots figureheads are lobbying the group of media members that makes up the Hall's selection committee to vote their guys into Canton.
In letters obtained by ESPN, both Brady and Belichick wrote separately to the selection committee vouching for former New England Patriots cornerback Ty Law and former defensive end Richard Seymour, who are among the 18 finalists this year.
Brady argued that he knows Law, a third-year finalist and fellow University of Michigan alum, was Hall-worthy from experience.
"Ty Law was a pain in the ass," he began his letter, "which I know he would acknowledge as the term of endearment it is intended to be."
Recalling their "combative" daily battles in practice, Brady said playing against Law made him a better quarterback.
"I can remember how upset I would get when I would make a mistake in practice and Ty would capitalize on it," he wrote. "Looking back, I realize how lucky I was then to be challenged every day by one of the greatest cornerbacks to ever play the game. It helped me work harder to become successful in this league and ultimately prepared me to become the player I am today."
Brady said that what made Law unique was his "physical style of play," which led to the 5-foot-11 cornerback tying the franchise record for interception (36) in his 10 seasons with the Patriots.
"He was a tenacious tackler and one of the game's greatest bump-and-run defenders," Brady wrote. "He always wanted to defend the opponent's best receiver and typically took them out of the game. He was great at knocking a receiver off his route, baiting quarterbacks into bad reads and capitalizing on ill-fated throws."
Most importantly, however, was Law's performance when the stakes were high. Brady said his 2002 Super Bowl pick-six was a catalyst for the Patriots' first-ever championship. He also recalled the time Law intercepted Peyton Manning three times two postseasons later in the 2003 AFC Championship Game.
The following season, the NFL changed its rules to crack down on pass interference, so that players like Law could no longer knock receivers off their routes.
"Ty Law changed the game of football," Brady wrote. "Few players can claim that type of impact on the game. As a quarterback, I appreciate that he helped bring about those changes."
However, the letter wasn't all good memories for Brady. He also recalled playing against Law after his former teammate joined the New York Jets in 2005. In a late-December game that season, Brady "was the one baited into an ill-fated throw," which Law intercepted and ran back 74 yards for a touchdown.
"It was one of the last times I ever threw in Ty's direction, which he reminds me every time I see him," Brady wrote.
In his own respective letter Belichick wrote that Seymour, along with former Patriots defensive tackle Vince Wilfork, was one of the "two best defensive linemen I have coached."
"Richard had a rare combination of size, speed, strength and athleticism," the Patriots coach said. "He was a smart player who understood game plans and adjustments on the field. His length, strength and quickness allowed him to match up on any offensive lineman favorably."
While less nostalgic than his quarterback, Belichick lauded Seymour's versatility as a player who could play on the defensive line as well as special teams, blocking field goals and even contributing to the punt return unit. On defense, Belichick said that while Seymour was primarily a defensive end, he also played nose tackle in a 3-4 defense. He could also play anywhere in a four-man line, Belichick said.
"Richard was effective versus the run and pass from a variety of alignments," he wrote. "It is extremely uncommon to see a player of his size, at any position, be capable of doing so many things so well."
Seymour, who is eligible for the Hall for the first time this year, was traded to the Oakland Raiders in 2009, though he did so with three Super Bowl rings. Belichick says he was "unquestionably" key to those titles.
"I do not believe we would have won three championships without him," he wrote.