Patriots
At Berkeley, Jaylen Brown and Jared Goff were big friends on campus
"I was super happy to see that these two young men went across sports to become friends.''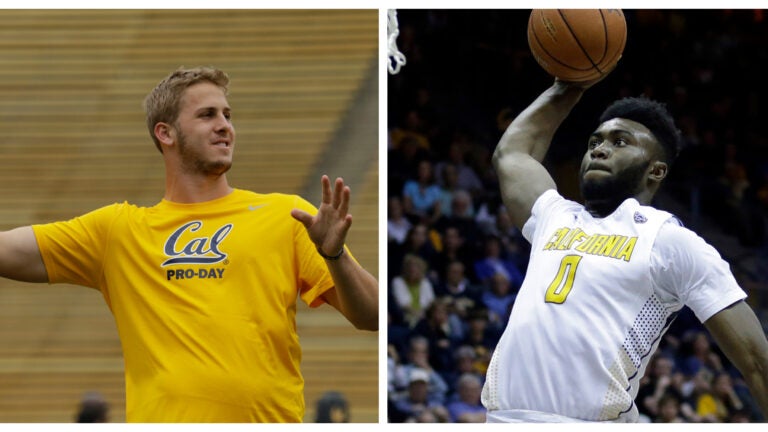 ATLANTA — Before Celtics forward Jaylen Brown and Los Angeles Rams quarterback Jared Goff were important figures on title-contending teams, they were college students forging a friendship at the University of California, Berkeley.
"He used to come to my house and play FIFA,'' Brown said. "I was like the best on the whole campus, so he challenged me and he lost.''
Asked to corroborate Brown's potentially hyperbolic claim, Goff just chuckled.
"We had some good battles,'' he said. "We had some battles.''
The pair met by way of Haas School of Business professor Stephen Etter, who teaches a money management course designed specifically for athletes at Cal. When Brown enrolled in the class as a freshman, Etter decided to introduce him to Goff, a senior who had previously completed the course. Goff still remembers being struck by how "well-spoken'' and "intellectual'' Brown was for an 18-year-old fresh out of high school.
"He was very refined,'' Goff said.
Soon, the duo started spending more time together — which was not necessarily a given, Etter points out, because the basketball court and the football stadium are on opposite sides of campus.
"It isn't happenstance that the two of them became friends,'' Etter said. "It was on purpose that the two of them became friends. I think they saw the value in the wealth of knowledge, and I think they both have a healthy respect for each other's athleticism.
"On a college campus, based on the amount of time the young men and women have to devote to their sport, their friendships become homogenous within their team. I was super happy to see that these two young men went across sports to become friends.''
Outside of their competitive "FIFA'' clashes, the two kept things simple, every so often grabbing a bite to eat together or chilling in their apartments like typical college students. Brown said he related to Goff because neither of them "really say too much,'' but as they got to know each other better, he became keen on Goff's sense of humor.
"I think he's funny,'' Brown said. "People don't get his comedy, but he's funny to me because it's like a dry humor. He'll say something with like a straight face, but he'll be joking. I know he's joking and I know he's messing with me, but he'll try to keep a straight face for as long as he can.''
Brown said Goff — or, as he likes to refer to him, "J-Gizzy'' — also imparted his wisdom and advice on navigating college, managing the media, and handling the pressure of being a highly touted prospect. Both were expected to be selected within the top five of their respective drafts that year.
[fragment number=0]
Sure enough, Goff was picked No. 1 overall by the Rams in April 2016 and Brown went No. 3 overall by the Celtics two months later. Their careers have followed similar trajectories in that each made huge jumps after his rookie season and each entered his third year in the league with lofty expectations.
Through all the hubbub of being a pro, however, they still exchange texts and reunite when they can. Goff attended the NBA's All-Star Weekend in Los Angeles last season, when Brown was one of the 20 players chosen as a Rising Star, and also attended one of Brown's events.
"Jaylen is a down-to-the-earth and humble guy,'' Goff said. "He's done such a great job with the Celtics.''
A vocal advocate for social justice, Brown said he doesn't watch much of the NFL because of how the league handled the protests during the national anthem. Although it's yet to be determined whether he tunes in on Super Bowl Sunday — the Celtics host the Oklahoma City Thunder at 2 p.m. that day — Brown will be pulling for his friend.
"I support Jared 100 percent,'' he said. "I hope J-Gizzy kills it.''