Patriots
Robert Kraft praises Donald Trump and Rupert Murdoch in Fox News interview
Kraft called the Fox News founder "one of the most outstanding human beings on the planet."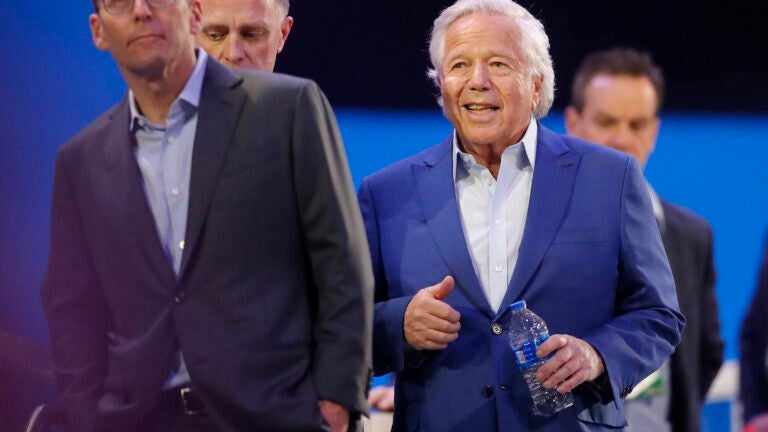 Robert Kraft says he appreciates the continued and outspoken support from the Oval Office.
In an interview Friday morning on Fox News, the 77-year-old Patriots owner was asked about his relationship with President Donald Trump and what it feels like to have the Republican president rooting for his team in Super Bowl LIII this Sunday.
"Well, we can use every fan who wants to support us, from wherever they are in their standard of life," Kraft said, noting how the team's charitable foundation has been a supporter of local homeless shelters.
"We love all fans," he said.
However, Fox host Brian Kilmeade apparently wanted to hear more about Trump, asking Kraft if he had recently spoken with or gotten any advice from the president.
"I have a lot of people who give me advice, and he's been very supportive and I know he's working very hard to serve the best interests of the country," the Brookline native responded.
Kraft has described Trump as a "very close" friend with whom he's had a relationship with for more than two decades. In 2016, the Patriots owner told The Boston Globe that Trump "went above and beyond to assist me through the most difficult time in my life" following the death of his wife, Myra, in 2011. He even gave Trump a Super Bowl LI ring.
"Loyalty is important to me, and he has been a wonderful friend," Kraft told The New York Times in 2017.
While supportive of Trump's economic agenda, Kraft has been critical of the president's "divisive" and "horrible" attacks on the NFL over players kneeling during the national anthem in protest of racial injustice.
"The problem we have is, we have a president who will use that as fodder to do his mission that I don't feel is in the best interests of America," Kraft said in a confidential meeting of players, owners, and league officials in October 2017, according to an audio recording obtained by the Times.
Trump, for his part, has brushed off Kraft's criticisms and remains outwardly supportive of the Patriots.
Following the team's AFC Championship win last month, the president took to Twitter to congratulate Kraft, as well as head coach Bill Belichick and quarterback Tom Brady, with whom he also has had social relationships (Trump notably did not congratulate the Patriots' Super Bowl opponents, the Los Angeles Rams, for winning the NFC Championship).
In an interview this week with the Daily Caller, the president said he remains "very good friends" with the Patriots triumvirate.
"Belichick is so tough and Kraft is a great guy," Trump said. "The three of them they just have — how good was Brady, I mean, the last game? Not the last game, the last two games. Brady plays better under pressure than he does in a regular game. I mean, that last two minutes the way he was throwing the ball down the field — they were bullets. And I've seen how hard that ball comes at you, those guys were doing a great job. They were catching that, you know? That ball is whipped."
In his interview Friday, Kraft also called Fox News founder and media mogul Rupert Murdoch — who, like Trump, has attended Patriots games with Kraft — "one of the most outstanding human beings on the planet."
In addition to "the impact on the election process" Murdoch's media empire had in the United Kingdom (see here and here), Kraft also marveled at the role the 87-year-old Australian had in transforming NFL broadcasts. As The Ringer's Bryan Curtis recently reported, the Fox network's insurgent bid for league broadcast rights in 1993 ultimately led to the modern pregame show and on-screen score box.
"He changed the NFL — the way other networks had to cover us," Kraft said. "He really helped upgrade, and I think he and his family, you know, are amazing entrepreneurs on a global basis. And I love that he is still active and dynamic and trying to do great things."
When notified that Trump's pre-Super Bowl interview would be aired on CBS rather than Fox News, Kraft suggested he might not be able to watch.
"Oh I don't know, it will be hard then," he said.