Patriots
When did Tom Brady become synonymous with GOAT? An investigation.
Deflategate cost Brady four games, but it might've ultimately earned him his nickname.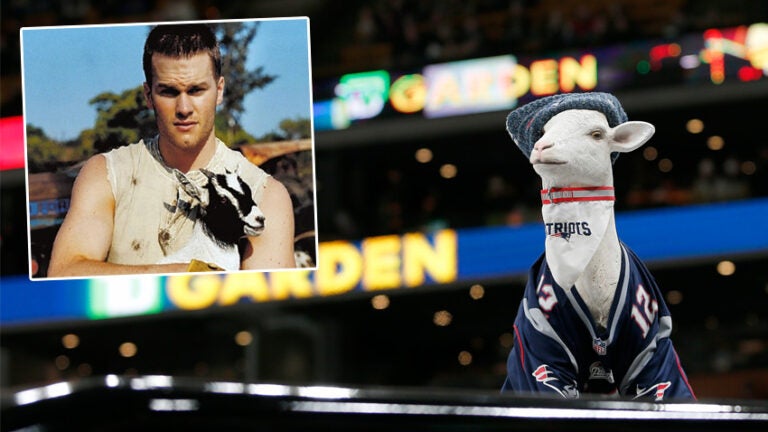 Before Tom Brady was synonymous with GOAT, there was the picture of Tom Brady with a goat.
By the summer of 2005, No. 12 was already a three-time Super Bowl champion. GQ wondered whether he "just might be changing pro football itself," and made Brady the subject of a lengthy cover story. Built around an interview in the days before his uninspiring performance hosting Saturday Night Live, it's interesting enough, but it was the accompanying fashion shoot that got all the attention.
So much so, Brady's offensive line printed out copies of the biggest laughers — Brady nuzzled by dogs, Brady riding a horse, Brady cuddling that famous baby goat — and pinned them to their backs before they headed out to a training camp practice session in front of the usual crowd of fans.
"I would never do anything to embarrass a teammate of mine," assured Matt Light, denying he was the ringleader even if he was the one wearing the prize photo.
"Coach always says just because they ask you to do something doesn't mean you have to do it, which he told us all again today, of course," Brady told reporters that day. "I guess I'm a slow learner."
Though that GQ cover asked whether Brady was the best ever, it didn't make the now ubiquitous connection between the now 41-year-old legend and the acronym that's become his calling card. Brady has taken indirect ownership of the goat emoji. He's gotten GOAT in the dictionary. Even if he doesn't think himself worthy of the moniker, the world at large sure seems to have made the decision for him.
How did it happen? When did Tom Brady go from merely great to GOAT? There's no clean answer akin to Shaquille O'Neal christening Paul Pierce as 'The Truth' on a Tuesday night in 2001, but we can at least pin down a tipping point.
Where it all started
The first GOAT was, without question, Muhammad Ali. The three-time heavyweight champ and cultural icon had no problem with self promotion, and regularly declared himself "the greatest." (Even if, in later years, he admitted a lot of it was just bluster to sell tickets.) While he was far from the first to make such a declaration, in 1992, Ali's wife Lonnie created G.O.A.T. Inc. to consolidate and license Muhammad's intellectual properties.
In 2004, the acronym became the name of an absurd project — a 75-pound, 792-page book packed with 600,000 words and 3,000 images of the champ. Made with silk and Louis Vuitton leather, 10,000 were produced, selling from between $3,000 and (for a collector's edition featuring a plastic sculpture) $7,500. Amazon says they're out of stock, but you can grab a used one for $1,100.
By then, though, GOAT had spread beyond him. David Foster Wallace's 'Infinite Jest' dubbed a girl the P.G.O.A.T. — the Prettiest Girl of All-Time — in 1996. Former 100-meter world record holder Maurice Greene got a tattoo of a lion on his right arm in the early 2000s, the letters G.O.A.T. in its mane. LL Cool J's only No. 1 album, G.O.A.T., came out in 2000; he credited Ali for birthing the term. Lil' Kim referenced back to LL's album when she made Ms. G.O.A.T. in 2008.
In plenty of places, however, that definition was still little known. Had you asked the average New England sports fan who the GOAT was when Brady was making his ascendancy, I suspect one name would've come up most often.
Bill Buckner, whom the Globe proclaimed was the "goat of the 1986 World Series" the day after his surprise return to throw out the first pitch at the 2008 Red Sox home opener.
From bad to good
In 2003, the Year of the Goat in the Chinese calendar, you still didn't want to be a goat. Goats were behind the cursed Chicago Cubs. You wanted to get someone's goat. Go from goat to hero, not the other way around.
When Brett Favre threw a late interception in the Superdome in January 2010, costing Minnesota a trip to the Super Bowl, the AP blared he'd "swapped his Vikings horns for goat horns." When the ball Buckner couldn't field at Shea Stadium was auctioned off in 2012, the Globe reminded he was "one of the most famous goats in sports history."
When Pedro Martinez took an advisory job with the Red Sox in 2013, he quipped not about past failures, but his age, declaring to reporters "I see them as players that could probably get some advice from an old goat like me."
All the while, the GOAT acronym was gaining prominence. Michael Jordan was the GOAT. Allen Iverson. Hakeem Olajuwon. Kobe Bryant. Floyd Mayweather. Shaq. Barry Sanders. Giants receiver Amani Toomer (in the mind of Michael Strahan, anyway). Serena Williams. Ronde Barber. Smokey Robinson.
LeBron James, who was actually the first person to get frequent goat-horn distributor Dan Shaughnessy on board in November 2014.
As for Brady? I found online references to Brady as the GOAT as far back as 2008, as well as Twitter accounts referencing Brady and GOAT as far back as 2011-12, but WEEI's Dale Arnold was talking about it in early 2013. Pretty clear evidence it was in the public discussion.
I've danced around this before, but no more: if #TB12 wins his next 2 games he is the G.O.A.T. There, I said it.

— Dale Arnold (@DaleEArnold) January 14, 2013
Scandal, however, would really be what turned Tom Brady from goat hugger to GOAT, unquestioned.
Deflategate does it
Malcolm Butler's heroics helped make Brady a four-time Super Bowl champion in February 2015, with him matching Joe Montana for championships further cementing the claims of anyone who thought the California kid had surpassed his childhood hero.
How else do think he became the GOAT? pic.twitter.com/iyVstsj8S9

— Vince Wilfork (@wilfork75) February 24, 2015
As the saga surrounding the pressure in the footballs during the AFC Championship game dragged on, however, it seemed to increasingly become a rallying cry for everyone who felt Brady was being unfairly maligned. Hours before the hit-and-run crash that helped end his time with the Patriots, Brandon Spikes tweeted a photo with Brady, captioned: "Good time last night with the Goat!!"
When Brady's four-game suspension was thrown out in U.S. District Court on Sept. 3, Rob Ninkovich and Sebastian Vollmer were among those to celebrate Brady's greatness with it.
Passing Game 2015 shirt is made out out of cotton, metallic ink and freedom #GOAT #gopats http://t.co/0SFsGrSKvZ pic.twitter.com/aCCke36qPa

— Julian Edelman (@Edelman11) September 3, 2015
When the suspension was reinstated, 'Free Brady' was the refrain in Foxborough, only to give way to what we have now upon Brady's return. (Ali's death in June 2016 gave the moniker even more momentum.) And when the Patriots came from 28-3 down to claim a fifth ring in February 2017?
"Undeterred by weather," the Globe wrote in its description of another Boston championship parade, "the cold, wet, and raucously happy fans honored Brady on Tuesday as the Greatest Of All Time, with chants of GOAT, signs calling him the GOAT, goat masks, and pictures of actual goats."
The era of Brady the bovid was truly upon us, one from which there'll be that much more to milk if Sunday leads to a sixth championship.